Popular CMS solutions aren't always the best for sales and marketing.
It seems like every week we see a new video ad for a custom website builder. If you have ever searched for one, you know how ads for Squarespace, Weebly, Wix, and Wordpress.com follow you wherever you click. But what's the best solution for the sales and marketing funnel of your inbound-driven organization?
HubSpot recently updated its Website Platform with new features, better metrics and modules. They call it "Website Platform." Website Platform is a CMS that is packed with tools to help marketers create dynamic, custom websites that work seamlessly with HubSpot and integrate with popular business applications such as GoToWebinar and Salesforce. HubSpot makes it is easier than ever to create an optimized inbound marketing website. It is (out of the box) mobile-responsive, friendly on-page SEO-checker, call-to-action button creator and they make it a breeze to spin up landing and thank you pages. So how does HubSpot Website Platform really stack up against WordPress and Squarespace?
The Key Features to Consider
To start, consider which features are most important to the success of a website. First on the list is a robust page builder, ideally with a drag-and-drop interface, that makes turning your content into beautiful, engaging pages easier than ever.
Next, your website builder should support your CTAs and landing page forms out-of-the-box. Having a beautiful website doesn't help if it can't connect to your organization's CRM.
Another key feature for your website builder is Search Engine Optimization (SEO). Making sure your page title, meta description, and content are all optimized for the right keywords is critical to your inbound marketing strategy. Together with SEO, social media tools help prepare your great content for distribution across Facebook, Twitter, and LinkedIn.
Finally, you need a website builder with advanced analytics built in. Just seeing page views for your blog posts is not enough. Your website is your 24/7 sales representative, and you want your analytics to track visitors across your website as they view pages and fill out forms on landing pages. Hubspot does this and more.
How do HubSpot Website Platform, WordPress, and Squarespace stack up?
Key Feature: Page Builder
Every great website begins with building great web pages, and that requires a page builder that is up to the task. If you want your website to be more than a few blocks of text and a form or two, having a drag-and-drop interface with many modules is key. Both HubSpot Website Platform and Squarespace have drag-and-drop interfaces and a whole host of modules, including text, CTA buttons, image galleries, and forms. For WordPress, you need a third-party plugin to take advantage of drag-and-drop.
If you are one of the growing number of users accessing content on a mobile device, you know how important it is to have a mobile-optimized website. This includes font size that changes to match the mobile experience, stacking of content in a responsive way, and menus that are easy to navigate with touch. Both HubSpot Website Platform and Squarespace support mobile optimization out-of-the-box, with every theme. With WordPress, you have to make sure your theme is mobile-optimized.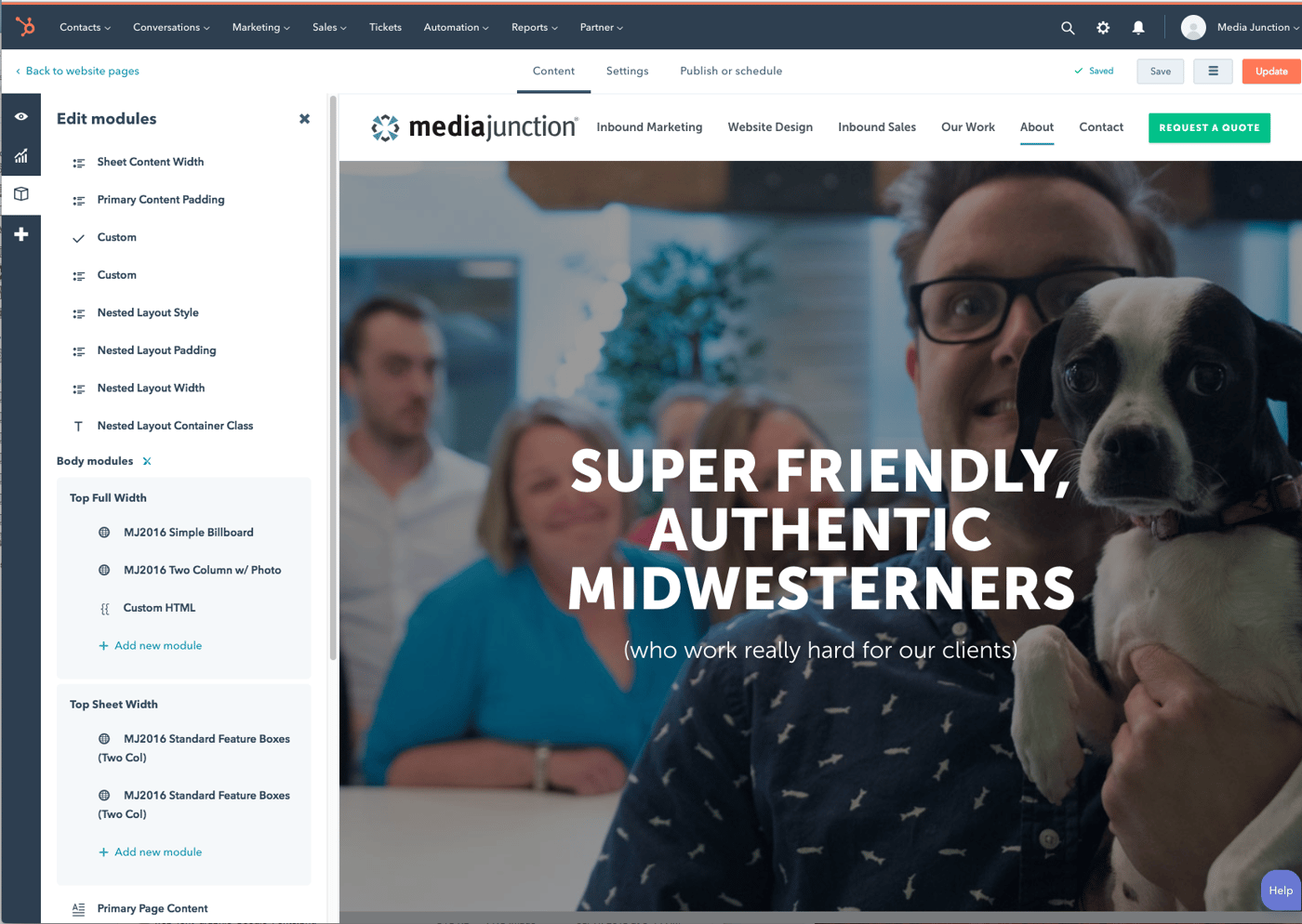 Key Feature: CTAs, Landing Pages, and CRM
The purpose of your website is to be your 24/7 sales representative for your organization. Turning those visitors into leads requires a conversion process with CTA buttons, landing pages with forms, and a connected CRM that collects the data.
Each website builder supports CTAs, landing pages, and CRM integration differently. WordPress supports CTA buttons, but not CTA tracking, and you need to use custom plugins to connect your site to a HubSpot or Salesforce CRM. Squarespace supports buttons, but doesn't track them. Squarespace supports beautiful landing pages, but their forms can only go into a spreadsheet or MailChimp, not a true CRM. Only HubSpot Website Platform supports CTA buttons with tracking, landing pages without the distractions that keep your visitors from converting, and forms that seamlessly integrate with your CRM of choice.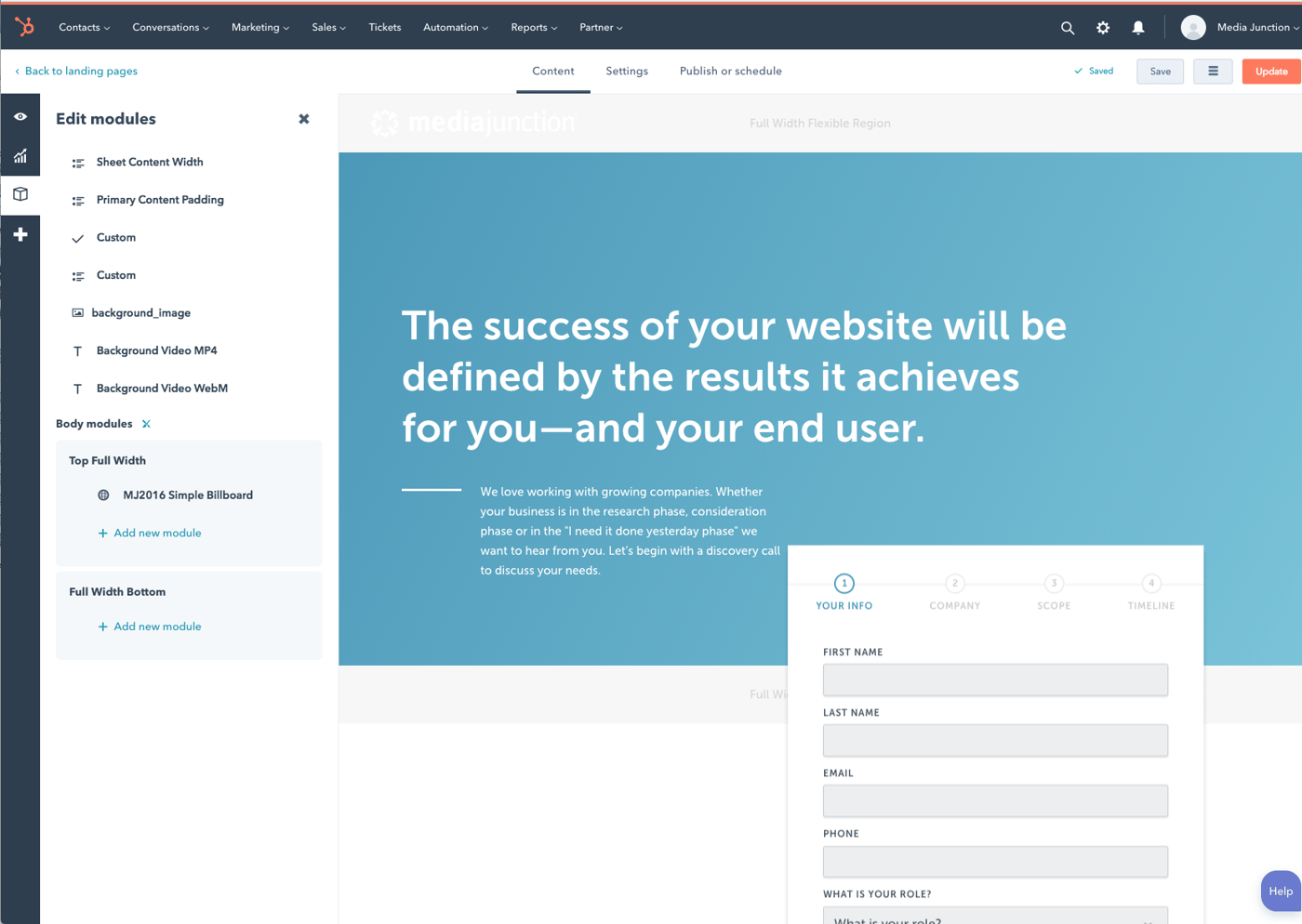 Key Feature: SEO and Social Media
Every inbound marketing strategy is centered around your visitors finding you through search and social media. It's pretty hard for them to find you if your website is not optimized for search or social media. Let's compare how our three different website builders stack up.
HubSpot Website Platform has out-of-the-box SEO tools to help every marketer improve the search performance of their web pages. HubSpot makes sure your page titles and meta descriptions are the correct length, and has a powerful content strategy tool that helps you shape your great content so more visitors find it. WordPress only has features like these if you install a plugin. Squarespace lets you edit your page titles and meta descriptions, but has nothing like the powerful SEO-optimization tool from HubSpot.
Along with powerful SEO tools, having social media tools that improve the reach of your web pages on Facebook, Twitter, and LinkedIn is crucial. HubSpot Website Platform supports a content calendar and allows you to upload unique social media link images for each web page or blog post.
Key Feature: Powerful Analytics
Finally, there's website analytics. Many WordPress and Squarespace webmasters fall back on Google Analytics to track their site traffic and sources. Wouldn't it be better if these powerful analytics could be built right in to your website dashboard? With HubSpot Website Platform, and its use of CTA link tracking, you can see where your visitors are coming from, what pages they visit, what CTA they click, and what forms they fill out. Your can even see the performance of your personas right in the dashboard.
Choosing the Right Solution
There are many key features to consider when choosing a custom website builder for your inbound marketing website. Each website builder has different strengths and weaknesses when it comes to its page builder, CRM integration, SEO, and analytics. If you are working on a company blog, without landing pages and forms, then WordPress can be a great solution. If you are creating a visually stunning portfolio website with a simple contact form, Squarespace can be a great solution. But if you are thinking about switching to a CRM like HubSpot or Salesforce, using the HubSpot Website Platform will give you a website that both looks great and is powerful on the backend, turning visitors into leads in your CRM.
Whichever website builder you choose, the inbound methodology with guide your web design process. Start with your personas, build from their needs and desires. The best design brings together fashion with function.