Are you a marketer that's been blogging for some time but haven't really seen a return on investment for your efforts?
Or, since it's a brand new year, have you finally decided to join the 48% of companies that use blogging as their primary content marketing strategy? Or at least the 91% of B2B and 86% of B2C companies use blogging as part of their content strategy?
Whatever your reason, if you're reading this article, it's because you recognize the value a business blog has in helping you attract, engage, and close new buyers.
But you have one lingering, pesky question gnawing at the back of your brain: what should I blog about?
This is a great question. There's nothing quite like wanting to try something new but doing your due diligence to ensure you're starting off on the right foot.
The worst outcome is that you invest a significant amount of time, money, and effort into blogging for it not to pan out.
And if that happens, you'll probably loudly declare, "BLOGGING IS DEAD," smash your computer, and walk away (leaving your boss and coworkers dumbfounded and maybe even a little scared).
Let me assure you, business blogging is alive and well. It's just getting more saturated and competitive, which means you have to be increasingly selective and deliberate with the content you create.
I've been helping businesses develop blogging and inbound marketing strategies for the past seven years. And before that, I helped grow a company's website traffic from 2,500 visitors per month to over 350,000, all thanks to educational blog content.

And many of my clients have seen incredible results stemming from their blogs.
From increasing their first-page keyword profiles to receiving a flood of traffic to witnessing content assist sales teams in closing new deals, I've seen content dramatically impact businesses' bottom lines.
And now, I'm here to share with you my top tips for choosing what your business should blog about.
But First, Let's Avoid These Blogging Mistakes
Before we dive into what works, let's first talk about the types of topics that don't work.
Often, when I work with a business that has attempted blogging previously but gave up due to lack of results, I see three common problems:
They're choosing the wrong blog topics
Their blogs lack quality and substance
I don't want to spend a lot of time belaboring these points, but they're important for establishing why your current efforts may not be panning out.
You're Choosing the Wrong Topics
The number one issue I encounter is businesses picking topics that don't resonate with their audiences. They're not topics that are valuable, helpful, or interesting to your buyers.
So what are these blogs often about?
Well, when people aren't sure what to talk about, they often default to what they know best: themselves.
Combing through business blogs, I often see posts titled:
Jack Sprat Just Got Promoted to VP of Sales
We Donated $500 to Springfield's Youth Baseball Club. Go Red Sox!
Our Company Was Named in the Top 15 Local Businesses
Do you see the problem with these kinds of posts?
Who genuinely cares about these topics? Yeah, the business writing about them.
They're self-congratulating posts that make the business and employees feel good about themselves but do little to influence new buyers.
I'm not saying there's no value in these types of articles, but all too often, these are the types of articles that dominate a blog feed rather than being sprinkled among more educational content.
Your Content Lacks Quality
I also often encounter blogs that choose great topics, but they're not written in a way that connects with readers or gets search engines to rank them high.
Some of the most common offenders of low-quality content are:
Articles are too short
Articles don't thoroughly answer the question at hand
Articles lack clear structure and direction
Articles are overly biased and self-promotional
Article titles are focused more on click-bait than clarity
Article title don't actually match the content of the page
Articles don't help solve pain points of buyers
In order to connect with readers and get the attention of search engines, your articles should be thorough, helpful, unbiased, flow nicely, and, most importantly, arm people with the information they need to make informed decisions.
So, those are the two most common mistakes I see with business blogs that never took off. And maybe now you're even realizing you've made some of these mistakes yourself. Or hopefully, you're saying, "I'm sure glad I'm reading this article so I can dodge all those bullet points."
Now that we know what not to do with our business blog, let's turn to how you can discover the topics you absolutely need to write about.
What Should Your Business Blog About?
If you want to master business blogging, the answer to "what should we blog about?" is simple: focus on topics that help your customers make informed buying decisions.
Every question a client or prospect has about your business, your products, your services, or your industry is worthy of an answer. And the best place to address those questions is in blog articles.
When people are researching an important purchase, they turn to search engines for answers.
Most people have grown weary of contacting companies early in their buyer's journey out of fear they'll be steered towards a solution that isn't right for them; that sales folks will guide people towards purchases beneficial to the business rather than what's best for the customer.
In fact, it's estimated that people go through 80% of the buying process before ever speaking with a sales representative.
These people turn to Google rather than businesses for information about buying products and services. They do this because they feel they're more likely to get objective, unbiased answers to their questions than if they pose the same questions to a sales rep.
If you really want to connect with new buyers, focus your blogging efforts on educating them on everything they need to know to make a purchase they'll be happy with.
It's really that easy.
But still, you might want to know how to drum up a list of these questions.
How to Research Blog Topics Your Audience Wants to Read
So, where do you start researching topics relevant to your buyers?
In my experience of working with over 100 clients to create thousands of blog articles, I've found the following sources to be goldmines for uncovering the most pressing questions buyers want answers to before they make a purchase.
Speak with all customer-facing employees
Survey current customers
Use keyword research tools
Leverage AI
Speak with all customer-facing employees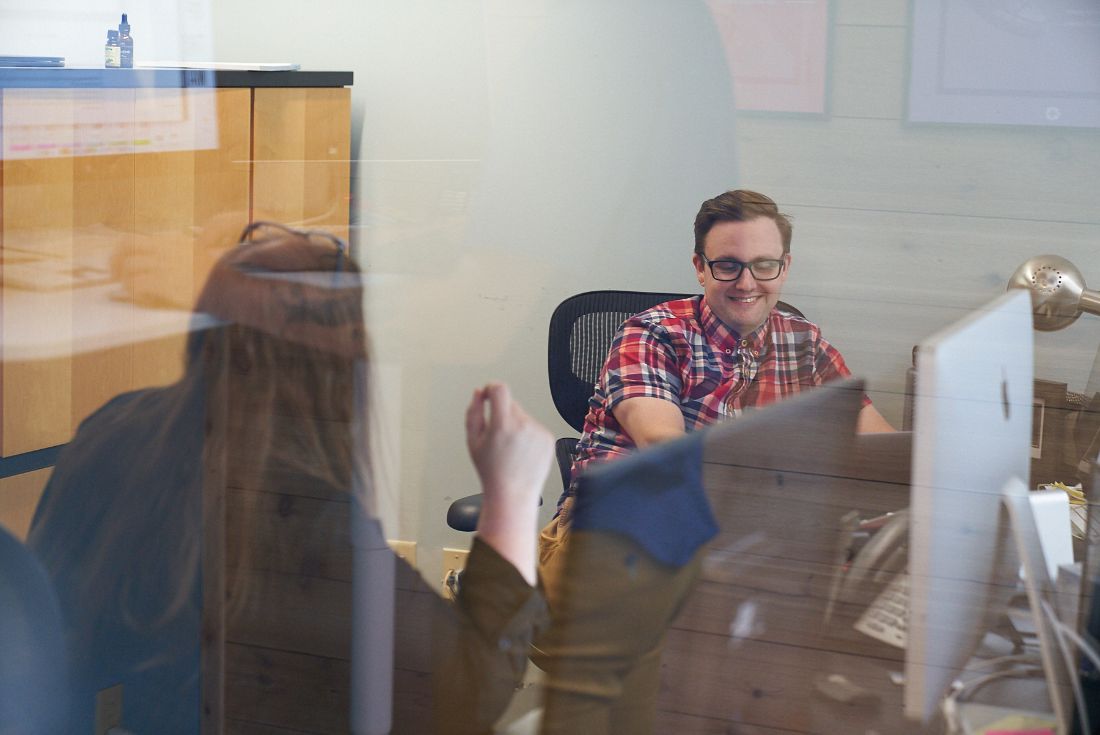 Before diving into keyword research or any other avenue for revealing potential topics, talk with the people at your organization that speak with customers the most often.
These people answer current customer and prospective customer questions day in and day out.
If anyone knows the pain points buyers have, it's the people buyers are talking to.
So who are the best sources of customer questions in your organization?
Your Sales team
Who better understands your prospects than your sales team? These people are on the phone, in Zoom meetings, or sitting across the desk from your buyers all day, every day.
Before a prospect buys from you, they bring their most pressing questions, worries, concerns, hesitations, and fears to the sales meetings.
Your sales reps probably know about 80% of the questions a prospect is going to ask on the sales call. They have spiels queued up in their heads, ready to fire off the answers as soon as those questions get asked.
So what are those questions?
Ask your team to write down the top 15-20 questions they hear the most often.
These are often the best questions to start answering if you want to impact your bottom line.
Your Customer Service Reps
Just as sales hear all the questions prospects have leading to a purchase, your customer service teams here their questions post-purchase. To maintain current customer satisfaction and to help new customers avoid issues, get a list of the most common pain points your customer service team hears.
Your Product Owners, Subject Matter Experts, and Others
Who knows your own products better than the product owners?
What niche questions can they answer about your products that would be helpful to buyers? Ask them to jot down all the questions they deal with about your products.
Then there are other subject matter experts in your organization that field questions frequently.
For example, when I wrote content for a sleep clinic, I spoke with multiple customer-facing employees to list out all the questions they got from prospects and customers.
These folks included our doctors, our sleep technologists, our durable medical equipment experts, our billing department, and our administrative assistants.
By compiling all the questions each of these individuals heard on a regular basis, I not only had dozens of blog topics, but I was also able to see a more complete picture of the buyer's journey from start to finish.
Survey Your Current Customers
Going to the people in your organization for information about your customer's pain points is a great starting place, but going directly to the consumer can help you uncover even more topics.
Create surveys that ask your customers questions like:
What was the initial pain point that lead you to this purchase?
What questions did you have along the way as you researched your options?
What hesitations did you have?
What other products and services were you vetting at the same time?
What do you wish you'd asked during your research?
What answers were the hardest to find?
What could have been clearer?
Use Keyword Research Tools
Most businesses start with keyword research to help inform their content strategy. Keyword tools like SEmrush, Ahrefs, Ubersuggest, Moz, and others are incredibly valuable and absolutely worth the investment.
But they should not be your primary source for targeting blog topics.
Instead, these tools should be used to supplement your blog research.
Take the questions you unearthed from your internal interviews and use these keyword tools to review the list of topics you came up with.
Check to see how often these topics are searched, how difficult it is to rank for them, how much businesses are willing to pay to have ads at the top of search results, what related keywords pop up, and other metrics.
SEMrush's Keyword Magic Tool is a goldmine for plugging in a root keyword and listing out hundreds to thousands of queries containing that keyword or related keywords.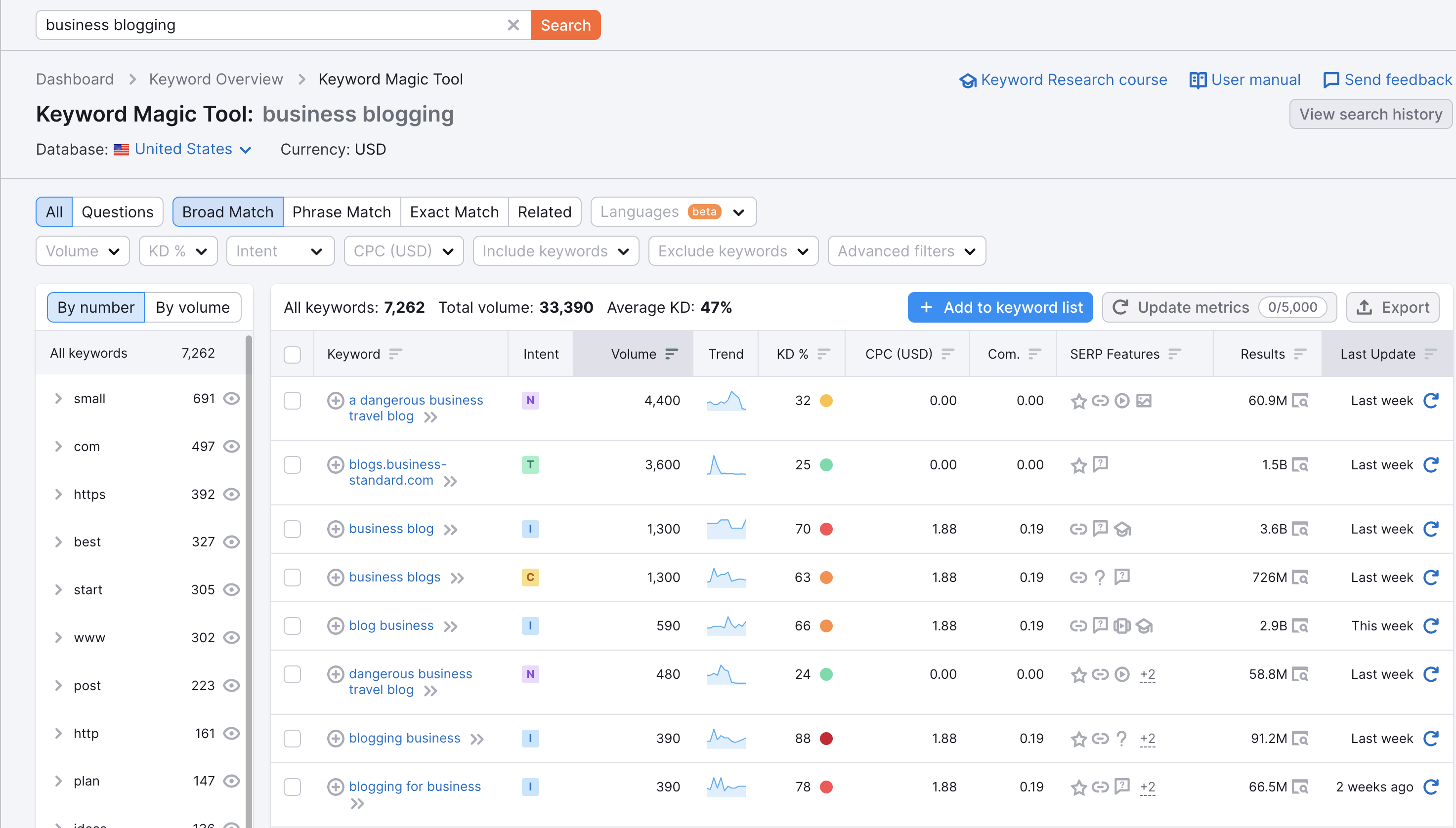 Another great keyword research tool is SEMrush's Keyword Gap tool. Here, you can plug in your website and compare its keyword profile to your competitors' websites.
You can find keywords you have in common as well as keywords your competitors are known for that you don't rank for at all.
Give AI Tools a Shot
There's been a lot of chatter recently about using artificial intelligence (AI) tools in marketing and SEO. From tools like ChatGPT to Jasper, the marketing industry is buzzing over the debate about how to best leverage AI tools.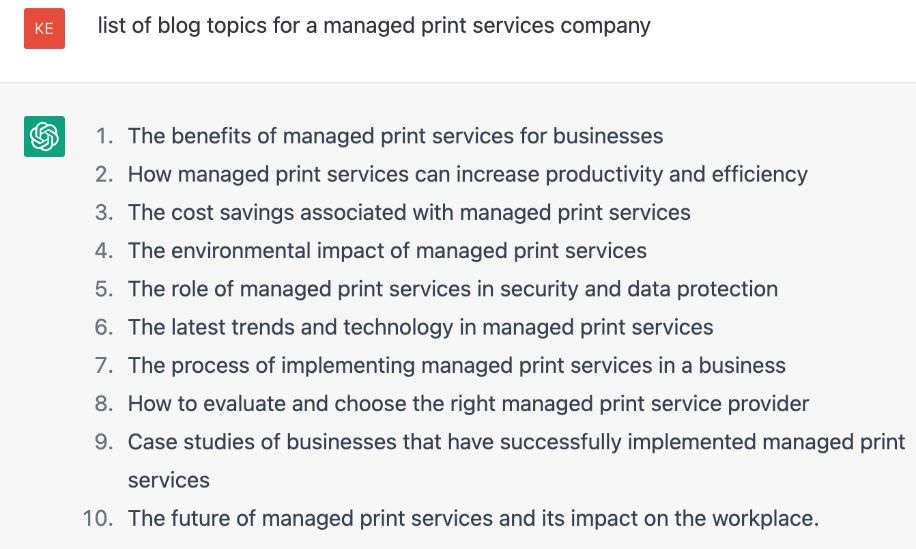 Now, while these tools aren't quite sophisticated yet to write full, detailed blog posts, they're proving to be incredibly helpful research tools.
From writing blog titles to social posts to giving quick detailed answers to a question, AI tools are quickly becoming a valuable asset in every marketer's toolbox.
But one of the best uses I've seen so far is how quickly you can generate great topic ideas from plugging in a couple of quick keywords.
Ready to Launch Your Business Blogging Strategy?
Now that you're better armed with how to choose the right blog topics, your next steps are use the above strategies to develop a comprehensive list of potential blog topics.
Remember, every question a prospect asks is worthy of an answer somewhere on your website. And one of the best places to answer these questions is through your blog.
Keep in mind as you're jotting down all of these questions that you're prioritizing topics that are important to your buyers. The questions they have that help them navigate their way to a purchase decision.
For more help on how to organize your list of blog topics, check out my article: How to Prioritize Your Business Blog Topics & Fine-Tune Your Content Calendar
And of course, if you need help with your website, marketing strategy, and business goals, feel free to reach out to us for a consultation.
Keep increasing your business blogging knowledge with these helpful articles:
subscribe to get the latest in your inbox.
Subscribe to our blog to get insights sent directly to your inbox.