Innovative custom integrations & HubSpot's serverless delivery took The Edge Fitness Clubs from clunky to sleek, earning a 2022 HubSpot Impact Award in Technical Expertise.

Case Study
The Edge Fitness Clubs
With locations across the northeast and midwest, The Edge Fitness Clubs are a network of fitness facilities with premium amenities designed for everyone. Their mission is to provide beautiful, spotless, friendly clubs where every member can have a great workout.
With their new website, Edge Fitness wanted to give visitors the same modern, helpful, highly visual experience they would have stepping into one of the clubs.
Project Requirements:
Connect core systems
Improve online conversions
Level up design with a mobile-first website
Leverage the power of HubSpot
Challenges
1. Disconnected, Fragmented Data
From the member registration process to class schedules and signup, many important processes and data points were managed offline through a third-party vendor, creating gaps in the flow of information.
2. Underutilization of hubspot
The marketing team understood the power of HubSpot, but didn't have the ability to fully leverage the CRM because their current website wasn't built to be the dynamic, data-driven engine they envisioned.
3. A Website That Didn't Support Future Growth
Their previous website was inefficient and difficult for a growing company to maintain. Updating classes, schedules, and pricing involved repetitive data entry and built-in potential for user error. Most people visited the site on mobile devices, but the mobile UX was disjointed.
Solutions
HubSpot: Connecting The Data In A Purposeful Way
To address the team's challenges, we had to connect their data and improve the overall experience — not just for end users, but for The Edge Fitness team as well.
Their new HubSpot CMS website leverages the power of the CRM to deliver the right content at the right time, creating better customer experiences and supporting marketing efforts. With a custom theme and templates, the Edge Fitness team has the flexibility they need to build and optimize their website well into the future.
It was crucial to build a site that could deliver specific club information, classes, and amenities based on the user's location as well as the current day and time. We utilized several HubDB tables to deliver content to database-driven dynamic pages, as well as custom modules that can deliver dynamic content on static pages as information changes.
Behind the scenes, HubSpot's serverless functionality keeps things running smoothly with a fast and seamless front-end experience to support our API integrations.
Custom Integration with MyiClubOnline
One of the key factors in making this project a success was building a custom integration with the client's current membership and class scheduling system, MyiClubOnline.
Early in the process, we began working closely with developers at MyiClubOnline to build a custom API integration between their software and HubSpot.
Prior to this integration, the membership registration, class schedules, and class sign-up were all hosted on MyiClubOnline, disrupting the user's experience and complicating the data Edge Fitness was collecting.
The bi-directional data sync includes:
Fitness plans
Class schedules
Membership registration
Payment information
Class registration
Geotargeting with Google Location API
With 42 locations in 9 states, The Edge Fitness Clubs cover a lot of ground. Getting members and prospects to relevant, location-specific information as quickly as possible is one of the best ways to improve user experience and increase conversions. We used Google's Location API to supports common user activities and essential functions, including:
Finding nearby clubs or searching by location
Finding a location that has a particular class
Personalizing content based on the user's location
Generating location-specific tax details in the membership registration process
Dynamic Content with HubDB
Edge Fitness locations often have classes, membership plans, amenities, and even the occasional personal trainer in common — and it's a lot easier to manage all of that data once rather than dozens of times.
Our designers and strategists planned for dynamic content modules and pages throughout the site, supported by HubDB databases managing the information. For example, each location page is entirely dynamic, pulling the content from multiple HubSpot databases as well as real-time class schedules from MyiClubOnline to display everything users need in one place.

We also used HubDB to manage:
Plans and pricing
Amenities
Class information
Personal trainers
Supplements
Member reviews
When Edge Fitness adds an amenity, updates a class description, or launches a promotion, all they have to do is update the database — and the change will be reflected site-wide.
Results
Dramatic Improvements In 6 Weeks
I was very impressed with MJ and their expertise in HubSpot... they did a full site redesign and development for us and the results were unreal... site performance improved significantly and they did an amazing job capturing the brand look and feel throughout the site. The backend architecture was cleaned up, making it super easy for us to manage. Would highly recommend them to anyone using HubSpot.

John English
Vice President of Finance


Edge Fitness saw impressive results within the first 6 weeks compared to their 2021 performance. Total traffic increased by 6%, or more than 60,000 new page views. Just 9 new pages brought in nearly half of that number, and the upgraded design and UX improved the time users spent on the rebuilt Locations pages by 24%.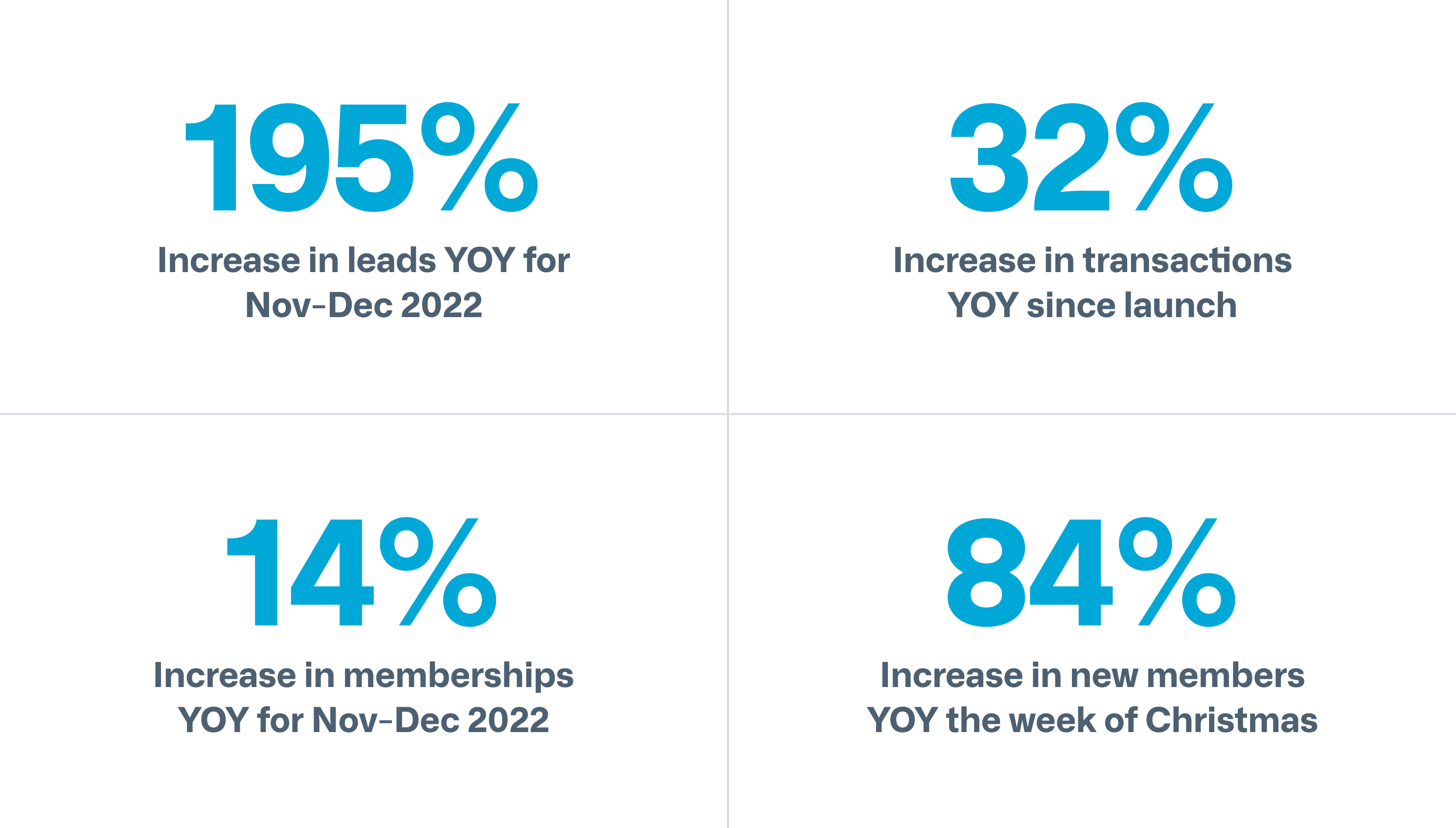 Yet traffic is only valuable if it translates into leads, transactions, and new members — which it certainly did. In fact, Cyber Monday was their single highest online conversion day ever, with a 60% increase over last year's numbers.
IMPACT


Better UX Leads to Better Business Outcomes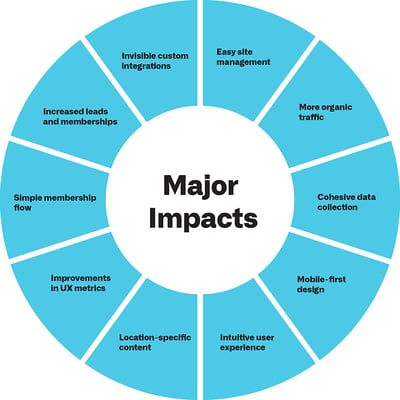 With their new HubSpot CMS website, Edge Fitness is set up for success. Their powerful backend technology is easy to maintain and designed to support their vision for future growth. Site visitors enjoy an intuitive experience with fewer clicks between them and the information they need.
Once visitors are ready to become members, they follow a simple series of steps directly on the Edge Fitness website. The information they provide integrates seamlessly into the CRM, sales, marketing, and point of sale functions.

Because they no longer need to log in to a separate app to browse nearby classes, current and prospective members can explore without barriers.
With the addition of Service Hub, the Edge Fitness team is better equipped to provide online customer support. Through HubSpot's Knowledge Base tool, curious users can explore FAQs and other resources.
As dramatic as these improvements are, they're just the beginning — planning is underway for ongoing enhancements that use CRM data to create even more personalized, meaningful interactions.