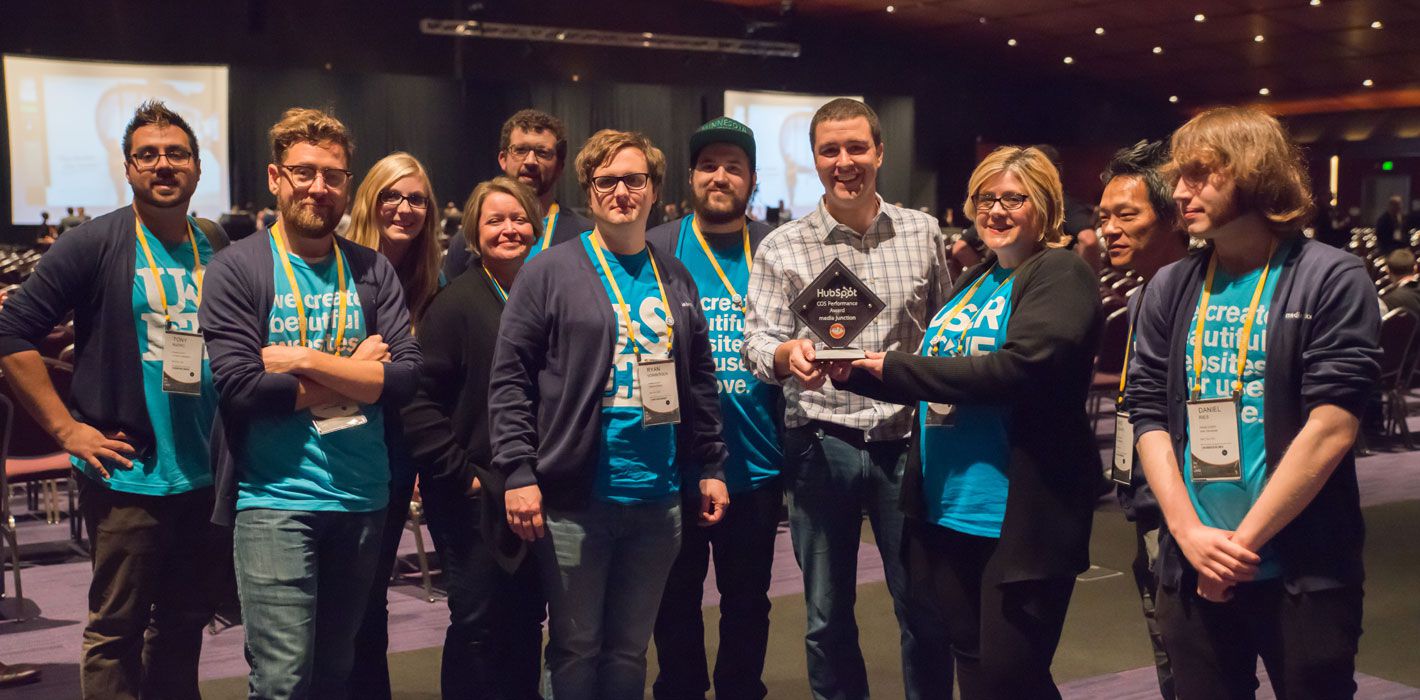 Inbound marketing agency also named COS Champion Runner-Up
At HubSpot's user conference, INBOUND 2014, media junction® received two prestigious awards from the marketing software leader, HubSpot.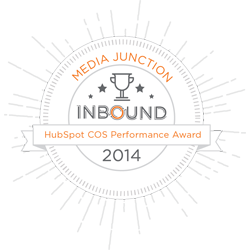 HubSpot COS Performance Award - media junction had the highest average marketing grade of COS websites relative to other eligible HubSpot Partners, as graded by marketing.grader.com. HubSpot's Marketing Grader allows you to evaluate the effectiveness of your marketing by looking at numerous factors: website, social media activity, mobile responsiveness, blogging activity, email marketing, lead nurturing and analytics.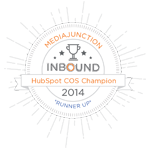 COS Champion Runner up - media junction had the second highest number of COS sites published to Inspire, a website built by HubSpot to give inspiration to designers on the HubSpot platform.
The HubSpot COS (Content Optimization System) was introduced at INBOUND 2013, where media junction was named marketplace provider of the year by HubSpot.
"media junction has set an example for how businesses everywhere should be transforming their marketing with inbound. Their strategic approach to attracting, engaging, and delighting customers has not only built valuable relationships with their audience, but has driven growth for their agency and the inbound movement. Our team here at HubSpot is proud to call media junction a Partner and recognize them with these Awards." -

Patrick Shea, Channel Marketing Manager, HubSpot,
"We are so honored to win these two COS awards from HubSpot," stated Trish Lessard, co-founder of media junction. "It's no secret we (heart) the COS and HubSpot's culture. It's awesome to partner with such a great company, and to be recognized for our talents."
"These awards underscore our commitment to helping customers build websites and maintain their marketing efforts via the HubSpot COS platform. HubSpot is the preferred automation solution for today's savvy, user-centric marketer - and for very good reason, due to its ease of use, powerful analytics and all-in-one approach," says Kim Wilcox, vice president of sales and marketing for media junction.
About media junction®
media junction® was founded in 1997 to provide custom website design for small businesses in the Minneapolis/St. Paul area. The company has since evolved to provide inbound marketing strategies for businesses of all sizes across the globe. media junction® is comprised of talented visionaries with a knack for building user-centric websites and campaigns. The team consists of strategists, website designers, copywriters and techy web types. HubSpot Gold Partner. To learn more, visit http://www.mediajunction.com.
About HubSpot
HubSpot is the world's leading inbound marketing and sales platform. Since 2006, HubSpot has been on a mission to make the world more inbound. Today, over 11,500 customers in 70 countries use HubSpot's software, services, and support to transform the way they attract, engage, and delight customers. HubSpot's inbound marketing software, ranked #1 in customer satisfaction by VentureBeat and G2Crowd, includes social media publishing and monitoring, blogging, SEO, website content management, email marketing, marketing automation, and reporting and analytics, all in one integrated platform. Signals, HubSpot's award-winning sales application, enables sales and service teams to have more effective conversations with leads, prospects, and customers. HubSpot is headquartered in Cambridge, MA with an office in Dublin, Ireland, and has been recognized by Inc., Forbes, and Deloitte as one of the world's fastest-growing companies.
HubSpot is also the developer of the popular website analysis tool, Marketing Grader, which combined with its predecessor Website Grader has more than 4 million users. HubSpot was founded in 2006 and is based in Cambridge, Massachusetts.
Want to learn how media junction can help your business? Let's get the conversation started!