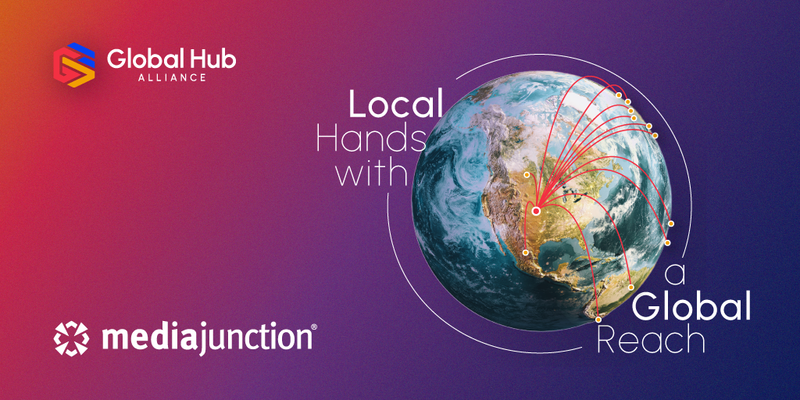 Today is the day. The day when an idea becomes a reality. We are thrilled to announce to the world the launch of the Global Hub Alliance. Media Junction has partnered with 4 of the top Elite HubSpot Partners across the world to help organizations scale globally using the HubSpot Platform.
With this announcement, let's talk about how this is probably more special than you realize it is. This is more than a referral network. This is more than a business opportunity. This is a friction-free path to make a bigger impact through genuine human relationships.
There are some practical, extrinsic value props for the GHA, but what separates this network from the rest is the intrinsic value of building relationships and working with good humans. Let's talk about both.
Service the world regardless of language, time zone, or culture.
Working with the Global Hub Alliance allows organizations across the world to with their agency at scale. With the Global Hub Alliance's presence in over 15 countries, we are enabled to incorporate strategy and implementation while servicing different languages, cultures, timezones, and regions. It's all for one and one for all over here—the Global Hub Alliance is a package deal with all of the agency members. Agencies are heavily vetted for skillset and culture fit before being brought in, so companies can rest easy knowing the vetting process to take strategy to global scale is already done.

Secondly, and most pragmatically, the Global Hub Alliance is formed of five of HubSpot Top Elite Partners with over 250 employees. There are times when an organization's needs stretch beyond the bandwidth and specializations of just one agency. With the Global Hub Alliance, no project is too big or bold— we can do it together. This is special because while we are one of HubSpot's best partners for Web Design and Development, there are areas of service where we are ecstatic to bring in more talent in certain areas. For example, our friends across the Atlantic, Six and Flow, are experts in RevOps and the team over at Hype & Dexter are masters of product and integrations.
Relationships make the world go round.
This is not just a business play— this is a human play. When media junction was first asked to become a founding partner of the Global Hub Alliance, the first thing that stood out to us was the people. Yes, we all have top-of-the-world skillsets and capabilities in the HubSpot platform, but that's not what pulled us in. After meeting Emiel and Camiel from Webs and Pau from InboundCycle, we knew this was going to be something that transcended revenue, business, and referrals. we were connecting with other like-minded humans from all over the world. That's why we said yes.
When you work with an agency, it's often for an extended period of time. It's important to enjoy the people you spend that time with. At the end of the day, relationships are all you have, and they make everything else possible.