Bandana Square, the home of Media Junction®, is a commercial real estate development located in the heart of St. Paul's Energy Park. Originally built in 1890, the structure boasts gorgeous exposed brick, timber, and 12-foot ceilings. Six weeks ago, you'd likely see a parking lot full of cars, passersby casually jogging, and the occasional parent-child duo on their way in to see the dentist. Inside Media Junction's suite, you'd hear trending music shuffling and the gleeful bark of an MJ office dog.
Today, the parking lot is all but empty. Inside Media Junction® 's suite, several plants silently line the front desk where the office's only skylight is. A cascade of golden sunlight keeps the office dimly present throughout the day. There are no joggers, there are no children.
Grim as this scene may seem, it effectively details the sacrificial efforts that many Americans are making in order to push back the devastating effects of Coronavirus. At this stage, there is still no vaccine, and Media Junction®, like so many businesses, is preparing for an entirely different year than previously projected as a result.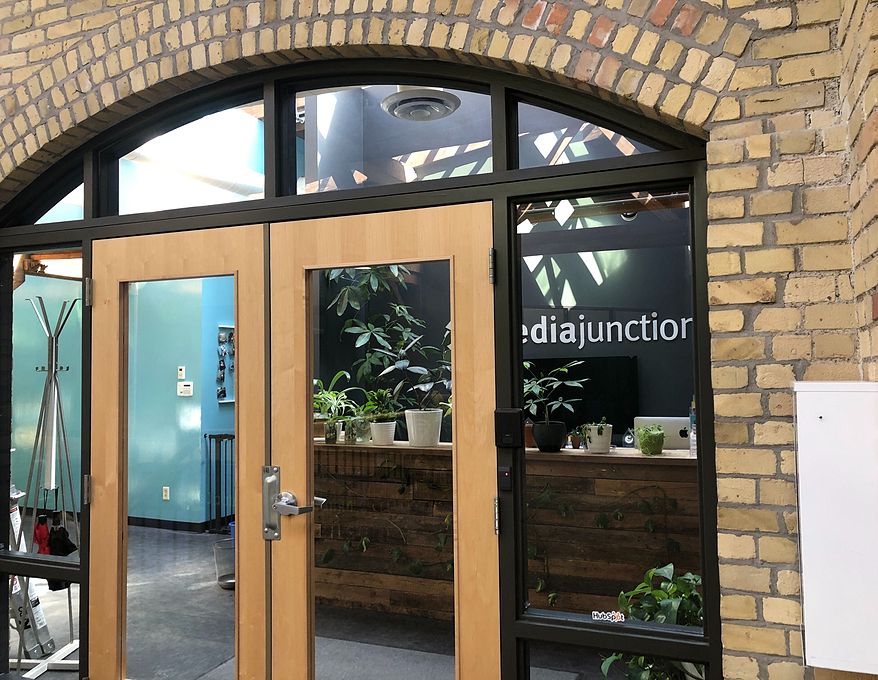 To say that Americans and American businesses have been forced to reconcile their ways of life with what some are calling, "our new normal", is an understatement. We have passed reconciliation — it's time for a full-on embrace.
Knowing this inspired the marketing team at Media Junction® to reach out to our clients in hopes of gleaning from their stories, what can only be referred to as, "hope for tomorrow". We know so many of you are facing uncertainty, job loss, security threats, and record fast infrastructure pivots — you are not alone. We're all breaking down the essentials and seeing, if for the first time in a long time, what really matters.
After several interviews from professionals in Real Estate, Finance, Linguistics, and Cyber Security, we think we've spotted a few trends worth sharing.
Your digital presence matters — like, it really matters.
One of the more interesting things we learned from our clients was that all of them were prepared on some level for changes due to the pandemic. Leadership teams closely monitored the situation via news outlets and internal conversations. Thankfully, no-one was caught off guard by the outbreak itself. The issue was, however, that not everyone had a digital presence that could sustain a complete infrastructure shift.
As if by the snap of a finger, offices nationwide went dark, employees were sent home and customers were confused about things as small as order statuses.
In my interview with Jonathan Smith, the COO of LinguaLinx, we spoke candidly about the extent of preparation that's required of business institutions. You can never know the future, but this pandemic has shown us that businesses need to be prepared for anything. Jonathan believes it's imperative that your IT infrastructure is rock solid. It's also imperative that your employees have the ability to do their work from anywhere, with any device.
He shared with me about the many years of shoe-string budgeting, where he was forced to simply get by when it came to digitalization. When asked what advice he'd give businesses today, he cooly stated, "you never want to spend money preparing for something that may or may not happen, but I guarantee it's going to happen. The best time to prepare for war is during peacetime."
IT and remote software aren't the only aspects of digitalization that matter — not even close.
Coronavirus has amplified the claim that business processes need automation. That's marketing, services, and sales — and we'd agree. As proud HubSpotters, automation solves all those pesky manual tasks. But we know that for many industries, the process of automating daily tasks seems more risky than rewarding. In the wake of Coronavirus, your business can not afford to do things "the old fashioned way". Leveraging budget to finally tackle difficult processing initiatives is a decision that businesses nationwide have been forced to make, and thank goodness for that.
In addition to business process automation, simply having a worthy brand presence online is helping businesses stand out in all the online chatter. Gorgeous websites with high-quality graphics have always mattered, and now is no different.
Your business values matter.
Now more than ever, it's crucial that your business leads with its values in mind. Customers, prospects, and employees are nervous and wondering what's coming next. While your business may not know what challenges are on the horizon, it's important to take the time to be vulnerable, be transparent, and lead with your values. Do you value communication? Then take extra effort to communicate well. Do you value the families that your employees have? Then be sure to create a stay-at-home culture of flexibility during these unique circumstances, as many are working with children who are zipping through their makeshift offices.
We're not reinventing the wheel—articles have been written for years focusing on how younger employees are prioritizing working for "value-driven" companies. We've all witnessed socially conscious advertising connecting with consumers at a level rarely seen before. And our work with clients continually reaffirms their desire for transparent and honest communication.
With stay-at-home orders, combined with detailed review sites, improved search algorithms, and numerous computers, tablets, and smartphones in each household, people are more empowered than ever to learn about your business, good and bad. Not every business decision is going to be easy— jobs will change, and HR issues will continue to need addressing. But, leading with your values will create a buffer in all this chaos and can truly help you centralize your efforts on what matters most.
Media Junction has experienced incredible growth over the last couple of years, which always creates challenges as new co-workers learn to integrate with existing teams. When asked what initiatives [her team] was focused on before COVID hit, Trish Lessard, CEO of Media Junction® was striking in her response. She says the team was focused on, "putting the customer at the center of everything that we do… [we're] focusing on our roots, that's how we grew, and that's how we built the company we love."
Your employees matter.
Old managerial mantras, such as clocking in and out at specific times, are rapidly evolving to evoke a more employee-centric workplace. COVID-19 is showing this old style of management has significant limitations when companies have to pivot to working remotely. It's also showing us that companies that have already made this change— are winning.
LinguaLinx, one of the premier language translation companies in North America, knows the benefits of having remote workers as well as anyone. With a translation team that spans the globe, it goes without saying that remote working has always been a reality for their company.
There's an old school work management style where it's like [you're] in the seat at eight, and [you] stay in the seat until six. And if [you're] not in that seat, then obviously you aren't working. I disagree with that. I mean, if you can measure your employee productivity and the work is being done, and it's being done right, I'm not sure I care where you are or when you work, as long as the work is getting done.
— Jonathan Smith, COO of LinguaLinx
Working remotely isn't easy for everyone; hiring people who you can trust and who can operate autonomously is not a simple resume line item. But right now, it's highly effective to extend the rope and leverage trust and track record when it comes to your employees. Everyone is juggling and everyone is struggling (even just a little bit).
If your team is currently working remotely and you're struggling with the temptation to micromanage, consider that this is a temporary new normal, and find ways to adapt. It's not sustainable to check up on every last movement of your employees right now. We're not saying abandon accountability — we are asking, "how can you lift the burden your employees are feeling." It's not feasible to ask your employees to go on like they don't have families, and aren't riddled with distractions like their kitchen sink full of dishes or their washing machine running in the next room over.
Speaking as a Media Junction® employee, one of my favorite things about our agency is that we celebrate the diversity of our lives through flexible working. Before COVID, we had a regular rhythm of working remotely on Wednesdays. As a first time mom to a now four-month-old, tiny human— that was huge for me. When I asked Trish how her leadership style has been impacted as a result of COVID-19, she said, "Right now, I lead by making sure everyone is okay."
Your relationships matter.
As humans, we thrive when we're connecting with others. Whether it's at networking events, friendly gatherings, or more recently—virtual hangouts. Maintaining a connection with others is ingrained in our DNA. Even now, in the era of COVID-19, with other parts of our lives at a standstill, we're still finding ways to maintain and build our relationships.
It's very apparent that these last few weeks have been difficult—we're all feeling this chaos, bringing with it a different experience for everyone. But what's inspiring is, we're all adapting. Businesses are learning how to be more agile, more empathetic, offering assistance where and when they can.
Trish Lessard, CEO of Media Junction®, spoke openly about the importance of leaning on "your people". For her, having a supportive network of other business owners has been the silver lining in the midst of uncertainty. It boils down to the narrative that "we're in this together, let's help one another". Let's hope that never changes.
Your sales structure matters.
When I asked our clients how they were moving forward, I found most had already made shifts in their sales, customer service, and business operations. Many were working through and re-evaluating what makes the most sense for their clients and customers.
With Stay at Home orders in place, Americans are spending less time outside in their communities and more time at home. Maggie, the Portfolio Manager at Specialized Real Estate Group , is uniquely aware of this shift and is focused on providing a better living experience for their residents in hopes that they'll not only make it through this time, but be delighted to remain a Brick Avenue Lofts resident for years to come. "We're really trying to eliminate barriers and make it easier for us to retain our residents," Maggie says.
In-person tours may have decreased for the time being, but building a better user experience no matter the channel has always been at the forefront of Maggie's initiatives. With online tours, visitors can easily picture themselves in each space, and with the click of a button, submit an inquiry. Even more so than before, Maggie and her team are focused on driving conversion through their website by providing a high-value and cohesive user experience.
As for Jonathan from LinguaLinx, his team is expanding on the importance of adaptability and shifting mindset. As he prepares to move the business forward, his focus is on refining their sales efforts and diversifying their portfolio of service offerings.
Coronavirus has made us all students of experience. With definitions circling such as "essential business", Americans in the workplace have been brought to terms with what exactly essential means in the American economy. With establishments like grade schools and universities being closed, but daycare centers remaining open, it's no wonder that professionals are redefining their terms.
But, before we all go jumping ship, we have to remember that, while COVID-19 has certainly been a catalyst, we are still able to adapt. The guidelines for living in a post-Coronavirus world are there to help us return to our ways of life—safely. Instead of being overwhelmed by them, let's find ways to welcome them into all of our structures, including when it comes to our revenue.
Over to you.
A simple change you can make today in preparation for tomorrow is developing your COVID-19 Preparedness Plan. It's up to each and every business to carefully construct these plans and implement them. For details that pertain to your specific state, you should visit your government's website for employment and economic development. It's important not to skip over the details like having desks six feet apart and ensuring that workers who are ill stay home — no questions asked.
While Coronavirus has challenged our biases when it comes to work and productivity, it's also affirmed that humans are adaptable. What once was a risk to trust employees in their domestic environments, is now the standalone factor of businesses who have continued producing products and services unhindered. Continue being flexible. Continue embracing the uncertainty with unfettered innovation. Continue to do good work that you're proud of and lead your teams and employees to do the same.
As a marketer in this pandemic, I believe that businesses have the power to spread hope in a time when so many people are living in fear of tomorrow. When businesses make smart, mindful decisions that consider the lives of the people they interact with, we are all better because of it.
subscribe to get the latest in your inbox.
Subscribe to our blog to get insights sent directly to your inbox.