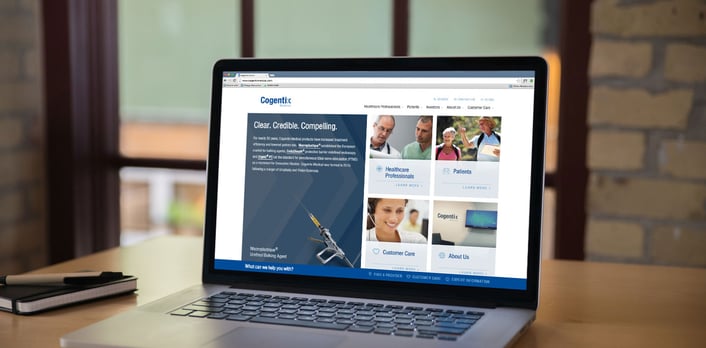 At Media Junction, we love working with companies with ambitious growth plans. That's why we were so excited to help Cogentix Medical launch their new website, a critical component in their goal of doubling annual revenue to $100 million by 2018.
Cogentix Medical was formed in March 2015 after the merger of medical device companies Uroplasty and Vision-Sciences, Inc. and specializes in developing new technologies for specialty markets including urology, gynecology, bariatric medicine, critical care, gastroenterology, otolaryngology, and pulmonology. They had a pressing need to redesign their website to reflect their newly created company and needed a partner who could implement a scalable, strategic site capable of growing with their business.
Cogentix Medical came to Media Junction because they needed a dynamic new website that would grow with them.
The Challenges and Solutions
1. Merging two websites into one
The most immediate challenge was designing a cohesive site architecture. As a result of their merger, Cogentix Medical had two existing, independent websites with multiple page instances – effectively ruling out a simple import.
We began by examining over 1,000 pages of content from both the Uroplasty and Vision-Sciences sites to ensure everything was categorized to the correct user personas and tagged to specific specialities so the eventual content merge would work. Due to Cogentix's audience fitting into very distinct personas, we designed an architecture that avoids user confusion and quickly directs visitors down the correct path to the information they need.

2. Establishing the buyer's journey
Cogentix's audience consists of both healthcare providers with a wide range of specialties to patients searching for healthcare providers who use Cogentix products within and outside of the United States. It was critical that we made it intuitive for each persona-type to accomplish their goals.
For Cogentix healthcare providers, we needed to allow them to easily separate clinical data by healthcare specialty and location. To accomplish this, we designed the clinical data sections into HubSpot using custom blog templates. This enabled us to not only import the hundreds of pages of clinical data, but also to tag data by specialty and location. We used custom blog templates to make each post look like a normal site page and built in the ability to mark an article as "featured" or "non-featured."
The primary goal for patients was to help them find providers using Cogentix products. While the previous Uroplasty and Vision-Sciences sites had "Find a Provider" search functionality, it couldn't easily access XML sheets. To make search functionality more comprehensive we had to merge thousands of healthcare providers into a single database and create customized search capabilities for the jQuery Store Locator. We solved this by creating a parser to merge the two existing databases into a client-friendly Google sheet. We then built a custom HubSpot integration for the jQuery Store Locator that adds functionality to search providers by products, medical condition and zip code.
3. Designing for scalability and growth
As a newly formed company, Cogentix expects their web presence to evolve as they refine their marketing and develop new offerings. They needed a website that could grow with them, and also help them learn from their site visitors.
Being a global organization, a critical component of this is accurately reflecting medical requirements by country. Instead of having their marketing team maintain unique pages for every possible country (doesn't that sound like fun!) we implemented HubSpot's Smart Content functionality to display custom content and site navigation to domestic and international visitors based on the IP address.
Despite the robust list of features and needs Cogentix had, we strove to keep their future growth in mind throughout the design process. Design was kept minimal so the site can evolve based on user interaction and feedback. To help Cogentix track their users' patterns, we installed heat maps and page tracking to help identify popular pages and usability issues.
The Result
A delighted client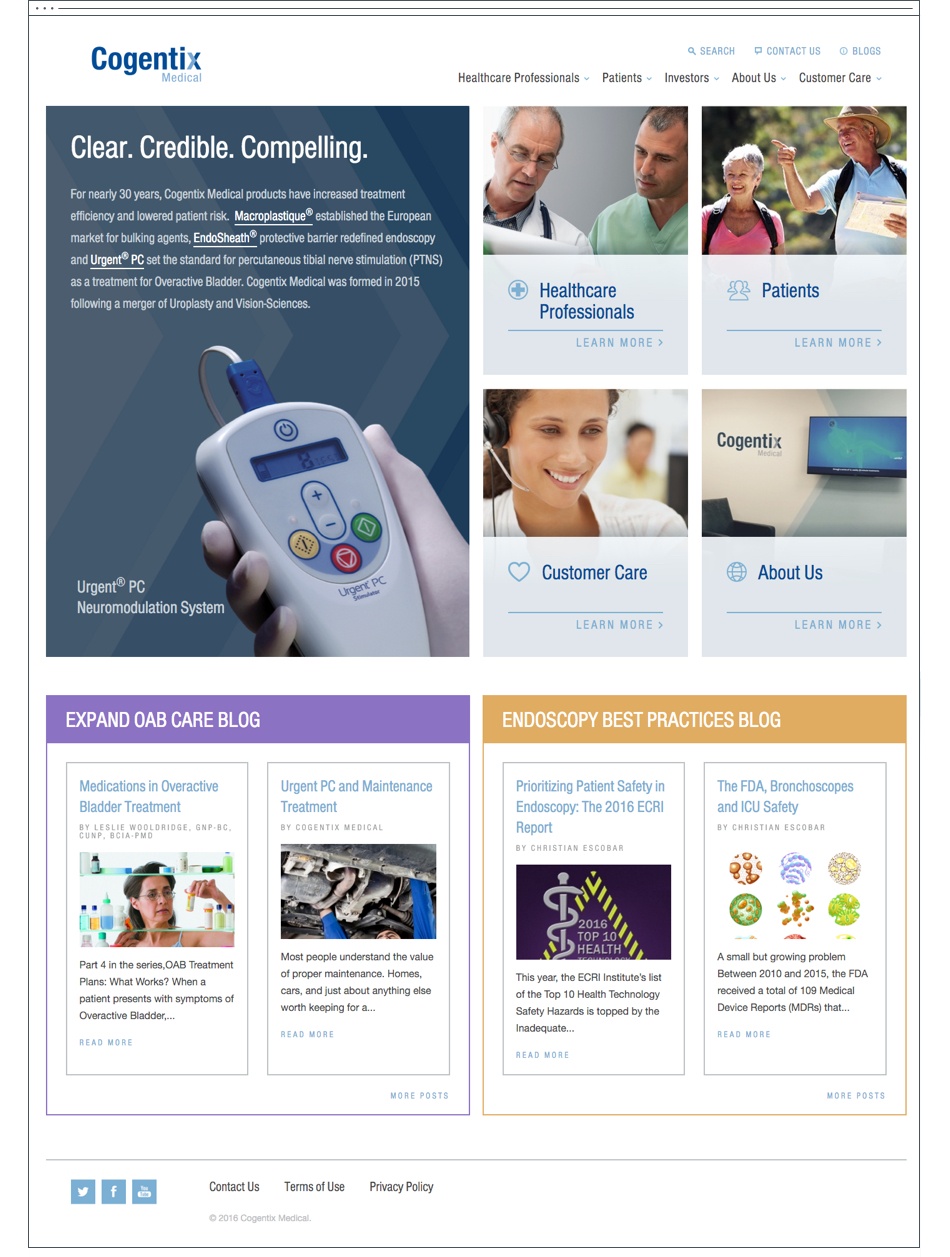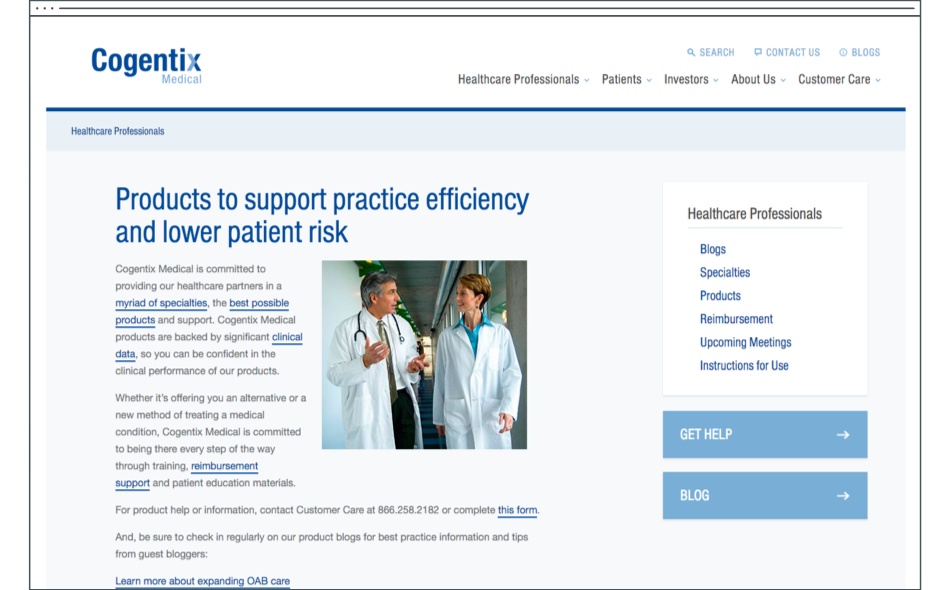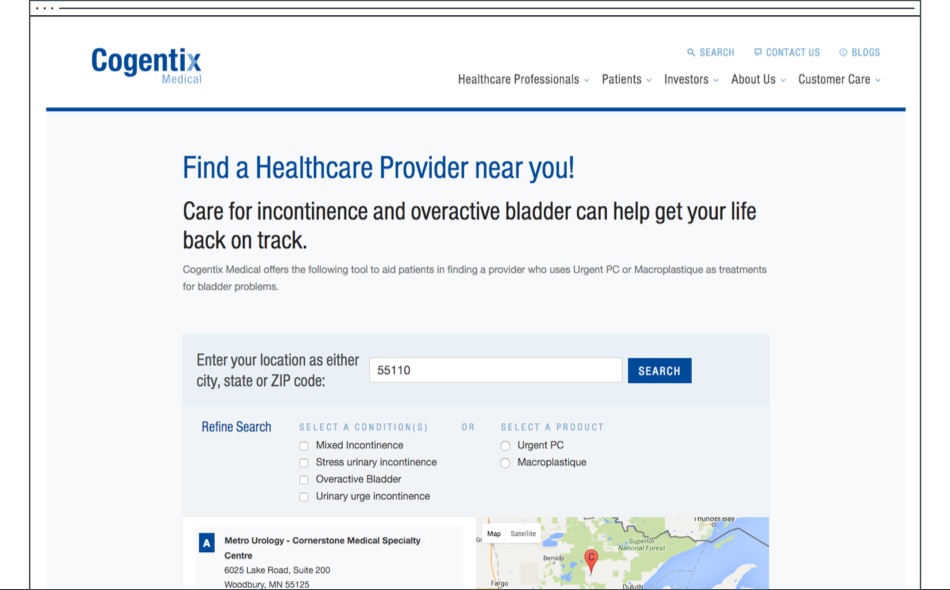 "We wanted the website to be more streamlined, easier to navigate and an effective lead generation tool. Media Junction was there every step of the way, providing great solutions to our challenges that took advantage of the great HubSpot platform and even doing custom coding for some of our unique needs. And it's working. Organic traffic has increased and new contacts are up 400 percent!"

–Rebecca Anderson, Senior Marketing Communications Manager