National Cooperative Bank is a mission-driven financial organization headquartered in Arlington, Virginia. The bank was originally established by an act of Congress in 1978 to help fund housing and commercial cooperatives. In 1981, NCB was privatized, becoming customer-owned, and has since expanded to having offices in multiple locations across the country. For over 40 years, NCB has been helping those most in need of financial services, with a strong focus on low-income communities. Through their efforts, they have helped provide access to healthy nutrition, affordable housing, and other impactful services.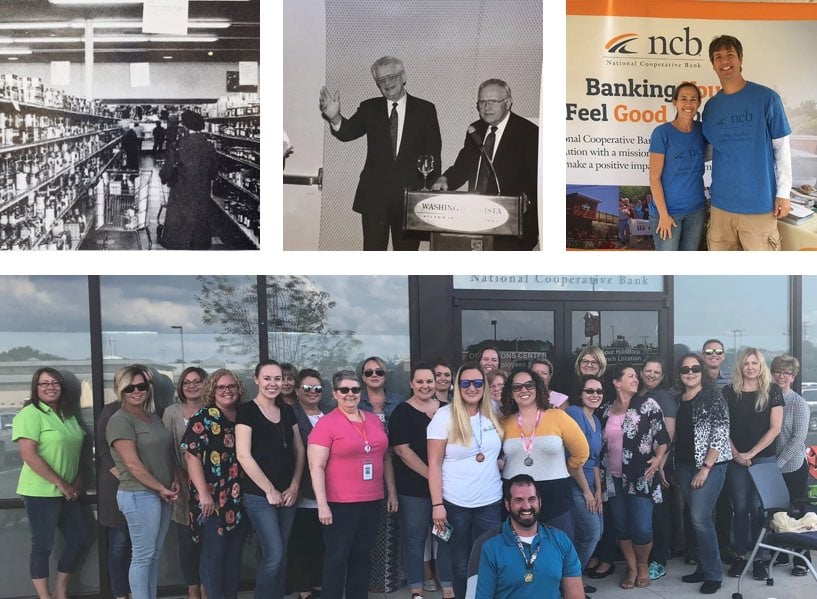 A small marketing team with big plans, a clear vision—and a deadline.
Marketers are often expected to deliver great results with limited resources, and the marketing team of two at NCB is no exception. Mary Alex Blanton, their Senior Vice President of Strategic Marketing, has been successfully overseeing their web and marketing efforts since 2007. Managing their tech-stack wasn't at all an easy task considering their CMS, email, and marketing platform were all with different vendors.
When you're a small team, having different things in different places can just be so time intensive and it was a lot of money to be paying four different vendors."

Mary Alex Blanton, SVP Strategic Marketing for NCB
Struggling to find more time in her day, contract renewals approaching and losing her in-house developer of twelve years, Blanton knew it was time to make changes. Leveraging HubSpot for email marketing and landing pages with great success, Blanton set out to explore if HubSpot could become their all-on-one solution.
NCB + media junction®
With their existing vendor contracts ending soon—Blanton and the NCB team were up against a tight deadline.
As a national bank, we work with a lot of vendors [across the US], but there's something about working with Midwesterners—they're just down-to-earth, nice people, affordable—and they were very responsive."

Mary Alex Blanton, SVP Strategic Marketing for NCB
NCB had very specific goals and requirements for their website redesign, all of which would be possible with HubSpot. In order to successfully move their website to the new platform, the NCB team knew they needed the help of an experienced HubSpot agency with in-house development resources.

Being data informed, and mission-driven their top priority was providing the best user experience possible to their 19,000+ monthly website visitors.
With more than 50% of their traffic coming from mobile devices, the new site had to be mobile-friendly.
As one brand with many sectors, the new site had to have brand consistency while still allowing everyone to include what was most important to their area of the business.
For the sake of the NCB team's sanity, the new site had to be easy-to-maintain, while also respecting their budget.
With the hard launch deadline of early March 2019 fast approaching, the Media Junction team hit the ground running to deliver on Blanton's vision.
Result: By making the switch to HubSpot the NCB team was able to reduce their annual tech-stack cost by 85%.
Challenge: Meeting the needs of site visitors, regardless of their device
Based on Blanton's analytics, as much as 50% or more of their traffic was coming from mobile, however, their existing website was not at all mobile-friendly.
You had to zoom in [on the site], and the images didn't look right at all: sometimes you'd see half a logo, for example. I wanted to make sure that we went with something that looked (and worked) great on mobile."
Mary Alex Blanton, SVP Strategic Marketing for NCB
A frustrating user experience such as this can be a roadblock to conversion, so addressing this was a high priority.
Solution: A mobile-first design approach
The design team at Media Junction crafted the new site with a mobile-first design approach. Keeping a mobile users intent in mind, they were able to maintain a healthy balance between usability and visual appeal.
Result: A user-centric friendly experience for all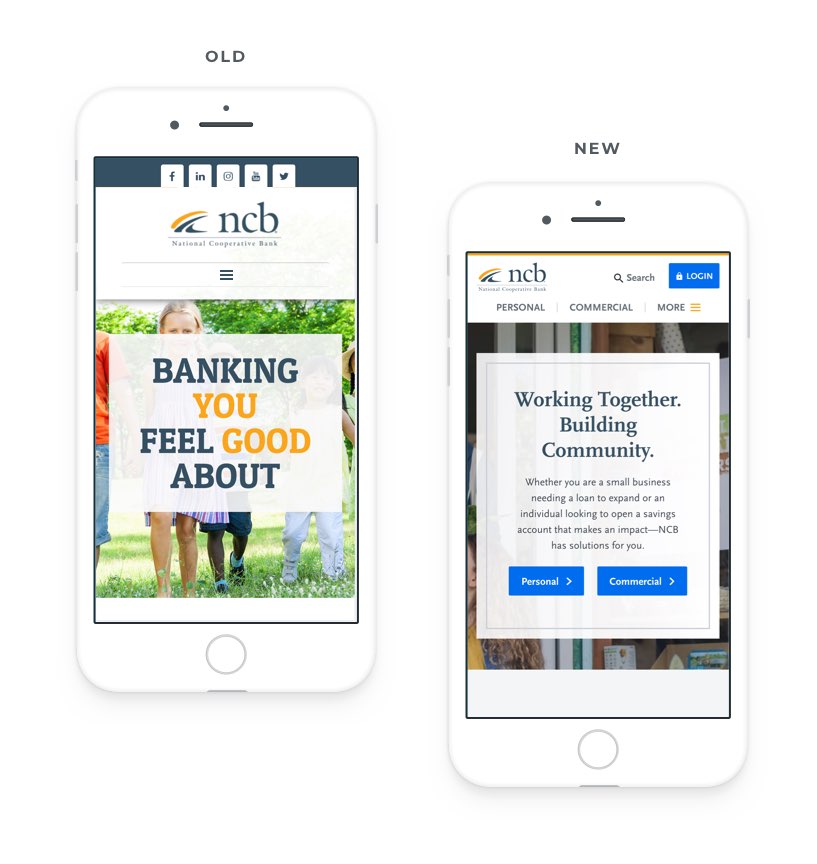 Challenge: Unite siloed business sectors under one brand
Even though NCB is a well-established bank that has fully embraced their mission and voice, their website told a different story. Multiple styles and strategies were at play depending on where on the site a visitor landed, and it didn't provide clarity as to how the various business sectors fit together as a whole. Since confusing visitors is a surefire way to lose their buy-in, the new site had to have a logical, uniform structure that was easy to understand and navigate.
Solution: Re-architect, optimize for SEO and ensure consistency
Structuring a sitemap in a logical way helps visitors easily find what they are looking for while boosting SEO authority. The strategy team at Media Junction reimagined the site structure in such a way that it could equally represent the different business sectors while maintaining brand continuity.
Result: A modern website people can find, navigate and love
Site visitors are now able to navigate the site with ease and complete their tasks in fewer clicks.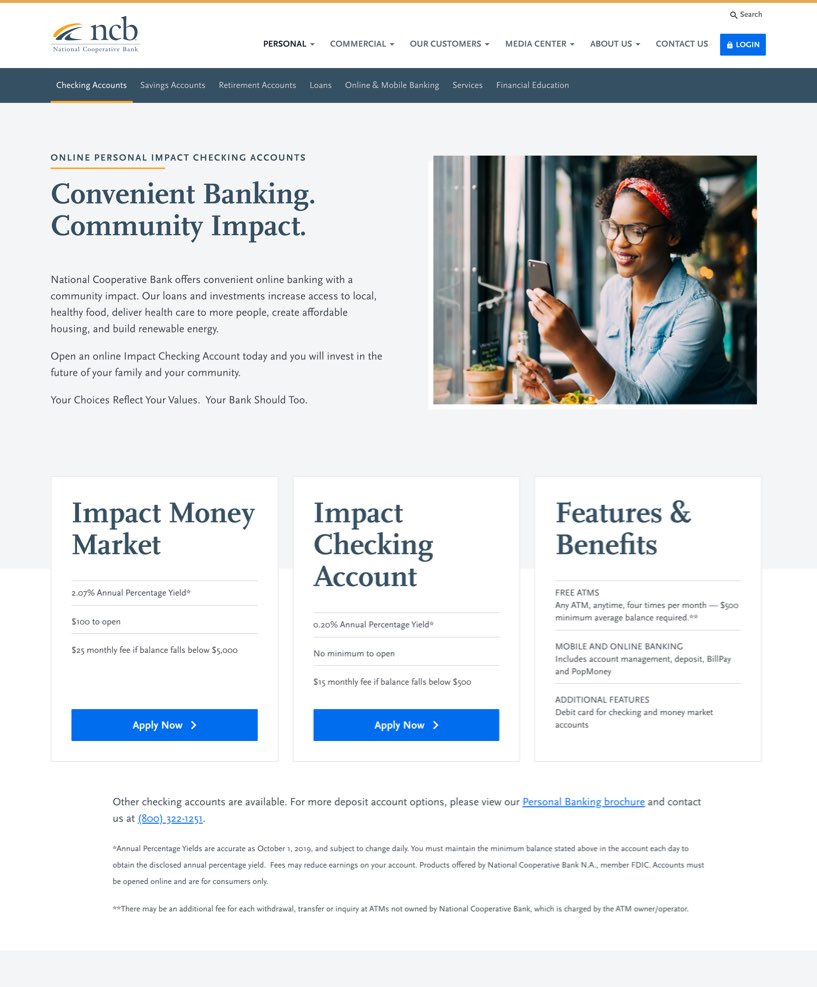 [Everyone] wanted their own little micro-sites, but that wouldn't be sustainable. I think we did a good job of conveying the mission of the bank with imagery and having every team have their portion of the site that really speaks to their story and who they serve."

Mary Alex Blanton, SVP Strategic Marketing for NCB
Result: Monthly Organic Visitor to Contact up 7.75X YoY
As a result of restructuring pages in a more logical, deliberate way and separating topics, the amount of organic search traffic not only dramatically increased, the traffic generated 7.75x more YoY for NCB.
Challenge: Making an accessible brand even more accessible
National Cooperative Bank has been positively impacting communities for over 40 years by doing what's right for those in need. With the Internet starting to be considered subject to the Americans with Disabilities Act of 1990, the concept of having an ADA-compliant website was beginning to take hold in the financial sector.
We wanted the website to be a visual extension of their established brand while offering improved accessibility with AA compliance, which meant we needed to utilize a color palette that provided good readability and contrast throughout the experience. Luckily their brand colors provided us with a good starting point. We added a brighter blue for calls-to-action and links. While working with the NCB team on the designs we also created several ways to include bright colorful imagery in a number of ways that allow them to showcase their community-focused mission in a more visual way."
Ryan VonBergen, Creative Director at Media Junction

Solution: Integrate Siteimprove into their new HubSpot website
Siteimprove is a powerful tool for website governance, and NCB had been using it prior to working with Media Junction. In the context of accessibility, the software measures and tracks how a website compares to accessibility standards established by the WCAG. The design team focused on other visual elements as well, such as contrast and appropriately colored overlays for pages that featured text over images. They also optimized the site for screen reader software by implementing ARIA labels for content elements which required them.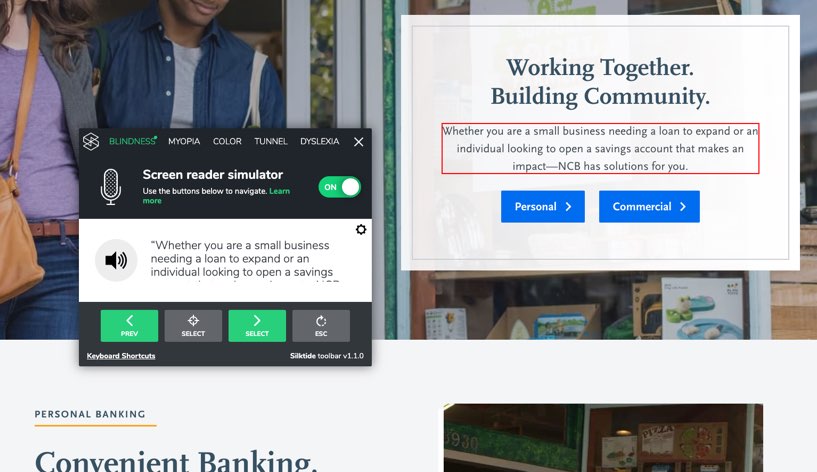 Result: A website that strives to be good to all
Staying true to their guiding principle, the new website was built with WCAG 2.0 AA standards for accessibility in mind to ensure that NCB was providing a more accessible web experience.
Even though there are not yet official regulations in place requiring bank websites to adhere to these standards, the NCB team did so simply because it was the right thing to do—to me that says everything about who they are as a brand."
Trish Lessard, CEO at Media Junction
About Media Junction®
Based in Saint Paul, Minnesota, Media Junction is a full-service digital agency and HubSpot Diamond Partner. The woman-owned agency known globally for its award-winning website designs offers flexible agency services to meet the unique needs of clients around the world. The crew at Media Junction is dedicated to exceeding client expectations whenever possible and aspires to be known as "the agency team you'll love."
Curious about an ADA Compliant website? Let's talk.