What better way to show our love for HubSpot than by holding the Q1 Twin Cities HubSpot User Group event on Valentine's Day?
Fueled by coffee and heart-shaped donuts, over 100 marketers joined together to network and listen to HubSpot's Principal Channel Consultant Amanda Smith discuss Facebook advertising for B2B and B2C businesses.
One question Amanda brought up early on is one you're probably asking, too: Is Facebook advertising even inbound marketing? It can be, if you use it with an inbound marketing mindset, by attracting, converting and closing leads.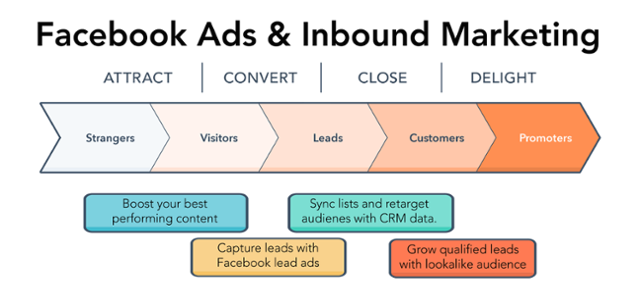 Image: HubSpot
Here's our biggest takeaways from Amanda's presentation:
The EdgeRank Algorithm Changed the Game
With the introduction of the EdgeRank algorithm in 2013, Facebook moved from showing posts in chronological order to showing relevant posts based on the user's behavior. Although this was a great update for UX, it had a detrimental effect on brands. The change resulted in a 52% drop in organic reach for brands, thus leading many to start using Facebook advertising.
The Facebook Apocalypse is Looming
On Jan. 11, Mark Zuckerberg announced in a Facebook post that the goals for Facebook are changing. "I'm changing the goal I give our product teams from focusing on helping you find relevant content to helping you have more meaningful social interactions," Zuckerberg said. This change, dubbed the Facebook Apocalypse, is striking fear into the hearts of even the best marketers. It's sure to cut into brands' organic traffic (again) and force them to turn even more to Facebook advertising.
Find and Target Your Audience
Here's some tips on how to find the right audience and target it:
Be mindful of your #Facebook targeting & make it relevant to your audience. More engagement= lower cost #TCHUG @mediajunction @HubSpot pic.twitter.com/jok2rYVf1m

— Kristin Dennewill (@KristinLD) February 14, 2018
1. Set a goal for each ad
Before you decide which audience to target, you'll want to decide on a goal for your ad. Think about what you want someone to do when they see your ad. Visit your website, buy your product, like your page, etc.? This goal will help you determine who you want to target.

2. Create a Facebook Pixel
Facebook Pixel is a free tool that will track your website conversions and will show advertisements to those who have taken a specific action (visited your website, visited your pricing page, etc.) and allows you to track conversions and target lookalike audiences.
3. Create a Custom Audience
The Facebook ads tool allows you to upload your MQLs, SQLs or another segmented list into the ads tool, in order to target the people who have the same email addresses or phone numbers. You may run into problems with the match rate of the information, especially for B2B businesses. Surprisingly, not everyone uses their work email to create a Facebook profile!
4. Create a Lookalike Audience
Once you have 100 conversions on Facebook pixel, it can create a custom lookalike audience based on those leads. Otherwise, you can create an audience based on your page fans or a current customer list.
5. Use Core Audiences
Your business can also target users based on demographics, location, behaviors, interests and more. Use audience insights for a look into what traits your current audience has, or try a different strategy, like Larry Kim's Inverted Unicorn Targeting.
6. Implement Lead Ads
Did you know 54% of Facebook users only access the platform on a mobile device? For those users, Facebook has created Lead Ads, a mobile-friendly way for businesses to get a lead's information. When a user clicks on your add, it takes them to a form so they can easily share their information with you.
HubSpot's Lead Ads Integration
HubSpot's lead ads integration allows your business to create Facebook Lead Ads inside of HubSpot. Once your lead converts, it will automatically sync their information with your HubSpot CRM.
Facebook ads can be an extremely useful tool for your business, and getting to know them sooner rather than later is key, because organic traffic for businesses is soon to be cut significantly.
Our next Twin Cities HUG will be on Wednesday, May 9 at the A-Mill Artist Lofts. Visit our Twin Cities HUG website for more information and stay tuned for the topic announcement.