As Media Junction begins its 19th year, we're proud to say that we have once again been recognized for the outstanding work our team does every day for our clients.
For the third year in a row, four Media Junction websites were named Hermes Award Winners for Creative Web Design!
Hermes Creative Awards are awarded by the Association of Marketing and Communication Professionals (AMCP), an international organization that consists of several thousand marketing, communication, advertising, public relations, and digital media production professionals.
Each year, the AMCP administers and judges competitions for marketing and communication professionals involved in the concept, writing and design of marketing and communication programs and print, visual, audio and web materials. Entries for this yealy competition come from corporate marketing and communication departments, advertising agencies, PR firms, design shops and production companies from all over the world.
The Hermes Awards judges are senior-level industry professionals who separately evaluate the creativity of each custom web design. Judges then discuss criticisms and compliments for each entry, and agree upon a score. To win a Platinum Award, a website must score between 90-100 points in the consensus judging system. Websites earning 80-89 points receive a Gold Award. In this year's competion, approximately 17 percent of entries won a platinum award, while 22 percent of the entries were recognized as Gold Award winners.
Creative Web Design Winners
Four custom websites designed by Media Junction took home awards in 2016.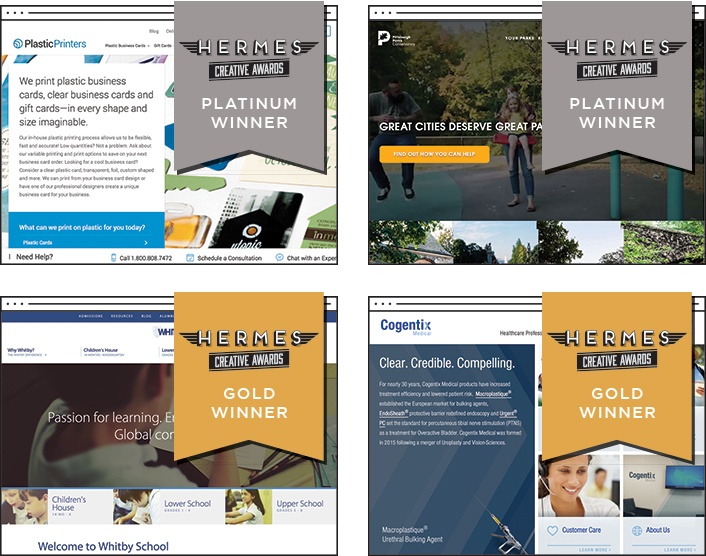 Working for Our Clients
Not only does the Media Junction team create award-winning sites, but we're constantly thinking about how to take our clients' websites to the next level. And that's the best part of our job- getting to hear how delighted our clients are in the work we've been able to do for them. Here's a couple of notes we've received recently:
"Media Junction helped us completely overhaul our 8-year-old site, and worked with us on retainer for a bit afterwards. Their whole team is exceptionally hardworking, pleasant and responsive. What we appreciate most is how well they communicate with everyone on our team — they take the time to make sure everyone's on the same page. We've loved working with them!"
Lauryn Stalter
Pittsburgh Parks
"The Media Junction team did a beautiful job designing the site in a way that matched up with our brand and truly represented the spirit of our school. We are so pleased with Media Junction's strategic vision, partnership and results!"
Sarah Mead
Whitby School
Continuing the Legacy
Since our founding in 1997, Media Junction has aimed to build custom websites to help companies market themselves more effectively. While our abilities have grown and the scale of our agency has evolved, our devotion to creating beautiful, effective websites for our clients has remained the same.