Rock Solid Technologies is the creator of an innovative citizen engagement platform that helps government and city leaders connect and interact with their communities in meaningful ways. From its origin as a software development company based out of Puerto Rico, the Microsoft Gold Partner has expanded across Latin America and into the United States as well.
the challenge: combine multiple websites and create a cohesive user experience for visitors across the globe.
As a result of expansion, the company found itself managing seven domains—all on separate CMS and hosting platforms—which made it incredibly challenging to manage. Each site had its own unique look and feel, which left the brand feeling fragmented. Additionally, the lack of cohesiveness often left site visitors confused about what Rock Solid does, leading to unqualified leads and high bounce rates—leaving the company with a logistical problem, and a sales team that didn't feel well supported. The redesign would have to unite the brand and provide a seamless UX to both new and existing customers while also respecting the integrity of each individual product.
They were also in search of a solution to accommodate their location-specific products and services. The new website needed to be "smart" in that it would need to identify a visitor's location and dynamically display content not only based on the product availability, but also in their primary language (English or Spanish).
[Rock Solid] needs our site to clarify what our products do, who they're for, and what geographies they serve."

Tyler Dolezal, Director of Growth Marketing at Rock Solid
the overall solution: create an immersive brand experience powered by HubSpot
The Media Junction strategy team proposed a solution to consolidate all domains using the HubSpot CMS Hub.
The HubSpot CMS was the perfect solution, it checked every box and then some. We leveraged built-in, advanced tools and provided Rock Solid with a website that will meet their needs today and scale into the future."

Sean Royer, Sr. Strategist at Media Junction
Solution: Location-Specific Content
To accommodate the varying product offerings between the Latin American and US markets we crafted a custom experience that auto-detects the IP address of site visitors and displays location-specific content, removing friction and extra steps for the end user.
Result: Internal teams are empowered to curate a custom experience for site visitors, which helps route qualified leads to the best person to help them.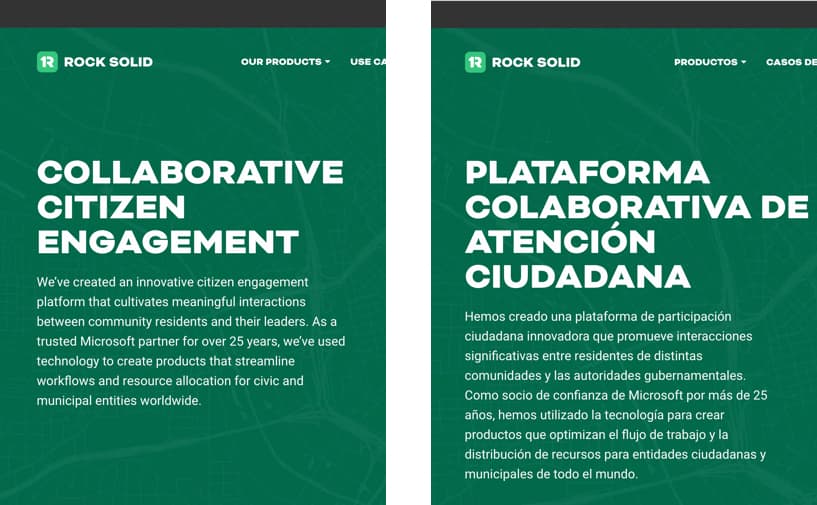 Solution: Dynamic Site Architecture + Improved UX Design
Leveraging HubDB, we created four site navigation configurations that work in tandem with multi-language variants to provide a seamless experience for users based on their preferred language and geographical region.

Result: A seamless, friction-free user experience that displays the right menu every time.
Solution: Smart Use Cases with HubDB
We developed a customized solution that displays only case studies that are relevant to each product/service based on the location and the language of the visitor.

Result: A highly-customized, filterable use case database that was tied to geographical regions and only displays relevant use cases.
Solution: Engaging Design Elements
It was essential to bring Rock Solid's brand to life through the website. Our design team stepped up to the challenge and created a fresh, modern look featuring striking visuals and custom iconography. Subtle animations guide visitors through the site and leave a lasting positive impression on visitors.

Result: An outstanding 82% drop in bounce rate!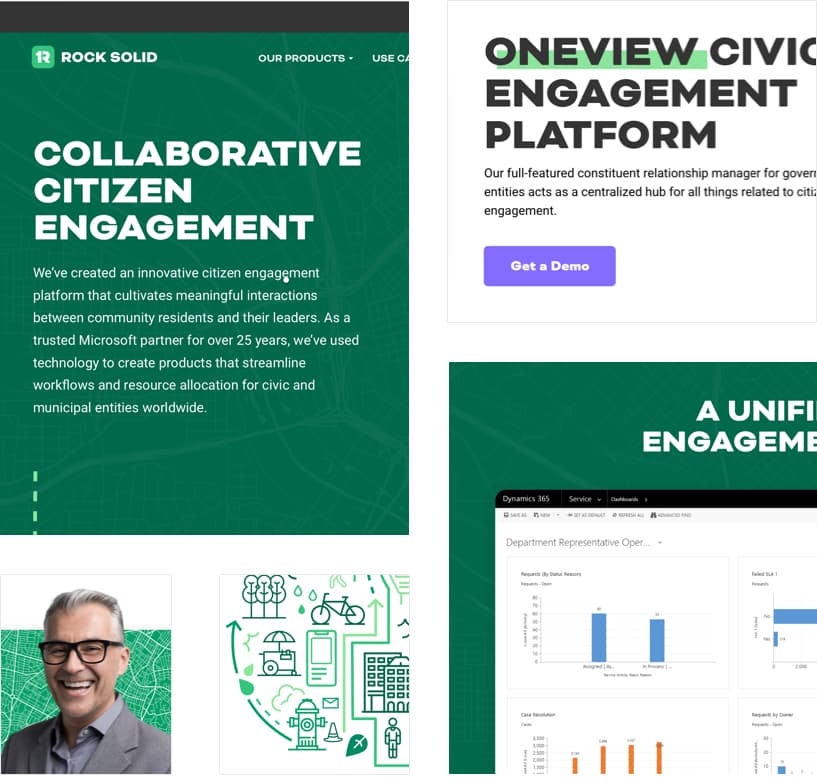 Solution: Custom, User-Friendly Modules
The Rock Solid team needed to be able to efficiently maintain the site in house. We integrated location-based content options directly into custom modules: a simple toggle enables one module to house regional image variants based on visitor location information and eliminates the need to create full-page variants.

Result: Rock Solid's regional teams can easily incorporate region-specific visuals alongside global content while maintaining a consistent brand experience.
fast results that fuel their flywheel
In just under 30 days post-launch, the Rock Solid team has already seen dramatic results, with increases in several key KPIs related to organic traffic and conversion.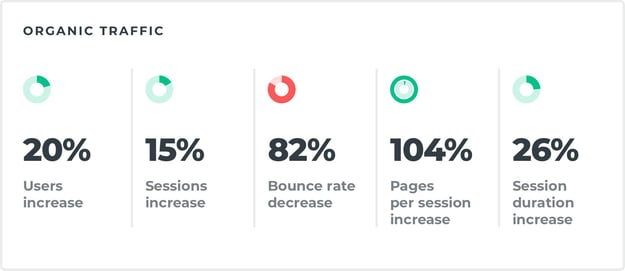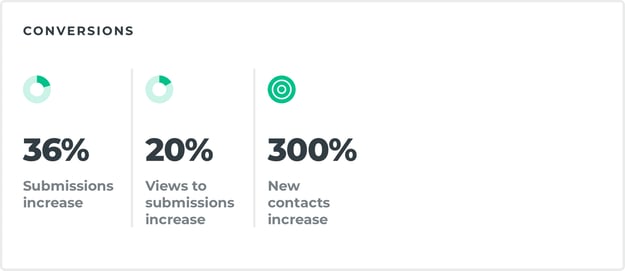 Not only are the metrics trending overwhelmingly positive so far, the Rock Solid team has also noticed an increase in the quality of the leads they are getting from the website. With greater alignment between marketing and sales than ever before, the growing company will surely continue to thrive.
There's been a considerable uptick in quality conversions that are real leads for us. In the past, people were confused about what we did, but now it's really clear [from the new website] who you're talking to and what we're all about. It really helps to have something to specifically point to [as a resource] for every single thing that we do as a business."

Tyler Dolezal, Director of Growth Marketing at Rock Solid
the impact: growing better with human-centric web design
A modern, user-centric website that positions them as an industry leader and inspires confidence in site visitors and prospects was just what Rock Sold needed to take their business to new heights. They now have a "rock solid" solution paired with powerful automation tools and CRM data within HubSpot that unifies their marketing and sales teams, empowering them to better support each other and continue to focus on growth.
We had a really incredible experience working with Media Junction on our website—we couldn't have asked for a better partner in our success. From the strategy, to the development, the execution of our new website, it really felt like they were there with us every step of the way making sure that the end result that we were going to deliver was world class. We couldn't be happier with the results that we've seen so far."

Tyler Dolezal, Director of Growth Marketing at Rock Solid
Want to take your website to the next level? Let's talk.