Instech Laboratories INC. is a leader in developing and manufacturing instruments for biomedical research. Their main product line is centered around laboratory animal infusion systems, oxygen monitors, as well as various biomedical tubing and pumps.
Founded in 1971, Instech Laboratories Inc. manufactures their products in Pennsylvania and has grown their direct sales network all over North America, Asia and India. The company serves a wide variety of medical laboratories including University, Government and Corporate with a product line-up that is offered in both standard and custom variations.
Updating the look and feel of Instech's website as well as the technology behind the scenes has allowed them to make stronger connections with their customers, help visitors explore new products, and improve both sales efficiency and their buyer's journey. Instech had historically struggled with how to demonstrate their important research equipment. The use of photography that abstracted the lab environment, while retaining the essential use and functionality of the equipment, was critical to bolstering the Instech brand and experience of the customer. Today, Instechlabs.com is visual, educational, and easy to navigate.
A custom quoting system was created and has helped sunset an outdated sales process that was inefficient and kept Instech from learning about their user personas. Throughout our engagement, the Media Junction team worked closely with Instech's new Marketing Director Wyatt to architect a site that would utilize Inbound methodology to drive business and maximize efficiency for internal teams.
Before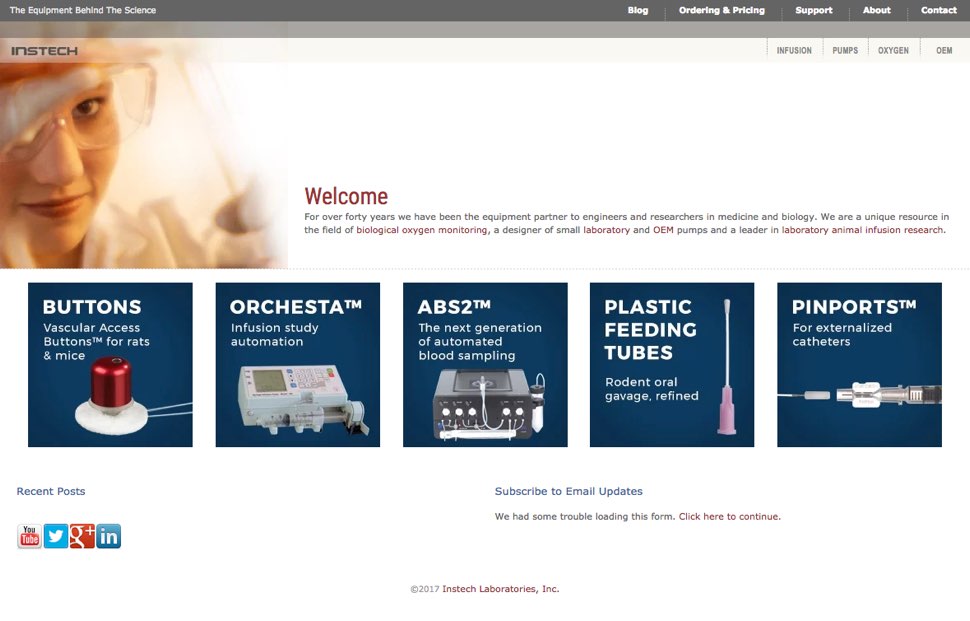 After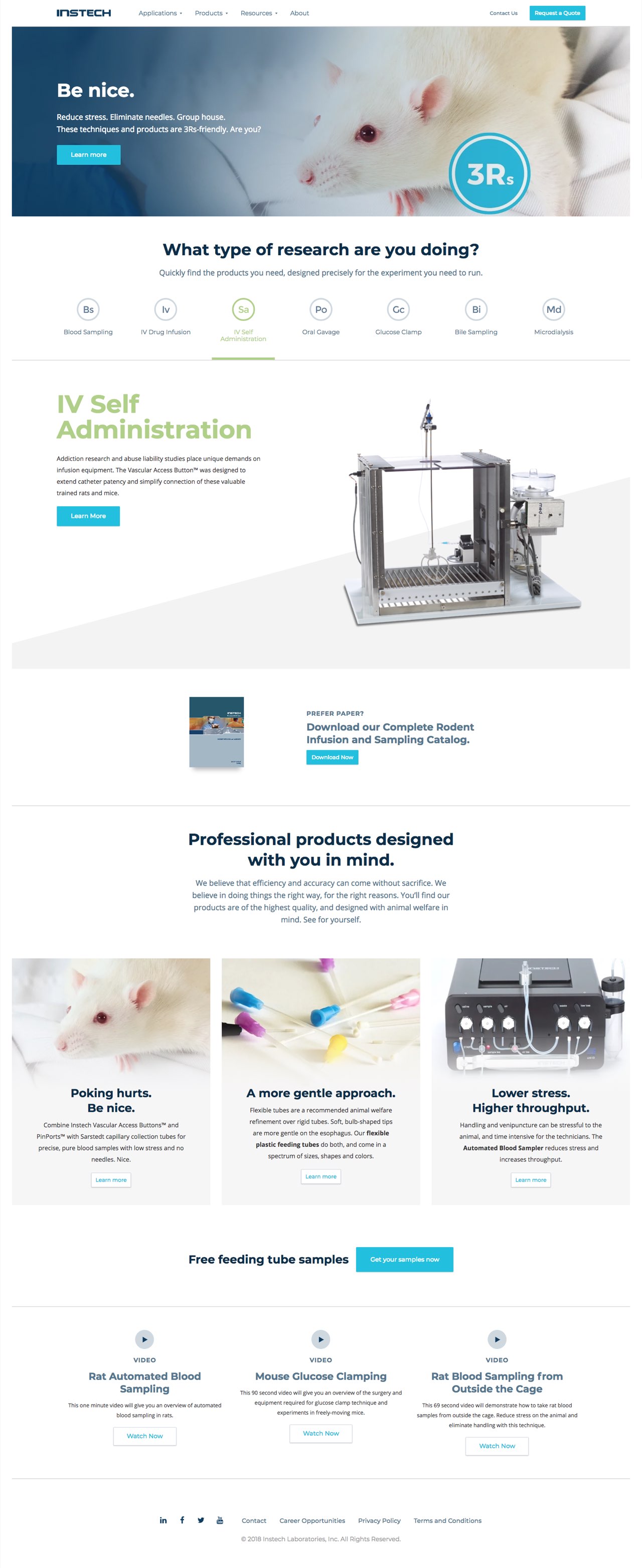 "Wyatt was an ideal client to work with. He had accumulated a great deal of experience working on other web builds throughout his career at both a production and strategic level. It was this well-rounded background that enabled him to come to us with an established picture of what direction the Instech redesign and brand refresh would head—and it is paying off for him and his team."
— Kim Wilcox, VP, Sr. Website Strategist
Challenges
Instech's previous website had served the company well for quite a while, but was becoming unfit for modern search engines resulting in an overreliance on paid advertising. A number of years ago the CEO built a custom database to meet the needs of his industry by managing price and product listings with it. However, that unique and innovative solution began to work against them as maintenance and access were now major hurdles and visitors and search engines alike began to expect more content from the website.
The site lacked personal connection and had a confusing infrastructure. Visitors needed to work and hunt for a specific product or information, and once it was located, details aside from technical specifications were scant. Further, the buyers' journey for primary personas was tedious and required a great deal of clerical legwork on the part of the buyer while simply requesting a quote. We needed to shift some of that heavy-lifting back on to the website to make things easier for the customer, and efficient for the Instech team.


Solution
Focusing on the User's Journey
Due to the overall scope of the website, a substantially larger site than a brochure with SKUs, we needed a website strategy that was highly intuitive and incorporated feedback from both the client and the end users of the Instech site. As the Media Junction team got to work developing and implementing the new site designs collaborated on by both teams, Wyatt took on the massive undertaking of producing a modern Inbound buying experience consistent with ecommerce best practices. Though no transactions would take place on the site, the team found the products would need high quality descriptions and support from photography and related product data to fulfill the expectations the user has for industry leaders such as Instech. Fresh photography taken by Wyatt himself of products in action, educational videos, and written copy in a new, brand-friendly voice was dispersed throughout the site's 150+ pages.
After gathering qualitative data from Instech's customer base, we found the target user is highly educated and explorative, and are in quite literal terms: researchers. We knew they would often turn to Instech for one particular product, so we implemented a website and content strategy that was easily navigational and connected products together based on the specific study (or problem) the user was likely solving for. This provided users with options where they previously found website frustration while looking to learn more. The objective was to gently guide visitors to investigate and discover other products while they learn more about studies or methods they may not have been previously aware of. The new content and site architecture embraced Inbound methodology, serving the end user, encouraging digital wanderlust and opening doors for additional sales conversations.


Result
Driving Traffic & Cutting Costs
The redesigned site is getting glowing feedback from a number of Instech's repeat customers. Newly placed conversion points for requesting sample kits boast a conversion rate of 21% since launch (6 months).
"The feedback has been really positive. We have customers who have worked with us for a long time telling us they they love the new website and that it's really easy to use. They love seeing the photos, they love the videos. We've had roughly 20 people explicitly say how much they are enjoying the new experience and these are some of our biggest customers."
— Wyatt Boughter, Senior Marketer Instech Labs
Currently, Instechlabs.com's organic traffic is up 29%, and direct is up 15.98% year-over-year. A more engaging and user-friendly site is also saving Instech advertising budget as well with their paid traffic dropping 37%. Seeing a 20+% net increase in over all traffic while cutting paid advertising by nearly 40%? That's what we call a major win.


Solution
Empowering Sales
Previous visitors to Instech.com attempting to make a purchase had a less than ideal buyer's journey. In order to purchase a product, a visitor would would need to browse isolated product pages on the website silo'd into one category despite being eligible for multiple, notate the SKUs and quantity of their order, and then contact the sales department separately with a list, wait for the order to be manually pulled and processed by the Instech team, and then receive a custom quote from which to either negotiate or approve. As a consequence of this system, sometimes buyers wouldn't bother looking at the site at all and just send the Instech sales team a product inquiry and occasionally a list of SKUs they gathered from a previous order, costing Instech the opportunity of increased sales.
With today's digital buyers having to do less and less work each time they shop online, we needed to ensure Instech could still maintain their competitive edge in an evolving digital economy by shifting some of that work away from the buyer. Likewise, we wanted to empower their target persona to conduct research with the Instech website to find out more about products and research methods, thereby making an impact on the quality of their lab environment and therefore the results of their study.
Media Junction approached the project with the presupposition that Instech's new site would be set up as E-Commerce, however after working closely with the Instech team we learned more about their business and decided a more custom solution would fit the bill. Due to the nature of the products, buyers would still need to converse with salespeople prior to purchasing, so integrations such as Shopify were set aside. Instead Media Junction developed a custom solution that integrated with the entire site to create a unique quoting system.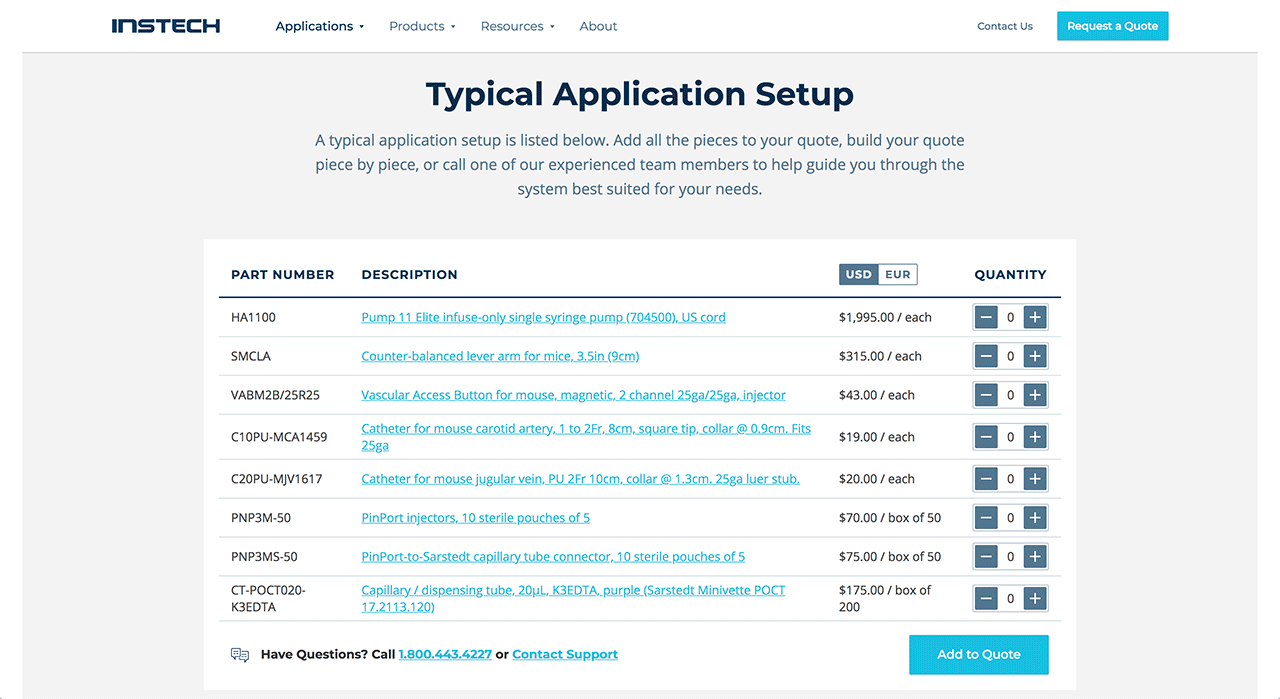 Result
A Dynamic, User-Friendly Quoting System
Media Junction developers engineered a unique quoting system that leverages Hubspot's HubDB to provide a centralized location to manage products and prices across the site. These products are listed in filterable sections throughout the website and are easily managed by the client. In fact, HubDB's handy import/export features also make it even easier for Instech to manage their database with their existing system than ever before, saving valuable time and resources previously spent managing an outdated and custom system. By downloading from their own privately developed database, and then importing into HubDB, Instech can manage all of the new features of the site utilizing tools they're already familiar with.
End users are able to toggle between USD and EUR prices, and add elements to their quote in an eCommerce-like fashion through the use of a cart. The cart also stores a cached file on the user's device so they can return to it later, or repeat a previous order without needing to establish an unnecessary user account. This is especially efficient as a large segment of Instech's visitors browse the site and place orders from in-laboratory computers vs. personal devices. Quote submissions are handled through Hubspot Forms which allow for the entire product and quoting process to be contained within the Hubspot ecosystem, further facilitating the segmentation and research of Instech's own customer base and personas.


Solution
Reorganizing Product Sections
Migrating a website as large as Instech's is always challenging which is why we are so thankful to work with clients who are as hungry as we are. Despite being a marketing-team-of-one over at Instech, Wyatt was in constant daily communication with the Media Junction team to ensure that everything went well and the Instech brand would be faithfully represented. Equally important was making sure that all of those pages were structured into a site that not only made sense for the end user, but empowered internal teams as well.


RESULT
Embracing Inbound: Putting the User First
In addition to the creation of the custom quoting tool, the new website was also structured to include a new "Applications" section that groups together different use cases for various products. The Application section served to broaden customer horizons regarding Instech products and inform them on other available equipment options the buyer might not be aware of yet. The Application section also helped solves a specific scenario where buyers who knew what they needed to do but not what they needed to do it could be guided to the correct equipment. For example, a lab assistant who was directed to purchase new equipment for rodent blood sampling could navigate to the blood sampling application page and be presented with the various equipment and methods for that particular practice.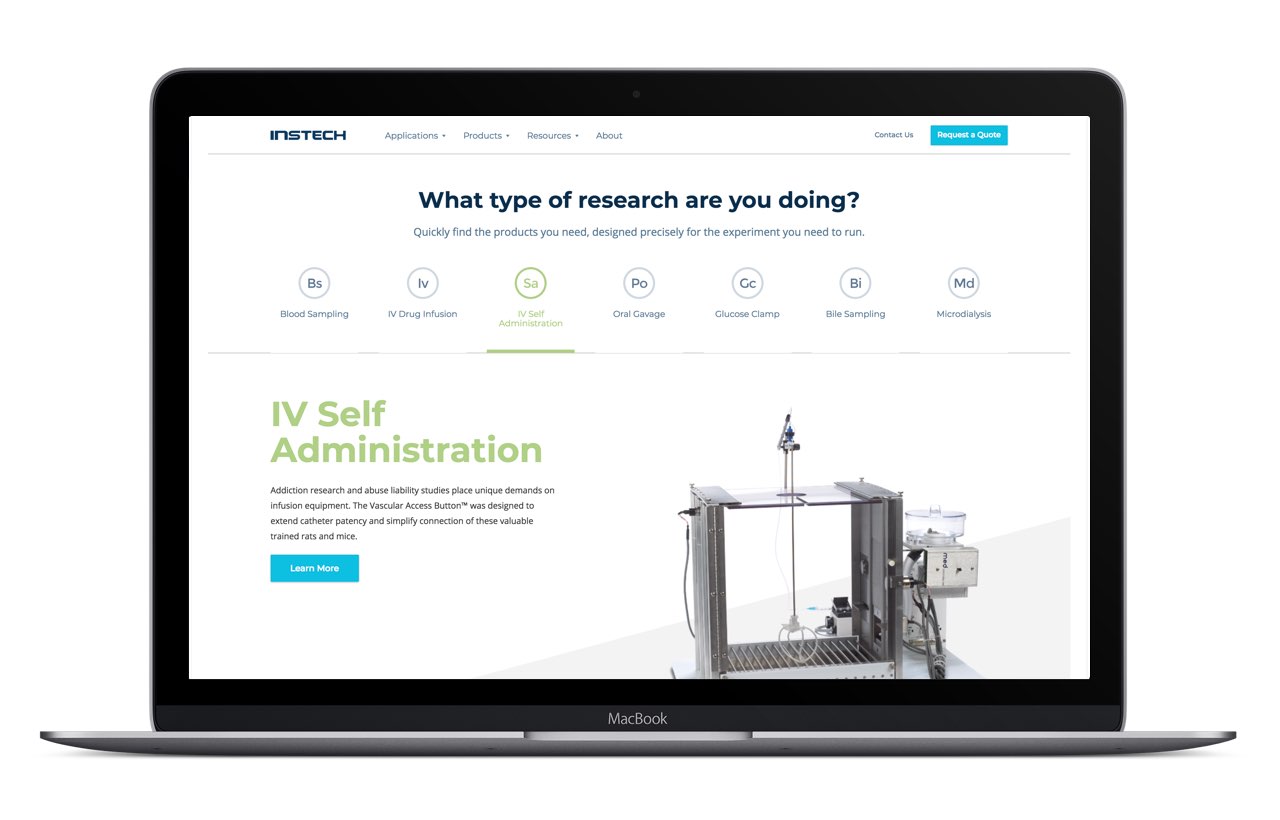 The Application section had additional internal benefit as well. Instech's Sales team finds it to be a invaluable support tool for providing customers with visual aid or laying out available options for those who don't quite know what to purchase yet.
"Our sales team can take an Application page and say, 'Hey, you see this two channel rat tether here, well actually in your case you're going to be needing the three channel. Here's why... Let me show you where that is…' Our sales team can see, from a high level, what customers will need for a study, and provide that hands-on guidance to ensure they're getting exactly the right pieces and that they work well together."
— Wyatt Boughter, Senior Marketer Instech Labs
Taking things a step further, and embracing the true spirit of Inbound, Wyatt began a nerve-wracking process for any marketer: ungating his content.
What we found pretty quickly was that lead capture was blocking us from being able to assist customers as quickly as we wanted to so we started to ungate them piece-by-piece. The videos have been an awesome tool for our salespeople to send links to a video so folks can understand what we're talking about and see a live demonstration for themselves. It's something that wasn't a part of the previous website, and it's been a huge bonus for us.
- Wyatt Boughter, Senior Marketer Instech Labs
A Website that is Sales Enabled
Redesigning Instech's website was a challenge that both teams took on eagerly. Today, Instech has a visually impressive website that is informative, easy to navigate, fosters the client/sales relationship, and perhaps best of all-converts.
The Results
Overall traffic is up 16% YOY, while Lead Conversion has more than doubled: +237% YOY. The website is also more effectively targeting the right users. Page views per session has seen a major lift of 182% growth YOY, meaning the right people are viewing more pages per visit.
Instech and Media Junction accomplished a great deal together in 2018. Heres to another year of Inbound growth in 2019 and beyond!
Ready to see how media Junction can take your website to the next level? Let's talk.