Brick Avenue Lofts is a portfolio property of Specialized Real Estate Group located in Bentonville, AR. Bentonville is most widely known as the hub or headquarters for Walmart. Walmart is unique in some of their vendor contract stipulations, one being that they require vendors to have a representative on-site in Bentonville. As you can imagine, this leads to employees being relocated there from all over the world. In order to serve the unique needs of this community, the real estate group created the luxury apartment community and associated branding to inspire new residents of Bentonville to "live like a local," as highlighted in the messaging of the Brick Avenue Lofts website.
The Brick team knew they needed a website that sold not only the apartment, but also enticed visitors with the rich and engaging community that is Bentonville. Maggie Owens, Portfolio Manager for Specialized Real Estate Group, explained that "many of the people that ultimately end up living in Bentonville will make a decision on the apartment without ever stepping foot [in the city]," referring to the large number of relocated workers.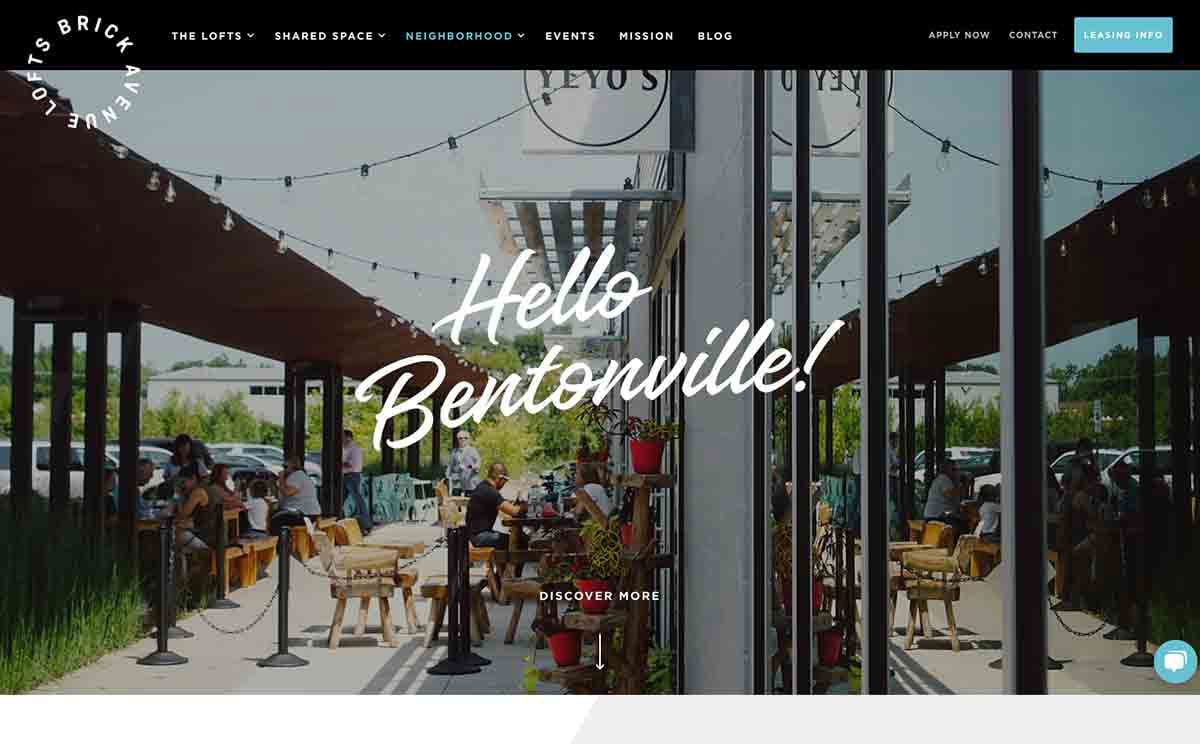 This unique set of circumstances meant that Brick Avenue Lofts needed an engaging, user-centric website and a robust toolstack that would empower them to encourage prospective applicants to fall in love with the apartment complex and surrounding city by providing a curated digital experience. The Brick team also sought the guidance of a knowledgeable marketing team who understands how to balance traditional and digital marketing strategies for maximum impact.
WP Engine® + HubSpot: A WordPress Site Powered by HubSpot
media junction® worked collaboratively with Owens and her team to build out their website on WordPress and selected WP Engine, one of HubSpot's premier partners, as their hosting provider. With this setup, the Brick team was able to utilize HubSpot to power their marketing automation and leverage additional personalization tools.
Once the new website was up and running and leads were flowing in, the team at Brick Avenue Lofts quickly came to the realization that they were having to maintain and manage their resident data across their two separate core systems, HubSpot and Entrata, which was creating unnecessary roadblocks for residents of the apartment complex and the management team.
Entrata—the industry standard for property management software.
While the software effectively serves its purpose in terms of managing resident data, it requires additional, manual steps in order for the platform to be utilized for meaningful engagement with residents. HubSpot is the marketing automation platform of choice for the team at Brick, however, the platform does not feature a native or out-of-the-box, third-party integration with Entrata. The ability to utilize both Entrata and HubSpot to their full potential for maximum impact on resident engagement would require the technical expertise and experience of a development team to create a custom data API integration.
Challenge: Getting information from a proprietary system.
While Entrata is widely considered the Cadillac model of property management software, it is somewhat lacking in terms of modern automation capabilities. This left the team at Brick with the arduous task of manually managing resident data in Entrata. The team at Brick knew the power of HubSpot and wanted to make use of more advanced marketing automation for engagement with both their existing and prospective residents.
Solution: Allow sales & marketing access to CRM data so they can create a more human-to-human connection.
By linking HubSpot and Entrata, the Brick team was able to easily manage all of the different engagement touchpoints in one convenient CRM while also being able to create personalized marketing materials for residents. As a result, Brick's existing "automation" (manually sending canned responses via Gmail) was elevated to an entirely new level by making use of the robust marketing automation tools and templates available through the HubSpot platform.
"There were so many different things that we couldn't do without the integration even as far as what we call resident retention or customer satisfaction. So, by having that integration and leveraging the HubSpot Service Hub, we've been able to improve workflow efficiencies and communication, and decrease friction on the consumer side."
— Maggie Owens, Portfolio Manager, Specialized Real Estate Group
Challenge: No native integration existed between HubSpot and Entrata.
While HubSpot features native integrations for many software partners within the HubSpot App Ecosystem, Entrata is not among them. Similarly, Entrata integrates with other property management software and internet listing services, but does not readily work in unison with marketing automation software. In order to take full advantage of both platforms, it was necessary for the Media Junction team to create a custom integration.
Solution: Develop a custom integration with Entrata using multiple HubSpot APIs.
The custom integration created by the full-stack development team at Media Junction has bridged the gap between the HubSpot and Entrata platforms for Brick Avenue Lofts, allowing them to connect data points from otherwise isolated sources in a meaningful way. The sales and marketing teams at Brick are now armed with relevant data and more aligned than ever before on the company's ultimate goal of delivering a frictionless customer engagement experience for new and existing residents.
Outcome: A secure, bi-directional integration between HubSpot and Entrata, utilizing industry best practices.
"We used a combination of Hubspot's Contacts, Service Ticket, Files, and CRM Associations APIs to get all the data Brick wanted from Entrata into HubSpot and vice versa. The last step was thorough testing to make sure the HubSpot contact record data matched Entrata's customer cards."
— Nathan Bos, Full-Stack Developer, Media Junction
Leveraging their ongoing relationship with Media Junction, Owens and the Brick team were able to work closely with a full-stack developer to build a custom integration that would seamlessly sync data between both systems. The integration allowed for the team at Brick to get the greatest benefit out of both platforms in terms of both marketing ROI and resident retention by aligning the data within each system in an impactful way.
The Lasting Impact of a Custom Integration
Result: Increase Team Efficiency and Save 2,000+ Person Hours
By utilizing a mapped API data point integration between their two main platforms, Brick was able to reinforce the powerful marketing automation tools provided by HubSpot with the property management data housed in Entrata. For example, a new resident who is moving in soon (based on resident data in Entrata) could automatically be sent relevant and engaging content and marketing materials (using HubSpot automation).
Prior to the integration, the Brick team had to complete such tasks manually, thus using marketing automation has led to increased efficiency by saving the team time on repetitive, day-to-day tasks. Based on data extrapolated from Owens, the Media Junction team estimates that the integration will have saved the Brick team more than 2,000+ person hours in the process of leasing every available phase one unit. Automating these important, though time-consuming, tasks has freed up the Brick team to instead focus on delivering effective resident onboarding and promoting resident retention, which is in alignment with their long-term business goals.
"The integration saves [about] eight hours of time spent onboarding every new customer."
— Maggie Owens, Portfolio Manager, Specialized Real Estate Group
Result: Automatic Sync Significantly Improves Response Time to 10 Minutes or Less
Brick's custom integration between Entrata and HubSpot has allowed them to foster an "ecosystem of information" in that it provides added clarity on sales and marketing engagement with residents and prospective residents through connecting the two platforms. The most impactful example of how the integration has aligned marketing and sales comes in the form of data from internet listing service (ILS) sites. Prior to the integration being in place, ILS data would only sync with Entrata. While this was useful for the sales team, the marketing team did not always have visibility on these prior engagements, thus creating missed opportunities for lead nurturing.
Result: Better, More Accurate Reporting
Having all the relevant ILS data points in one place helps bridge this gap—and others—for the sales and marketing teams, which has demonstrated ROI in the HubSpot platform as an integral part of the Brick toolstack. Aside from empowering the team to better leverage ILS conversion data points, the integration has also enabled the tracking of specific sales rep performance in HubSpot while also allowing them to use real-time appointment setting functionalities.
Result: Sales & Marketing Alignment
Additionally, the integration also allows for greater insight into lease origination sources through HubSpot reporting, which has helped the Brick marketing team to determine the most effective place to spend marketing dollars. All in all, the custom integration has helped align the sales and marketing efforts of the team at Brick while also making the team feel supported in their endeavors.
"Before the integration, we were manually entering every lead that was received from ILS sites. This caused significant delays and there was no way to trigger automation until [we] got into HubSpot (not to mention the time spent triple-checking every site to make sure every lead was getting entered)."
— Maggie Owens, Portfolio Manager, Specialized Real Estate Group
Result: A Brand People Love
The Brick Avenue Lofts brand is built around delivering an exceptional customer experience, and connecting Entrata to HubSpot has allowed them to reach new heights in this regard. The custom integration leverages HubSpot Service Hub functionalities to help streamline the resident experience and increase customer loyalty. By leveraging the integration, the Brick team is able to curate a personalized rental experience for new residents by seamlessly connecting them with an experienced specialist during the onboarding process. The Brick team has implemented a resident feedback platform by utilizing the Service Hub ticket system via the integration which has allowed them to gather valuable, practical analytics to make improvements and adjustments to their processes.
Result: Better Communication
Through the integration, the team at Brick is also able to coordinate and deliver real-time community updates, which was not possible before using only Entrata because of complicated opt-in requirements of the software. While these are just a few examples of the elevated service touches that Brick is now able to offer as a result of their HubSpot-Entrata integration, it has wholly revolutionized the way that the Brick team interacts with customers. They can now easily utilize resident demographics to target marketing efforts and deliver an elevated customer service experience. This helps them to proactively drive engagement and reinforce their position as a brand that values delivering an amazing customer experience.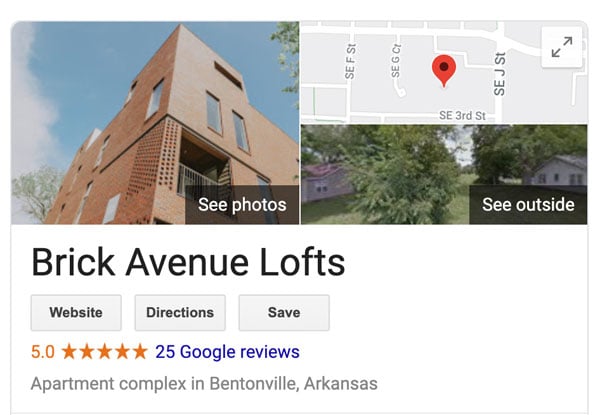 "The integration has totally streamlined our customer communication and education. Since residents have started moving into Brick in May, we already have twenty-five 5-star reviews on Google. Compared to Eco Modern Flats, another property which opened in 2012 which has 17 5-star reviews. This has been huge for us."
— Maggie Owens, Portfolio Manager, Specialized Real Estate Group
Result: An innovative integration that is helping Brick Avenue Lofts grow their business better (with data).
In the modern business landscape, the most successful companies recognize that data is king. Emerging advancements in technology allow sales and marketing teams to integrate platforms in meaningful ways to provide context and connections for their engagement with prospects and existing customers. Custom integrations created by skilled development teams are powerful tools for creating human connections in the physical and digital world.
The success of businesses today is also largely dependent on their ability to connect with people and deliver exceptional service, and the custom HubSpot-Entrata integration Media Junction created for Brick Avenue Lofts has enabled them take advantage of this fact. The integration has further solidified Brick's position as a devoted HubSpot customer going forward. Owens hopes to help roll out the new process along with the integration to other Specialized Real Estate properties.
"If your platform doesn't have an open API of X, Y, and Z things, and we cannot even consider you in our tech stack because HubSpot is core to everything we do."
— Maggie Owens, Portfolio Manager, Specialized Real Estate Group
Ready to see how Media Junction can take your website to the next level? Let's talk.

Trish Lessard
Trish Lessard, our CEO, is a fourth generation entrepreneur and co-founder of media junction®—a HubSpot Diamond agency. With over 20+ years of experience in UI/UX web design, her incredible attention to detail has earned media junction® a reputation of building websites that deliver results. In 2015, Trish was named among the "20 Women to Watch in Sales Lead Management." Trish has three adult sons, and an English Bulldog named "Ruby" who she adores.
See more posts by Trish Lessard
subscribe to get the latest in your inbox.
Subscribe to our blog to get insights sent directly to your inbox.