Heartland Bank is a community-focused bank serving central Nebraska and provides personal, business, and agricultural banking services.
Website Goals and Objectives
Heartland Bank came to Media Junction in November 2015 with the goal of improving their digital branch to be technological market leaders, improve website usability, and improve their current digital infrastructure. In the previous year, their bank website experienced a 150% increase in mobile and tablet visitors. Their marketing goals were to drive traffic to the website, capture leads, and nurture those leads. Being a financial institution, security was paramount to Heartland Bank.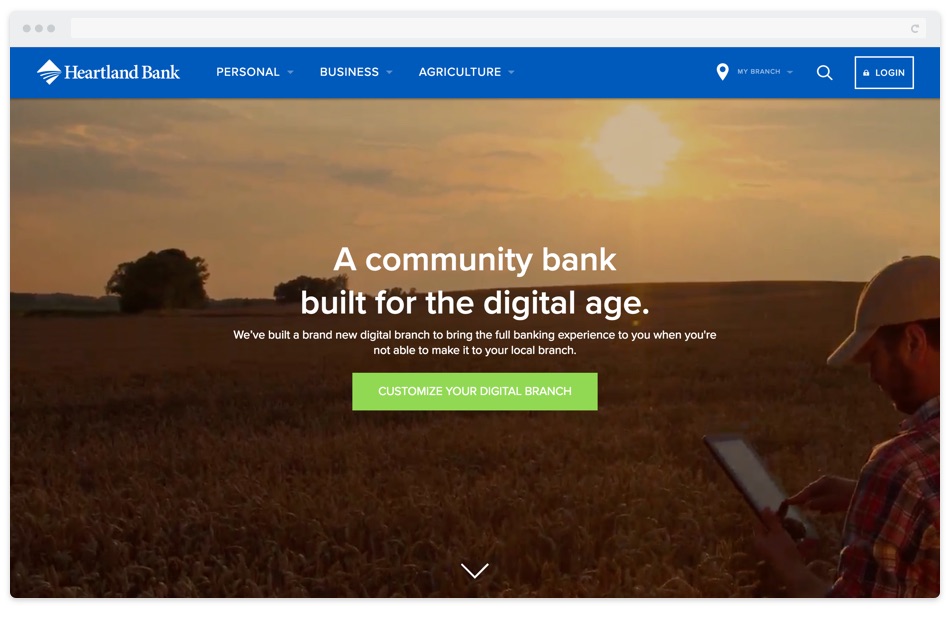 Solution #1: Improve Site Usability and Provide a Positive User Experience
To direct visitors in the right direction, we needed to first assess their information architecture. We mapped the personas to the site users and created a user journey map to plan how each visitor could be guided through the digital branch to achieve their particular goals. Their customer base was analyzed and segmented into seven primary buyer personas: agriculture, business, home mortgage, personal, trust and estate, investments, and insurance. Because of the sheer volume of content on the site, we organized their navigation into mega-menus to first point the visitors in the right direction.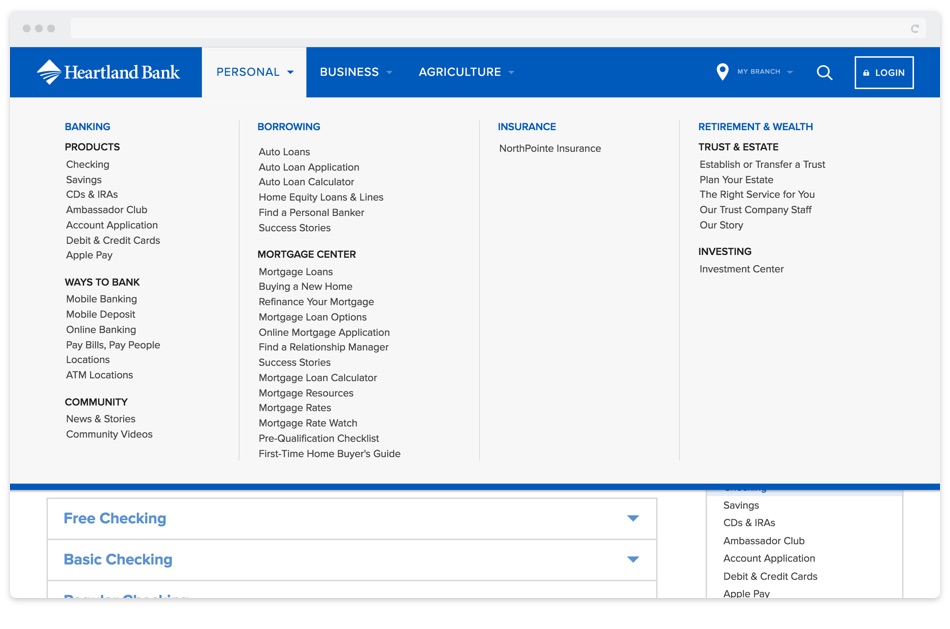 Solution #2: Build a Site That Can Be a Tailored Experience For Their Visitors and One They Will Remember
We utilized one of the most under utilized features of HubSpot's COS platform. By asking a few questions we were able to leverage the power of smart content throughout the site. Allowing Heartland Bank to serve up a tailored experience based on a visitors' form submission. The visitor can select from multiple products, locations, and the type of banking products that best fit their needs. Based on the local branch they selected, the branches hours and contact information will display in the navigation. Give it a whirl it is pretty neat.
Here's how it works:
The entire homepage was built with HubSpot's smart content feature, beginning with this clear, actionable CTA.
Visitors fill out a form meant to tailor the content to their interests and location—which captures their contact information. An important part of this form is the option to disable video backgrounds to help with page load.
Smart CTA's change throughout the site, as well as the background images tailored to the persona, For example "Customize Your Digital Branch" changes to "View Their Story" once the profile form is filled out.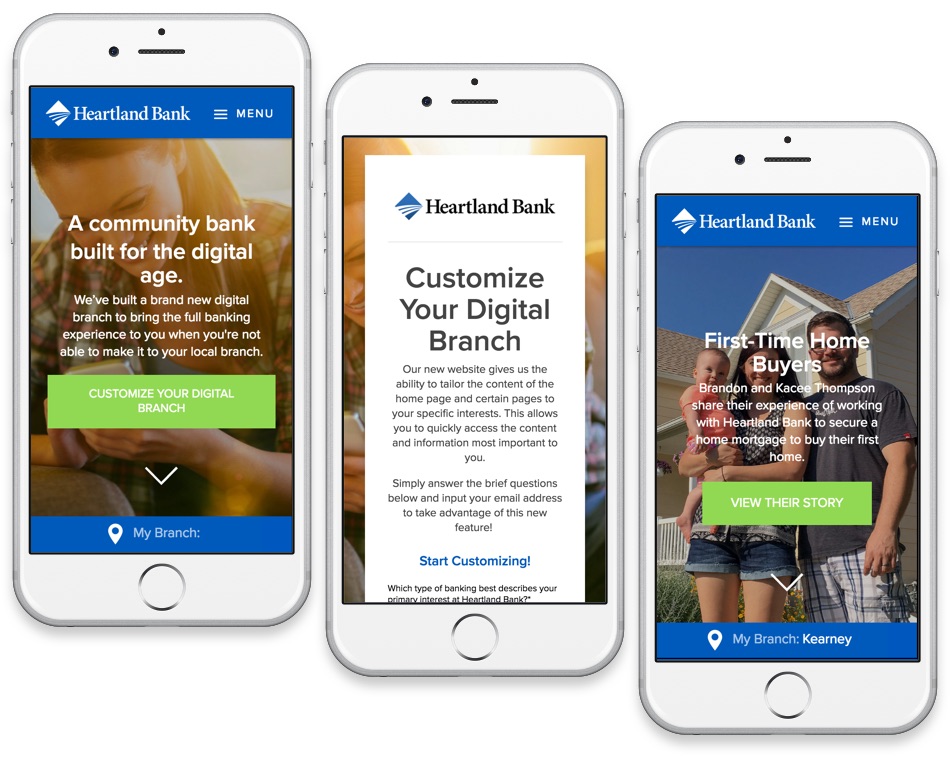 Solution #3: Build a Website That Connects Their Brand With Their User
The Heartland Bank website is probably one of the most beautiful banking websites I have ever seen. The goal of the marketing team at Heartland Bank was to build the most technologically advanced website and connect on a whole other level with their customers, particularly those who are not able to visit a local branch.
Solution #4: Organize Content in an Intuitive Way
The Blog page was also updated to reflect the client's goals. We brought it from a non-intuitive interface to a robust design with sub-navigation for topics. We incorporated a robust resource center and organized quick links in the footer to draw attention to the most frequently visited pages—just another way to serve their clients in a thoughtful and meaningful way.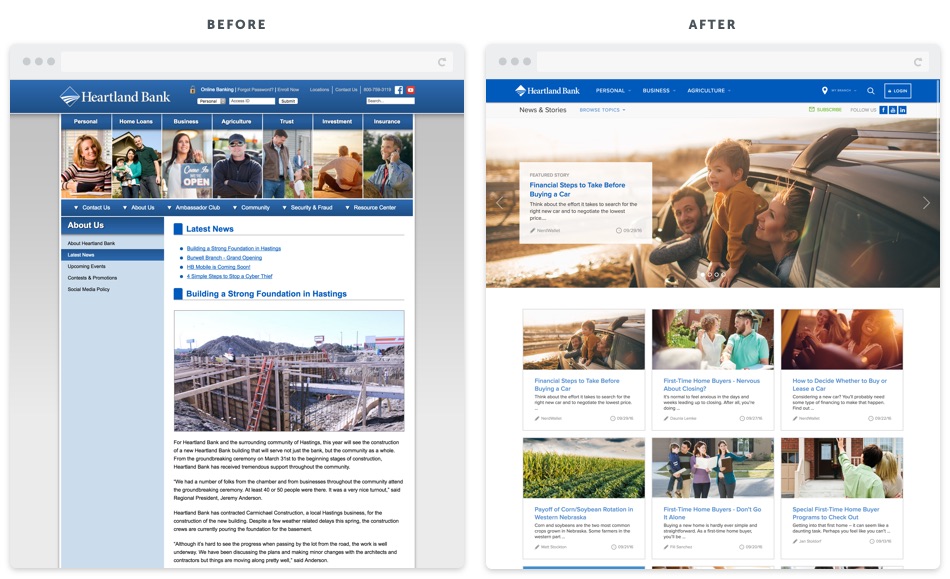 The Results
The new Heartland Bank website launched in March 2016. To meet their goals of driving traffic to their site, capturing and then nurturing leads, we set up smart content to personalize the user's experience. The website does everything from recognizing their local branch to providing them with relevant contact info and hours, to determining if they are a personal, business, or agricultural visitor to tailor the content and offers. Since the site has launched, Heartland Bank customers continue to register to personalize their website experience.
They built a site that truly can be updated, modified, and adapted to our future digital needs.

Jameon Rush, AVP/Marketing Director
"Media Junction met the Heartland Bank marketing team's goals and vision through the new website implementation. "I couldn't say enough good things about working with Media Junction to complete our new bank website on the HubSpot platform," said Jameon Rush, AVP/Marketing Director of Heartland Bank. "From the initial planning to the final post-launch updates, they were great to work with. The templates and tools that Media Junction built into our HubSpot platform allow us to grow and adapt our site over it's lifetime. I don't feel the need to constantly bug the developers on structural or feature changes as they have built the functionality for us to make these updates. This goes far beyond simple content updates. They built a site that truly can be updated, modified, and adapted to our future digital needs. I highly recommend working with the team at Media Junction, especially if you are in the financial services industry, as they can create a modern and powerful digital platform for your company."