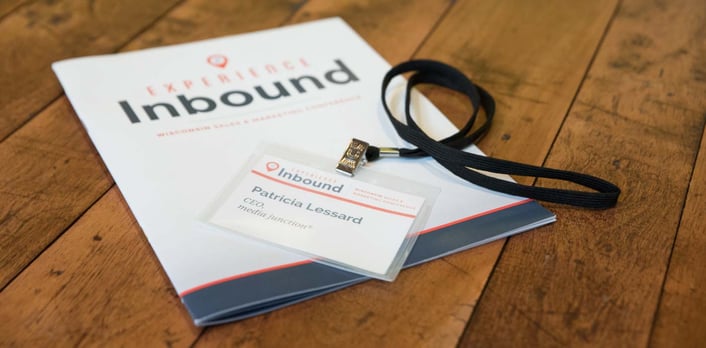 Earlier this week, I had the pleasure of traveling to Green Bay, Wisconsin to attend Experience Inbound, a sales and marketing conference hosted by The Weidert Group and Stream Creative.
How I ended up there is the perfect example of how a quick social interaction pushed me to act on a promise I had made to myself to attend more conferences and invest in my own knowledge.
The Power of Social Media for Business Networking
It all started with a quick tweet Greg Linnemanstons of Weidert Group posted on April 26th about bringing his dog to work and the lack of cake in the office.
It's "Take your dog to work" day at Weidert Group. Mabel was hoping there would be cake! pic.twitter.com/QRGTck5Vjv

— Greg Linnemanstons (@greglinn) April 26, 2016
Seeing that Greg and I share a common passion for both dogs and cake, I replied to his tweet. Pretty straightforward, right?
Here's what you won't see on our Twitter feeds: Greg did a little research, looked at my profile and noticed I was also a dog lover before sending me a direct message to further our conversation. He asked me about my dog, I asked him more about his. Then the conversation turned to me asking him about his Experience Inbound conference. Greg encouraged me to attend, I told him I would, and I continued on with my day.
A few days later I received an email reminding me of our conversation from the event's coordinator. It was an authentically written email that referenced Greg's and my conversation. This was the push I needed to make the decision final.
Takeaway #1: Social media for business is powerful—when you are human and authentic.
So, We Signed Up For Experience Inbound Milwaukee & Green Bay, WI #ExpInbound
Fast forward to the morning of the conference. I immediately saw Greg (this was the first time I had met him in person) and we made eye contact. I smiled and said, "Hi Greg."
He looked at me with a puzzled look on his face. Insert-awkward moment—he didn't recognize me! While my group grabbed a table, I walked over to introduce myself. Turns out Greg knew who I was, but didn't recognize me due to an outdated profile photo.
In this case, Greg recommended I get a new photo because my profile picture made him think I was much older than I actually am! I had my photos retaken on Wednesday. (Thanks Greg For the Honesty!)
Takeaway #2: Your profile photo is a big part of your social presence, it should be current and most importantly, look like you.
Morning Keynote: 8 Steps to Creating a Predictable, Scalable, Loveable Client Acquisition Machine
The keynote speaker was Peter Caputa, Vice President of Sales for HubSpot and "honorary cofounder." I have heard Peter speak many times, but this talk was different because he went a bit deeper into how he came to HubSpot.
Peter was an early adopter of blogging and talked about how publishing more is the key to increasing traffic. I also thought it was refreshing that he shared what I call a "Brené Brown" moment about when Mark Cuban left a not so flattering comment in his early blogging days.
Peter's talk laid out an eight step inbound sales and marketing plan to help companies move from attracting website visitors to closing the sale and then turning customers into advocates.
Takeaway #3: If you are not blogging-you are done, don't be afraid to make it personal.
Session: Marketing and Analytics: How Growth-Driven Design is Paving the Future for Inbound Marketing
Tara Robertson, Vice President of Marketing at HotJar, is a self-proclaimed data nerd (which I love). She confirmed from her years of experience as a digital marketer that it's only possible to make assumptions if you don't have actual data. With the Growth Driven Design process pioneered by HubSpot's Luke Summerfield, it's possible to see how people are using your website, and adapt your website based on actual user behavior. (Side note: Her product HotJar is absolutely the most phenomenal product we have worked with at Media Junction. If you don't have it on your site…GET IT!)
My favorite quotes of the day came from Tara when she said, "If you want to have a great website? You have to #giveashit" and "Your best tools are your eyes and ears. Empathize with your users."
Tara also revealed that chat is a preferred way for some to communicate and not having it on your website is alienating them from connecting with you. (Thank you for pointing this out, Tara—we are implementing chat next week.)
Takeaway #4: Listen to your users and let them drive your strategy.
Session: Marketing is Dead. Only Moments Matter!
Kyle Lacy, Vice President of Marketing at OpenView Venture Partners, is probably one of the most engaging speakers I have seen in years. Let me just say this—I adore him. At the young age of 31, he has done more with his life than most people I know. He is not only spot-on with his message, facts and experience, he isn't afraid to say it as it is.
Kyle's talk was packed with engaging content. If you are not following him on Twitter, I recommend you do so—and check out his slide deck from Experience Inbound.
Everyone at #ExpInbound > Here is my deck > https://t.co/PTPtZ2tIoS

— Kyle Lacy (@kyleplacy) May 24, 2016
Kyle is the real deal—an amazing speaker, conversationalist and thought-provoking influencer. He's also a real, authentic guy, the kind of person you want to have a beer with.
Takeaway #5: Whoever owns the audience, owns the experience.
Session: How to Win the Shift to Mobile
Zak Suhar, Account Manager at Google, spoke about micro-moments and how the shift to mobile has happened. For the first time in history, mobile devices have passed personal computers. He shared a video produced by Google about why Micro-Moments are the new battleground for brands, which pretty much sums up the connected world we live in. They just released an updated version yesterday. (It's a must watch.)
Takeaway #6: Take the time to understand the moments why people will want to engage with your brand.
Session: How to Leverage Video in Your Marketing
I can't think of a company out there with a better voice, brand and culture than Wistia. So it wasn't really a shocker that Jonah Silberg, a Customer Success Coach for Wistia, nailed it. He shared real, concrete facts from Wistia's own internal research. The conclusion is that people really like video—and if you're not using video you're missing out big time. In fact, 59% of executives would rather watch a video than read text.
Interested in getting your email open rate a bit higher? Jonah recommends adding the word "Video" to your subject line. You'll see as much as 19% more opens.
Wistia has a guide to help you shoot great videos on a small budget. Check out their library for great ideas on how to leverage video. https://wistia.com/library/down-and-dirty-lighting-kit
Takeaway #7: You don't need a lot of money to produce a video. You just have to be willing to do it.
Session: What We Talk about When We Talk about Storytelling
The final speaker was Sam Slaughter, Vice President of Content at Contently. Sam delivered an unfiltered reality check to content marketers everywhere: there are too many drivers in content marketing and not enough maps.
The reality is people are programmed for stories. We love them and need to tell them. Sam played this video during his presentation—it is too good not to share.
Takeaway #8: They're not buying your product. They are buying your story.
The conference concluded with Greg's closing remarks challenging attendees to set goals for themselves, take the information they've learned and put it to good use. We're already on our way—I had my photos retaken on Wednesday and we're adding chat to the Media Junction website next week.
I enjoyed Experience Inbound, and Lambeau Field is amazing. Go Vikings! ;)