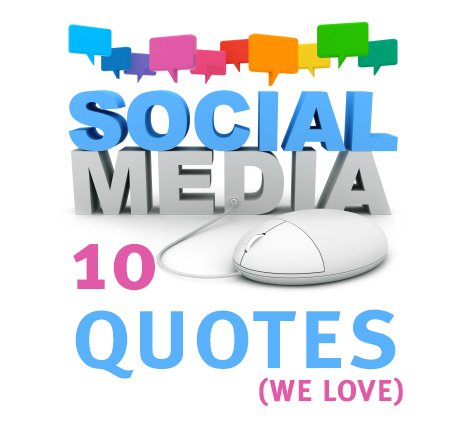 Social media marketing must be considered when developing your marketing strategy for your business. There is too much potential to ignore. To start with, social media activity impacts your organic search presence. You can expand your overall reach at a lower cost. Just listen to what these industry experts have to say.
Read 10 (More) Social Media Quotes We Love.
1. "Privacy is dead, and social media holds the smoking gun." - Pete Cashmore, CEO of Mashable
2. "A brand is no longer what we tell the consumer it is – it is what consumers tell each other it is." - Scott Cook, Founder of Intuit
3. "The hardest thing for marketers is to turn over the brand experience to the community and let them define it." - Eric Erwin, Executive VP of Marketing and Product Development at Wilton
4. The beauty of social media is that it will point out your company's flaws; the key question is how quickly you address these flaws." - Erik Qualman, Author
5. "Once you can understand where the conversation is, who leads, the type of voices and the best place for you to add your voice, you can then start becoming a more active participant." - Mitch Joel, President of Twist Image
6. "You are what you tweet." - Alex Tew, Founder and CEO of calm.com
7. "Social media are tools. Realtime is a mindset." -David Meerman Scott, Author and Public Speaker
8. "We don't have a choice on whether we do social media, the question is how well we do it." - Erik Qualman, Author
9. "Marketing is no longer about the stuff that you make, but about the stories you tell." - Seth Godin, Entrepreneur, Author and Public Speaker
10. "You can buy attention (advertising). You can beg for attention from the media (PR). You can bug people one at a time to get attention (sales). Or you can earn attention by creating something interesting and valuable and then publishing it online for free." –David Meerman Scott, Author and Public Speaker
About the Author
media junction® is a HubSpot partner based in Minneapolis, Minnesota that specializes in custom web design and inbound marketing. We have been building websites since 1997 for small and medium sized businesses. In addition, we support many marketing and advertising agencies with our white label services. Follow us on Twitter, Facebook, Pinterest and Google+.

Learn more about our Social Media Marketing solutions.