Media Junction has been building custom websites and delivering online marketing services to our clients for nearly twenty years. Depending on your company's unique set of needs and goals, a partnership with our team of strategists, designers, developers and marketers can look completely different.
When it comes to web design, traditional design and growth-driven design are two popular methods used. These two approaches are the most frequently used methodologies at Media Junction. But what makes them different, you ask? Let's explore the key differentiators between them.
The (not-so) Secret Sauce
Traditional Web Design
We've developed a process over the years for building custom, user-centric websites that are not only beautiful, but achieve results. Our traditional website design process is segmented into three main phases: strategy planning, website design and website development.
The most significant step to developing a successful website is to first understand who you are building your website for. Understanding your users' needs, motivations and goals will provide a solid foundation for ensuring user success. Our in-house strategy and design teams collaborate, developing layouts that align your site visitors' goals with the goals of your business.
Design then works to ensure your brand is being positively represented to your audience by carefully selecting the colors and typography that will captivate your target market. Finally, it's up to our web developers to use a combination of HTML, CSS, JQuery and JavaScript to build the a product that delights all who interact with it.
Growth-Driven Design
With growth-driven website design, we help clients continually optimize their websites and analyze where the most impact can be made to produce desired results.
A growth-driven website design can be segmented into three main endeavors: launch, analyze and enhance. The goal of this approach is to understand what attracts, engages and converts site visitors into customers. We examine data we've uncovered to refine site page layouts, calls-to-action, landing pages and templates to perfect overall website performance. This strategy allows us to increase the effectiveness of inbound marketing practices as well, as each enhancement to the website created is based on a site growth plan and client goals.
Side-by-Side Comparison of Traditional and Growth-Driven Design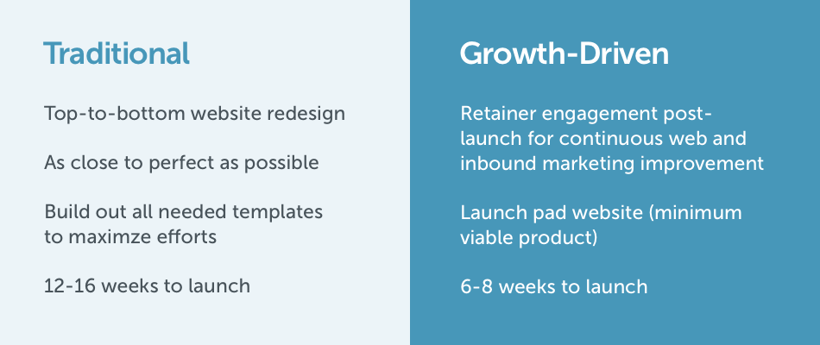 3 Differences Between Traditional and Growth-Driven Design
1. Website Launch
With a traditional website design, the website launches once it's complete. It has been thoroughly architected and designed to produce maximum results. These websites are designed to have flexibility built in, so that in 3-5 years (the said shelf-life older sites once had), you are not redesigning and rebuilding the entire website. Instead, you are simply revamping what you currently have.
By contrast, growth-driven design takes a systematic approach that shortens the time to launch, and shifts our team's focus on continuous improvement. Growth-driven design launches a new website quickly by incorporating the 80:20 rule. Focusing on 20% of the pages that deliver 80% of the results. Instead of spending up to six months perfecting a website, we launch phase one of a website in just 6-8 weeks. Small, frequent updates allow companies to see how their visitors interact to changes on their websites with data to confirm successful or unsuccessful initiatives.
2. Trends and Technology Updates
Traditional web design launches a complete website with the most up-to-date trends in technology at that time. Whereas growth-driven design launches a new website in iterations. Each iteration moves the website closer to where it needs to go. Every update keeps your website current with improvements that reflect the latest inbound marketing methods, design principles and website development best practices.
3. User Experience
At Media Junction, our focus is always on the user experience. It's important to remember every website visit involves a human with a specific goal or task to complete. We create positive interactions by developing clear paths for users to achieve their goals. When our clients' users achieve their goals, our clients likewise achieve theirs. Being willing to make changes based on what users are doing on your website ensures this success.
A traditional website design incorporates the user experience data from the old website to improve and construct the new website. Reviewing the existing website and gaining insight on users' interactions with it, sheds light on which components of the site are effective and which are ineffective. This analysis of user experience shapes the design and development of the new website.
Growth-driven design also examines and improves the overall user experience by making the site continuously more personal to the user. This option analyzes user interaction on an ongoing basis – making minimal changes to the website during each sprint and interpreting that data to update new components of the website. Moreover, even subtle changes to content, navigation, layout, color or even typography can impact user experience significantly.
Which is Better? Both Have Their Place
Both traditional website design and growth-driven design can be great options when creating or updating a website. At the end of the day, we work with our clients to understand their specific situation and goals to help them make the best decision for their business needs. We firmly believe the best outcomes happen when our clients can trust in our expertise and feel confident and engaged throughout the website design process.