Croft Production Systems is a pioneer in the oil and gas industry, providing turnkey production and processing systems for well sites. They design, engineer, lease, and provide operational service and training for their complete suite of production equipment. Their technology is simple, reliable and cost effective, not to mention more environmentally efficient than standard industry practices.
A Website Redesign with HubSpot
Croft came to Media Junction for a custom website redesign in the HubSpot COS. Three key goals for the project included:
1. More effectively feature and integrate a wealth of educational blog content.
2. Revamp the website architecture to improve usability for visitors.
3. Create a clean, fresh visual design consistent with their brand.
1. Blog
Croft's blog featured lots of educational posts about the benefits of their unique production technology. Their environmentally-friendly process means no emissions and no explosives for their clients, and does not require securing air permits from the EPA.
The blog posts were bringing in plenty of organic traffic, but the layout was disconnected with the overall design of the website. This created a jarring experience for website visitors who browsed after landing on a post. The new design unified the blog with Croft's brand and the website look and feel.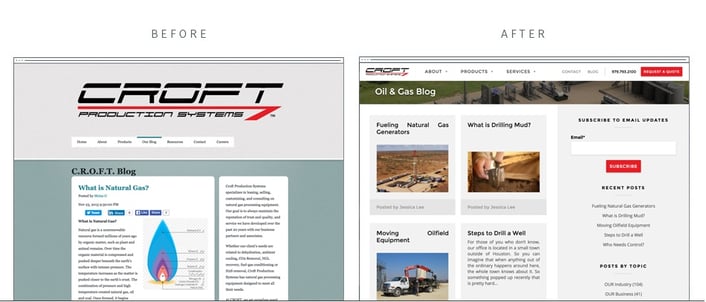 Besides creating a new, more browsable post layout, the new design more effectively integrated blog content across the website by featuring the latest posts in at the bottom of key pages.
2. Architecture
Media Junction strategist Kim Wilcox worked with Croft to reimagine the sitemap and website flow using a user-focused approach. A simplified navigation provided more deliberate direction to visitors searching for information about Croft their products, and their consulting services. A secondary navigation structure also permitted visitors to browse more easily within a given section. Additionally, the redesigned Product page showcased Croft's full suite of products in an open, visually appealing layout.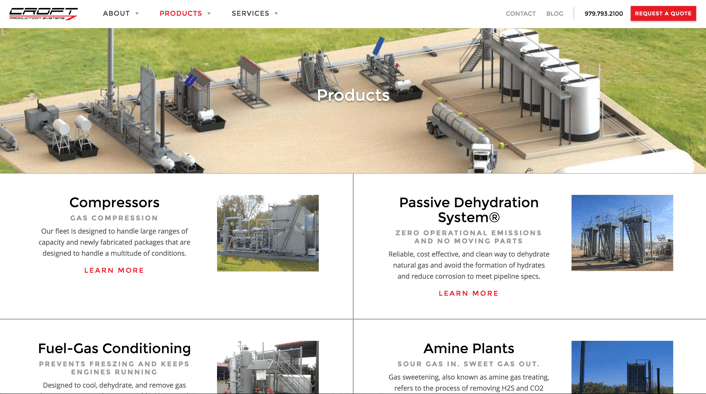 Increasing conversions from the website was a key goal of the redesign. The new architecture highlighted the opportunity to "Request a Quote" in the site header and in CTAs placed on all Product pages. In the Services section, and alternate "Request a Consultation" offer was swapped in.
Prospects and customers benefitted from the website redesign, but a centralized Employee Portal also improved usability for staff by collecting links to email, HR, and benefits information in one central location. Human Resources was excited to feature a gallery of employee photos on the revamped Careers page.
"Everything was planned out, written, designed, and executed beautifully. The system and tools they have in place make the project go smoothly, and flow beautifully."

–Meisa Gannam, Business Development & Marketing Manager, CROFT Production Systems
3. Design
Finally, an entirely new visual design brought Croft's website out of the dark and into the light. Inverting the use of the brand black for a brighter, cleaner design that featured liberal whitespace made visiting the website a more pleasant experience.
In turn, the brand's use of red was used in specific points throughout the website to emphasize CTAs and links. Photography of Croft's production equipment out at active well sites and under blue skies was brought to the product pages, highlighting Croft's environmental efficiency.
Last, but not least, a custom-built banner on the homepage placed the various pieces of production equipment within the context of a complete Croft-built well site. Interactive labels enticed visitors to learn more about the different components, and in-line CTAs directed them to learn more about specific pieces of equipment.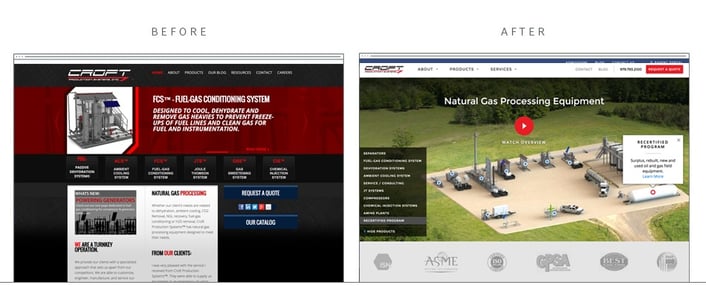 Going Forward
For us, nothing beats the feeling of launching a website that surpasses our client's expectations while strategically meeting their business goals. We loved working with the group at Croft, and were honored by the flattering comments they had for our team. Since their website launched, we've continued collaborating and discussing potential new projects for the future and are excited to see how their website performs in the coming months.
If you'd like to learn how Media Junction can help you with your website, we'd love to chat.