Popular CMS solutions aren't always the best for sales and marketing.
It seems like every week we see a new video ad for a custom website builder. If you have ever searched for one, you know how ads for Squarespace, Weebly, Wix, and Wordpress.com will soon follow you wherever you click. But what's the best website solution for the sales and marketing funnel of your inbound-driven organization?
HubSpot is an inbound marketing and sales software that helps companies attract visitors, convert leads, and close customers. The platform is constantly being updated with new features, better ways to track KPIs, and innovative ways to serve teams of all sizes. The CMS is packed with tools that empower marketers to create dynamic, custom websites that work seamlessly with popular business applications such as Slack, Zapier, and Salesforce. HubSpot makes it is easier than ever to create an optimized inbound marketing website and their template environment encourages mobile-responsive design, and even assists with a friendly on-page SEO-checker. A central call-to-action hub coupled with campaign functionality and a suite of marketing features make it a breeze to spin up landing and thank you pages and track the success of your key marketing initiatives. Let's take a look at how building a website on HubSpot can perform against development on the likes of other CMS platforms like WordPress and Squarespace?
Key Features to Consider
When considering which features are most important to a successful website build, a robust page editor is an absolute must. Page editing and development environments, ideally with a drag-and-drop interface, are where you can take your designs to the next level, without having to wade through complicated code. The editing suite sets the stage so you turn your content into a stunning, impactful, and engaging website.
Next, a website builder should support your marketing efforts through an intuitive set of features meant to quantify and optimize your focus, empowering you to work smarter, not harder. Without integrated analytics into whats working and what isn't on your website, you're left to pure guesswork. Having a beautiful website doesn't help if it doesn't intuitively connect to your organization's CRM or inform your marketing efforts.
Another key feature of an effective website builder is Search Engine Optimization (SEO) support. Making sure your page construction and content is optimized for search engines is critical to your inbound marketing strategy. The first step in Inbound methodology is to attract visitors with engaging content such as e-books, various other resource downloads, and helpful page content. SEO optimization is what makes sure your stellar content is discovered, and gets into the hands of your potential visitors. By integrating SEO tools into the page builder itself, you can measure and ensure that your page's consistently perform at their highest level.
Finally, you need a website builder with advanced analytics built-in. Did your visitors bounce a few seconds after entering a page for one of your key services? Are your call-to-actions converting leads, or just pretty buttons sprinkled throughout the site? Just counting page views simply isn't enough. Your website is your 24/7 sales representative, and to keep things on track, your analytics need to be thorough in a way that only true integration can support.
How do HubSpot Website Platform, WordPress, and Squarespace stack up?
Key Feature: Page Builder
Building a gorgeous website requires a page builder capable of supporting those awesome designs. While HubSpot does provide a number of out-of-the-box modules and templates from their marketplace, to make your website really shine you or an outside agency can also custom develop a template and module set tailored to your website. Both HubSpot Website Platform and Squarespace have drag-and-drop interfaces and a whole host of modules, including text, CTA buttons, image galleries, and forms. For WordPress, you need a third-party plugin to take advantage of drag-and-drop.
If you are one of the growing number of users accessing content on a mobile device, you know how important it is to have a mobile-optimized website. This includes font sizes that change to match the mobile experience, stacking or resizing of content in a way that jives well with the viewing device, and menus that are easy to navigate via touch. Both HubSpot Website Platform and Squarespace support mobile optimization out-of-the-box with native templates. With WordPress, you have to make sure your installed theme is mobile-optimized.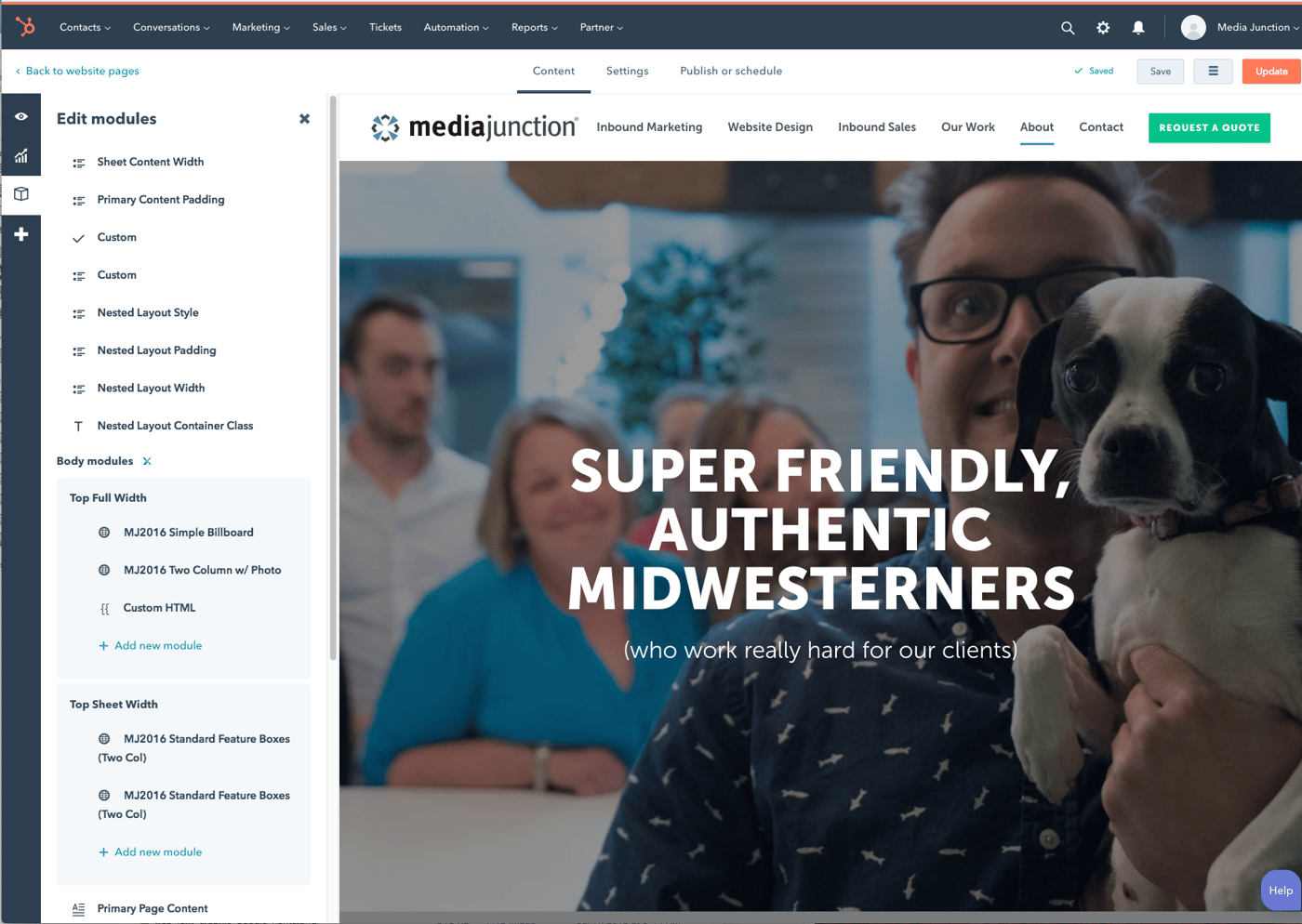 Key Feature: CTAs, Landing Pages, and CRM
As we said earlier, the purpose of your website is to be your 24/7 sales representative for your organization. Turning those visitors into leads requires a conversion strategy involving CTA buttons, landing pages with forms, and a connected CRM that collects the data you need to make the best decisions.
Each website builder supports CTAs, landing pages, and CRM integration differently. WordPress supports CTA buttons, but not CTA tracking, so you'll need to use custom plugins to connect your site to a HubSpot or Salesforce CRM. Squarespace supports buttons, but doesn't track them which means it'll look cute, but lacks marketing functionality. Squarespace does make some beautiful landing pages, but their forms can only go into a spreadsheet or MailChimp, not a true CRM. And if that sounds fun to you-...well... go for it?

Only HubSpot's supports CTA buttons with tracking, landing pages without the distractions that keep your visitors from converting, and forms that will either seamlessly integrate with your CRM of choice or live within the native HubSpot analytics dashboard (our favorite option.)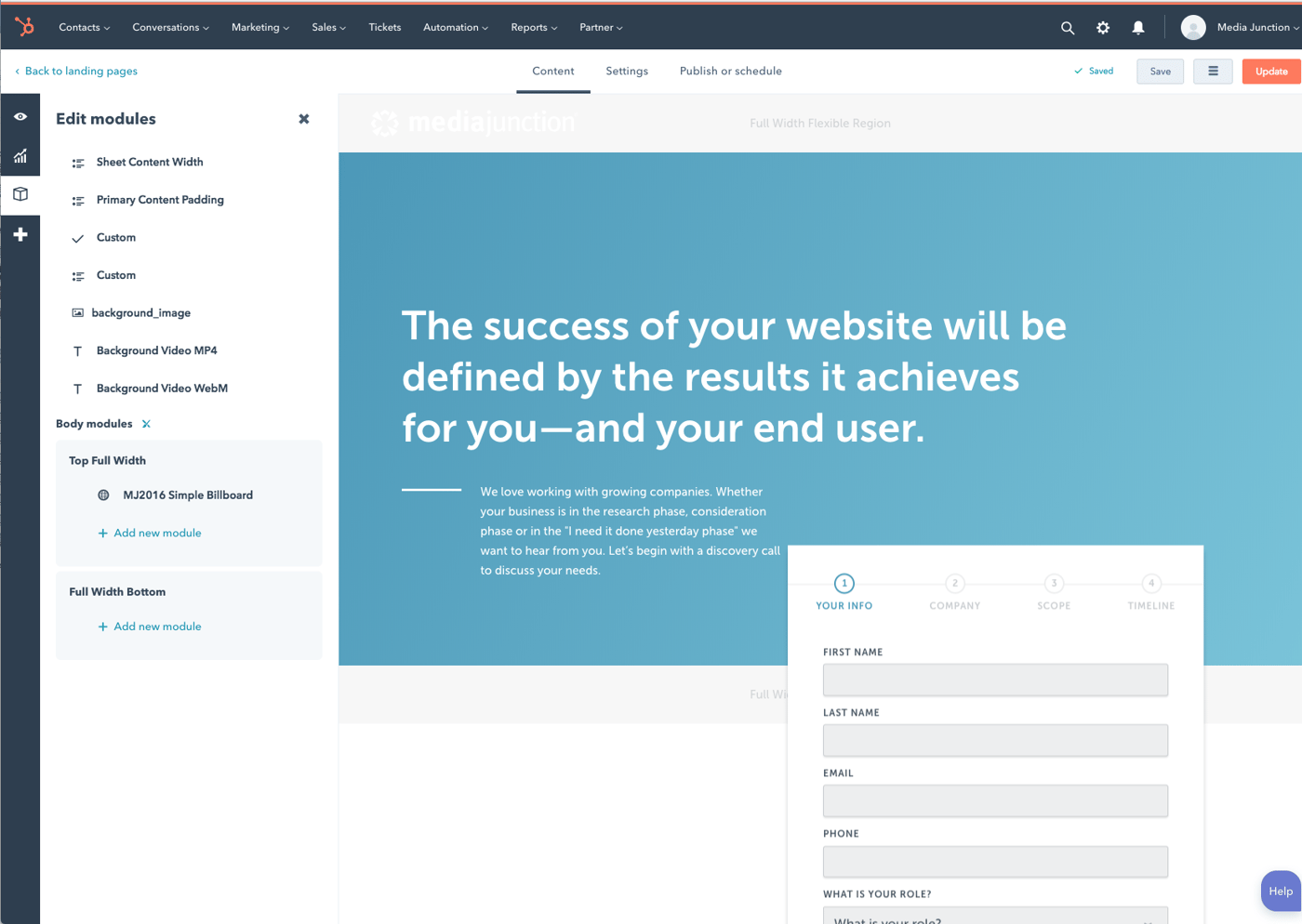 Key Feature: SEO and Social Media
Every inbound marketing strategy is centered around attracting your visitors through search, social media, and phenomenal content that hooks the visitor by giving them the answers they seek. The likelihood of your content getting in front of the right eyes plummets if your website is not optimized for search and distributed through social media. Let's compare how the three different website builders answer this pressing marketing need.
HubSpot Website Platform has out-of-the-box SEO tools to help every marketer improve the search performance of their web pages. The page editing interface includes an 'Optimize' menu that assesses whether page titles and meta descriptions are the correct length, measures keyword optimization and grades overall SEO performance while providing recommendations for improvement. Overall, we love how SEO friendly HubSpot is because it even has a powerful content strategy tool that helps you shape your great content so more visitors find it. WordPress lacks high-level content strategy features, and again, requires a third party plugin if you'd like an on-page SEO evaluation. Squarespace actually comes in last in this race as it will allow you to place the essential SEO elements required for every webpage ever, but offers no advice for improvement.
Along with powerful SEO features, having social media tools that improve the distribution reach of your content on platforms such as Facebook, Twitter, LinkedIn, and even Instagram is crucial for a competitive edge. HubSpot's website platform provides a content calendar that helps you to publish unique social media messages, tailor your posts to the platform or audience, and even measure the success of the post through analytics (you usually need to pay a third party for that last part!)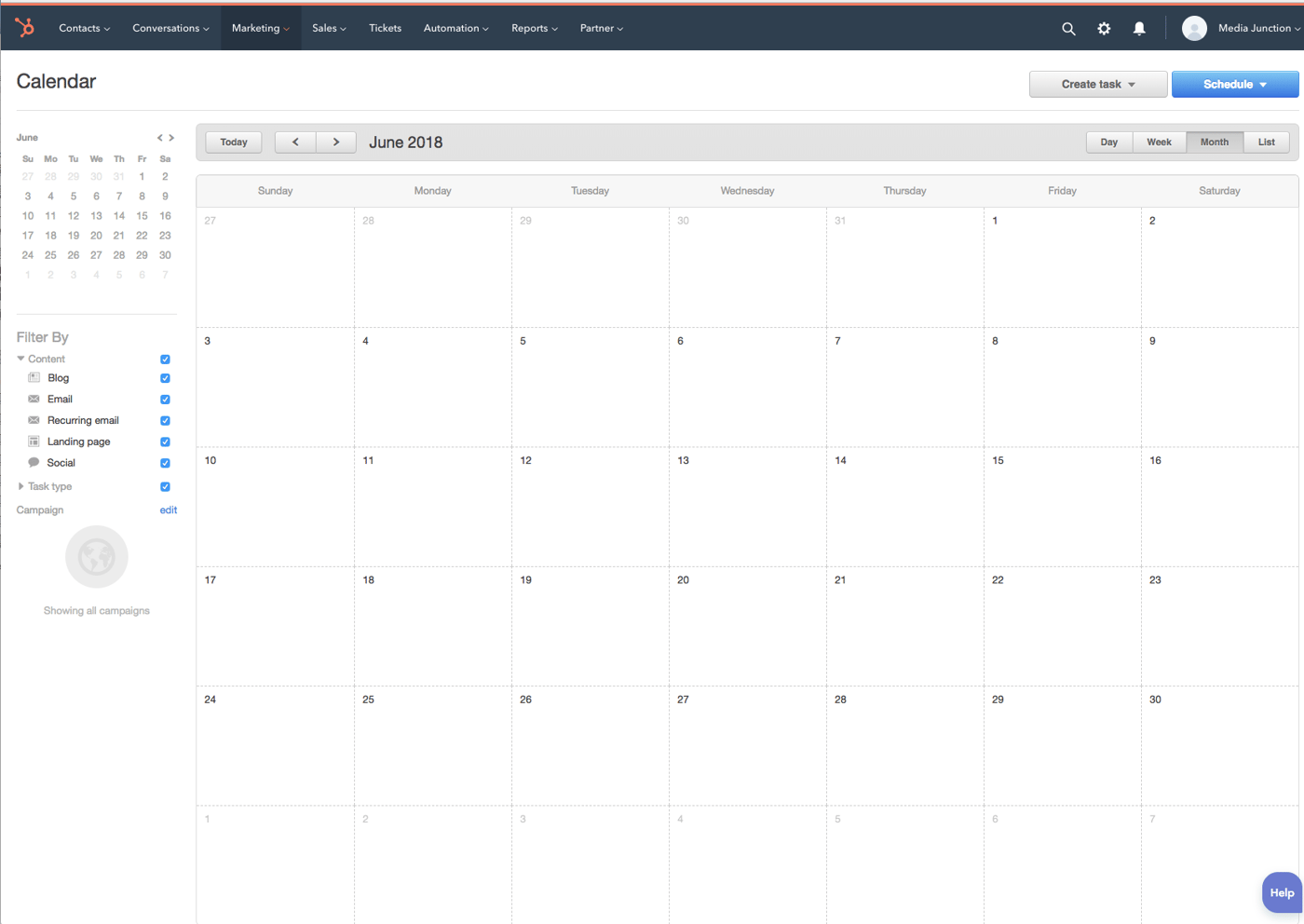 Key Feature: Powerful Analytics
Last, but most definitely not least: website analytics. As you may have noticed from this entire article, we value analytics. Data is gold to marketers as it empowers us to make smarter, more effective decisions and accurately identify weaknesses in marketing strategy. Many WordPress and Squarespace webmasters fall back on Google Analytics to track their site traffic and sources. Wouldn't it be better if these powerful analytics could be built right in to your website dashboard? With HubSpot, all of the data you could dream of is collected and compiled into helpful, neat reports within the HubSpot dashboard. With CTA link tracking, you can see where your visitors are coming from, what pages they visit, what CTA they click, and what elements on your page are converting visitors to leads.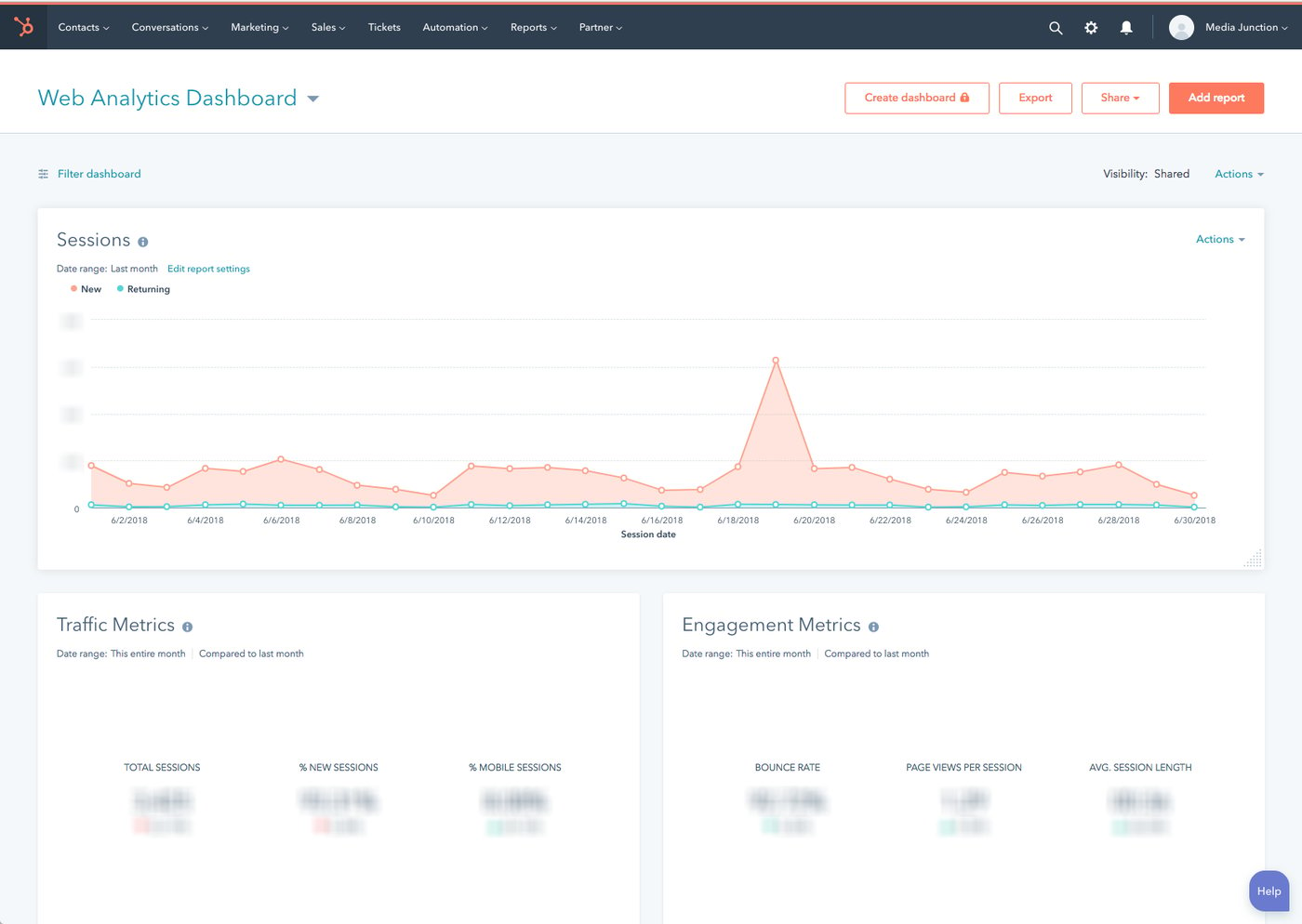 Choosing the Right Solution
There are many key features to consider when choosing a custom website builder for your inbound marketing website. Each website builder has different strengths and weaknesses when it comes to its page builder, CRM integration, SEO, and analytics. If you are working on a company blog, without landing pages and forms, then WordPress can be a great solution. If you are looking to create a visually stunning portfolio website with a simple contact form, Squarespace ight be the way to go. But if you want it all, using HubSpot will give you a website that both looks great and is powerful on the backend, converting visitors into leads like its going out of style. (Thats silly, lead conversion will never go out of style.)
Whichever website builder you choose, use inbound methodology to guide your web design process. Start by attracting your key personas, answering their needs and desires with fantastic content, then delight them with everything your organization has to offer. The best designs brings together fashion and function.
Have more questions about the best platform for your new website? Let's talk.
subscribe to get the latest in your inbox.
Subscribe to our blog to get insights sent directly to your inbox.