When Rhythm Co-Founders Jim Catts and Andrew Ryan moved on from the association management space in 2017, they didn't think they'd ever look back. Two years later, however, technology did what it does, and evolved, unlocking exciting new opportunities for an underserviced association market.
Rhythm Software is a bootstrap startup entering a fiercely competitive space with big players and well-established relationships. The founders were taking on a tremendous risk in starting the company and they had aggressive growth targets to remain solvent, but they knew that their idea was going to solve for customers in an entirely new and frictionless way.
Rhythm, a cloud-based association management SaaS product empowers purpose-driven organizations to transform how they operate. With Rhythm streamlining their day-to-day tasks, organizations have more time to focus on delivering value to their members and fulfilling their mission.
As a newly founded startup, Rhythm had a few challenges to overcome before they hit the market with their software.
Historically the market they were planning to serve was often constricted when it came to technology—and budget. The founders knew they needed to establish an innovative and forward-thinking brand strategy that also earned the trust of their target customers, right away.
One of the first hires at Rhythm was Kelli Catts, an experienced marketer and expert in the field of association management software and membership-based organizations. Kelli jumped at the opportunity to build a go-to-market strategy.
At the time, Rhythm was a pitch deck—just a little bit more than an idea. The brand, logo, website, voice, marketing strategy, all of Kelli's essential pieces had yet to be developed. Furthermore, their software wasn't ready!
Everything needed to happen all at once.
The product launch date was on the calendar, and the team absolutely had to hit the deadline. Kelli needed to think hard about the problems facing association managers and build relationships before she introduced the solution to their problem, Rhythm Software.
Facing a start from scratch with a tough deadline, she needed to pull in an outside team with experience working with businesses who are growth-driven and could help Kelli reach full marketing velocity quickly.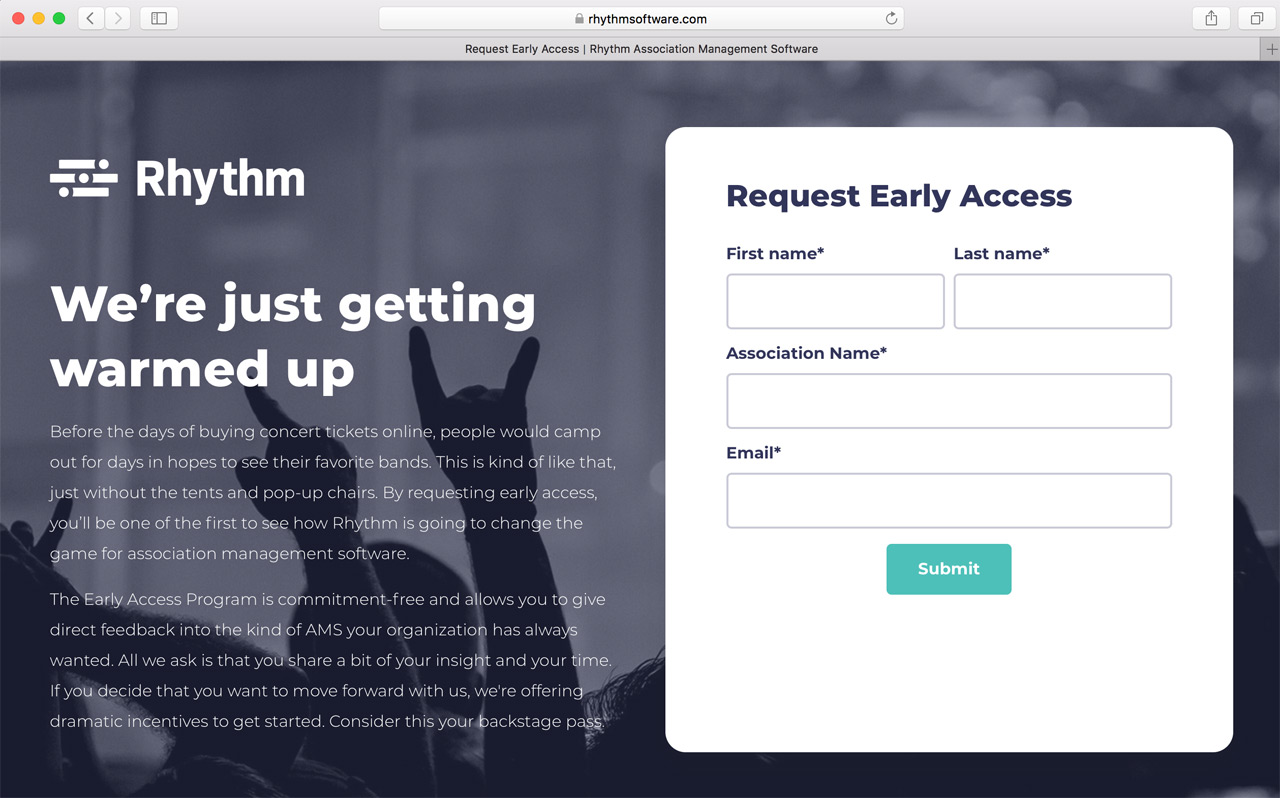 Building a marketing tech stack to enable growth—not inhibit.
As an experienced and seasoned marketer, Kelli knew the power of inbound marketing and the importance of finding an agency she could trust that could educate her on the right software solutions to power their growing business.
Media Junction recommended HubSpot's Growth Suite as the perfect solution for Kelli and Rhythm. The platform has the ability to scale with their company all the while enabling growth and removing friction from sales, marketing, and the customer experience.
As with most agile teams, everyone jumped right in to owning their area of expertise. The founders took on the Sales Hub, Kelli focused her efforts with Media Junction to build out the Marketing Hub, and the product team will own the Service Hub.
Due to the competitive industry they were entering, the team knew that in the early stages brand was going to be their most competitive differentiator.
A common problem to plague marketers of SaaS products is the consistency in visual elements between the marketing materials and the product UI. It can be often overlooked in the early stages of product development. Arming the software development team with the brand visuals, typography and colors has proven to be a win-win for Kelli as she is enabled to use screenshots and videos of her actual product, a luxury not all start-up marketers have.
"When we get in front of prospects that aren't familiar with us they are seeing a deck that mirrors our website and their experience, it all feels familiar. That gives them a level of confidence- which is typically a barrier to entry in our space."
— Kelli Catts, Director of Marketing at Rhythm Software
Next up: Build out a website with a flexible framework that anticipates change.
Our team worked closely with Kelli to ensure she knew what her options were when selecting a CMS. Every aspect of their growth was discussed and planned to ensure Kelli was enabled with full control over her website. We landed on HubSpot CMS with a growth-driven design approach.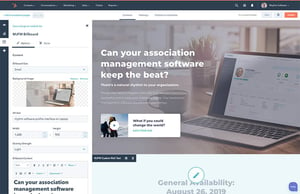 As new content is available having a flexible framework (and mindset) to add modules, pages, and new functionality to the website will be instrumental to announce product releases and to scale the company. Kelli now has a website roadmap that will enable her to refine her messaging and find new ways to connect with her audience in a meaningful way while continually improving upon the design and conversions—without the need of an outside team or a developer.
A marketing strategy that includes educating buyers in every stage of the flywheel
Rhythm's product is on the cutting edge; a new concept, a completely cloud-native solution that's mobile-first, two very rare qualities of Association Management Software (AMS). A typical AMS prospect will do the majority of their research before ever reaching out to the sales team for a quote, making them ideal candidates for Inbound Marketing. The marketing strategy includes educating buyers across the flywheel especially in the attract stage. As the prospects move to the consideration stage it is imperative for Kelli to have the assets to engage and gain the trust of association managers who would likely be hesitant to adopt new technology.
We knew that if Kelli was going to leverage content offers she needed the Marketing Hub fully equipped with conversion assets such as landing page and email templates, custom CTAs, and forms. All of this was set up within Rhythm's portal so she could quickly get on with her plans. To ensure full marketing enablement we've created ebook templates in InDesign so Kelli can crank out offers as needed to generate leads. By providing her the design assets, we've removed the friction typically seen (and felt) between marketers and agencies.
The Importance of Marketing Enablement for Startups
Not all great ideas have the funding they need early on. Rhythm's team had the passion and was poised to make an impact and change the industry, however, they were going to do so on a bootstrap budget. Early in the engagement media junction's strategy team recognized the potential of Rhythm's product offering and the risk they were taking. Instead of proposing our typical process and an ongoing marketing retainer we decided to solve for the customer's unique situation.
Kelli needed to be able to scale her efforts quickly, essentially build her airplane after she took the leap. To ensure the integrity of the brand and give Kelli maximum flexibility, we proposed a marketing enablement package.
We expanded the Rhythm brand into a very flexible catalog of use cases and provided custom templates for Kelli to use in the future without having to recruit additional help.
Creating marketing collateral to support a growing team
We designed an entire brand package which included several assets including a business card design. A simple (but helpful) example of enablement for Kelli was access and training to her custom business card files. As her team continues to grow, Kelli can easily update team members, save and then upload to a printer where the file meets the exact printer's specifications already—without the need for a designer to assist.
Additionally, we knew sales pitches would be top of mind for the founders, so we proposed developing a Google slide template pack with a variety of slide layouts to ensure a seamless process to develop a pitch deck quickly, efficiently and most importantly collaboratively with the founders.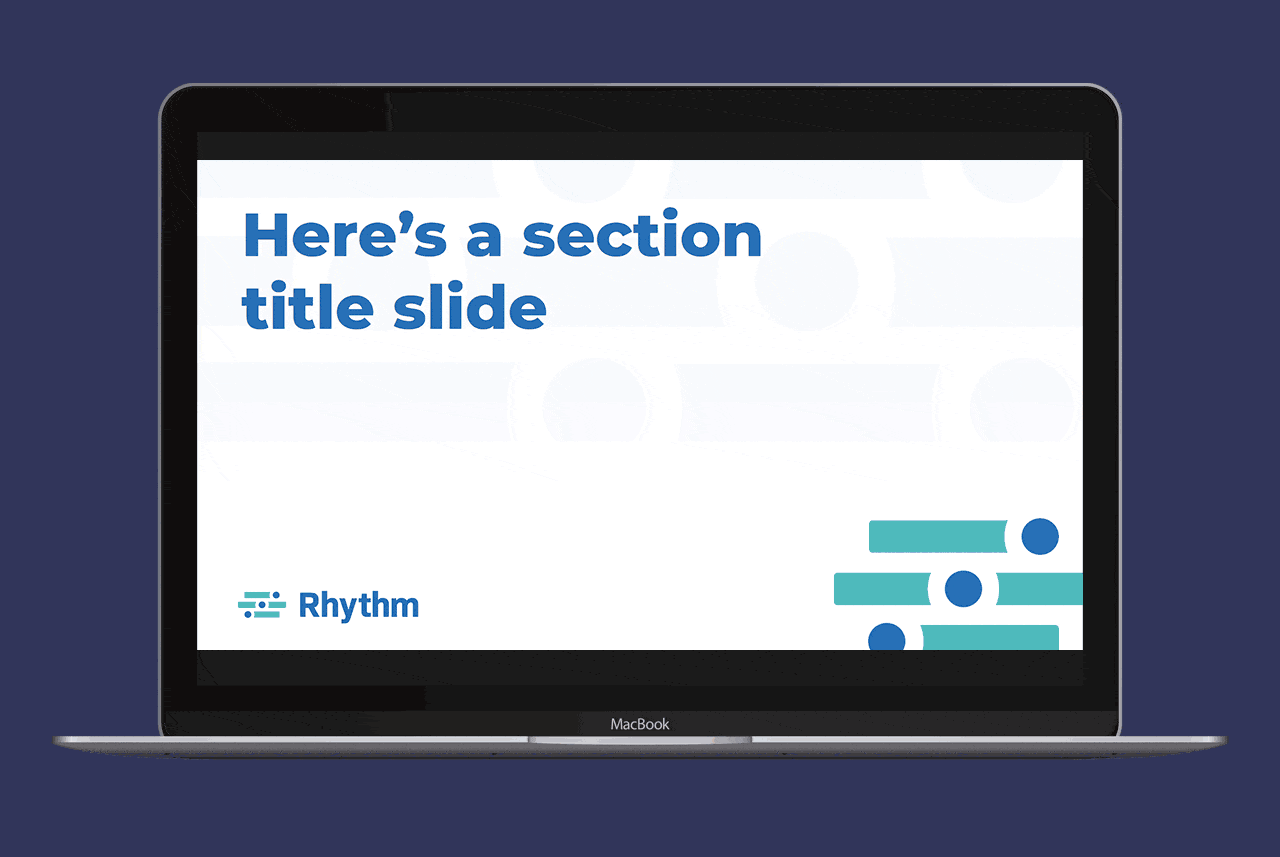 Measuring the Results of a Collaborative Partnership
We're confident that the marketing strategy and enablement assets will carry on into the product itself as this focus has reduced the customer cost of acquisition allowing the Rhythm team to focus on better servicing the customer. Today Kelli is empowered to focus less on warming her leads to their product and more on building a relationship that will close the deal and maintain momentum.

VIDEO TESTIMONIAL: Hear directly from Kelli about her experience below.
"Previous experiences I've had it's taken six months to a year and maybe that works for people that are rebranding, but when you're trying to launch a company, it's not an option. I think part of the reason things got done quickly was because we established a relationship where I felt comfortable asking questions, making wild requests—sometimes at the very last minute. Media Junction was an extension of our team and I will say that a thousand times over. I could count on you, like I could count on my teammates."
—Kelli Catts, Director of Marketing at Rhythm Software
A Brand Strategy that Exceeded Revenue Goals. The results have been astonishing.
The project confirmed that being marketing enabled is key to a startup's growth. As with many one-person marketing teams, Kelli's role is multifaceted. Kelli was able to focus her energy on making a business impact instead of building marketing capacity on her own. With the right tools and technology in place, she was able to swiftly transition from marketing plans to sales results. The team closed more business in their first quarter than they ever expected and the Rhythm product is still in early stages.
Every goal has been crushed. In fact Rhythm is on track to exceed their quarterly revenue goal by 2.8 times, which far exceeds the industry benchmarks. It doesn't stop at revenue, industry open rates for email are 10%, Rhythm has seen 20%+ consistently!
With marketing and sales alignment, the visibility Kelli has to the custom pipeline in the CRM allows her to use the data to rinse and repeat or pivot quickly if needed. The Sales Hub has proven to be an invaluable tool to ensure their customer first approach is maintained. Open rates for their sales sequences are averaging 30 to 40% open rates! Next up for Rhythm? The Service Hub of course. Kelli can not wait to glean data from NPS surveys, tickets and conversations.
With growth this explosive, and a platform poised to shake up how purpose-driven organizations operate, we're excited to see what Rhythm Software does with the rest of 2019!
Ready to see how Media Junction can take your website to the next level? Let's talk.