The Wealth Enhancement Group offers comprehensive, customized, and objective financial advice to everyone. They came to Media Junction looking for an updated look and feel for their site. Usability was key in this project; the site was laid out poorly with a confusing architecture so the marketing team sought a general overhaul.
Website Goals and Objectives
We were tasked with creating a positive user experience that matched the warm, inviting feeling of the brand. This included an improved navigation to make it easier for their primary users to find content based around specific topics. We also had to better understand user behavior and patterns to solve usability issues and to migrate the website from WordPress to the HubSpot COS.
Solution #1: Content Re-Organization
Wealth Enhancement Group is committed to the goal of educating the public with free resources, including a robust blog full of great articles, videos, and audio—however, their previous blog wasn't organized well and the rich media content wasn't apparent when searching. Our solution was to provide them with the ability to mark blog posts if they contained audio or video content in their blog roll instead of just the standard "Read More"—they can change it to "Watch video", "Read article", or "Read and Listen." Our developers didn't stop there; they found a creative way to display their different topics in a tidy "Browse by topic" dropdown menu. When a visitor selects a topic, they are brought to a custom page that displays articles beautifully—one example is this Financial Planning topic. Being big advocates for curated content we worked with Wealth Enhancement Group's marketing team to help identify areas where they would want to curate content throughout their website—for example the service pages have an area where the internal marketing team can displaying pertinent content and marketing asset offers that are relevant to that specific service. Allowing the marketing team to curate content that their visitors would find helpful based on where they are in their journey.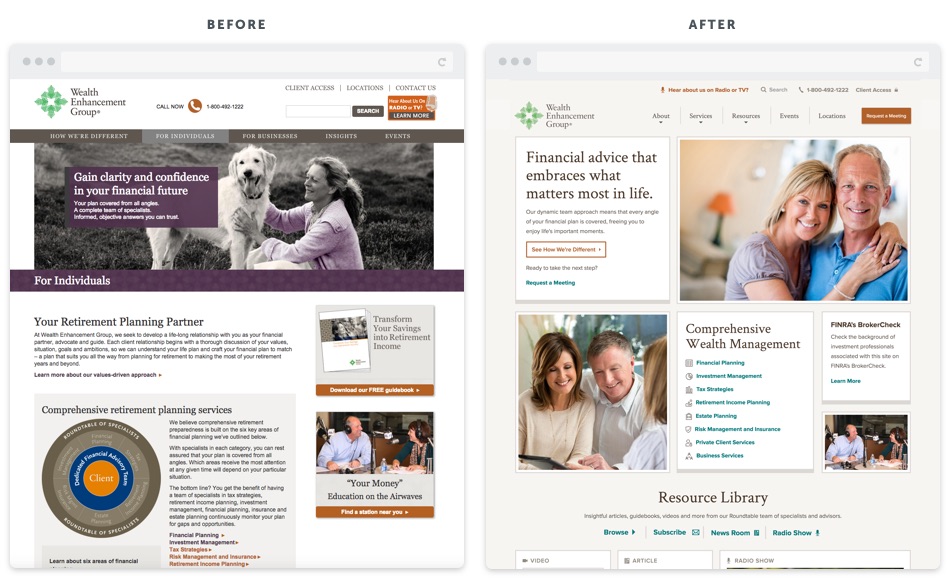 Solution #2: Improve Customer Engagement and Live User Interaction Via an Online Form
Our designers were determined to organize and increase listener engagement for their live radio show titled "Your Money." The radio show was placed on its own dedicated page, displaying helpful and sortable information regarding the stations guests, show times, and where listeners can tune in. There is also an online form to encourage questions and comments from their listeners.
Solution #3: Custom Event Module
Wealth Enhancement Group hosts a lot of live events to get information to their customers, so we created a dedicated page with a custom template. This template includes smart logic so if an event has passed, it will no longer appear available. This idea had been on their previous WordPress site as rich text area—making it a chore to manage. Keeping that in mind our developers developed a backend that makes it a breeze to manage and maintain.
Solutions #4: Link Syndication via Custom JSON
Our development team created a very useful tool for the marketing team at Wealth Enhancement Group to promote keywords during their broadcast. In this tool, the visitor can enter a specific keyword to jump to the topic page. This is great for the visitor as well as the marketing team, because this allows the marketing team to measure the effectiveness of the keyword entered. This is a great example of how you can use link syndication and we were excited to create this.
What about maintenance? No worries, we set this up so the marketing team can manage and add keywords to a JSON file within their own HubSpot portal, supporting self-sufficiency and giving them the flexibility to change things on the fly. (It's pretty cool.)
Solution #5: Custom Location Search by Zip or City/State
We built a custom search for users to easily find an advisor, specialist, and/or leadership member quickly by zip code or city and state. The browsing experience was improved to make it very easy for visitors to find the person they were looking for. Check out their location search.
Solution #6: Continual Improvement
Wealth Enhancement Group is committed to their mission to give their website visitors the best possible experience. We think they are the perfect example of a company who is doing it right. Their website is an ongoing work in progress and they are continually adding new and relevant content. Kudos!
Solution #7: Solve For The User
The example below shows how we used live user data to help us determine a more effective layout. The original resource library had a lot of eye tracking focused on the topics. It indicated that visitors immediately wanted an organized reading experience.
Original Resource Library:

In the redesign, we added taxonomy to the resource library for an improved user experience and categorized out the radio show and Newsroom articles.
New Resource Library: