Loffler Companies, a family-owned, nationally recognized company with 7 locations across Minnesota and Western Wisconsin, partnered with Media Junction to develop a website which would put the needs of their users and clients first, and generate quality leads across all divisions of the company.
Research and Discovery
Loffler was founded in 1986 as a dictation sales and service company, and today holds a place as one of the top Konica Minolta and Canon copier dealers in the country and the largest privately held business technology and managed services company in the Upper Midwest. This reputation has earned them a spot on INC's 5000 fastest growing privately-held companies in America every year for 10 consecutive years; they've also been recognized as one of the best office technology service providers in Minnesota. Loffler now employs over 480 employees, that help sustain the company's growth. The company's leadership and marketing teams have done a phenomenal job of developing a recognizable brand through their advertising efforts, while adding capabilities to become a full-service business technology company.
When people think of Loffler, they most often think printers and copiers. For 30 years that's where they had market dominance —but over the last 10 years they've expanded their service offerings to support clients' technology demands. Loffler's previous website wasn't built to support the changing needs of a growing technology company.
The Challenges
This project had a multitude of challenges including organizing and sifting through 600 pages of content. A disruptive and clunky interface made it difficult for clients, prospects, and employees to easily navigate and achieve their goals. Their current website was built in a WordPress environment and needed to be migrated away from their current hosting provider and temporarily housed on a new server—without interrupting their business. The migration involved multiple custom forms and scripts native to the current hosting environment. Since their business relied on most of these forms for field service, repair techs, and customer support it was important for them to remain accessible and functional in the new hosting environment.
Loffler needed a way to reposition their brand awareness in the marketplace from "printers/copiers" to "full IT Solution Provider." The website did a fair job of moving copier/printer clients through their website, however it did very little to showcase their other core competencies. As we uncovered during the discovery phase, the current lead ratio was 90% copiers/printers and the other divisions shared a mere 10% of all leads. Current and potential customers had a difficult time figuring out where to go quickly for help. New prospects didn't feel it depicted the friendly, innovative, modern tech company Loffler actually is. The site's content was optimized for search bots and didn't reflect the brand's voice. The user's experience was fragmented and required visitors to go several layers deep to get to pages with little valuable content to reward their journey. The Loffler team had limited control over their custom built WordPress website, and had to rely on a 3rd party to make a lot of their updates. Almost all new business leads were being routed through one central "contact us" page, making it difficult to determine a sales qualified lead from a marketing qualified lead.
Solution: Migrate Existing Site without Business Interruption
It was critical for Loffler to find a new hosting provider for their existing Wordpress website, ASAP. Leveraging our WP Engine partnership we spun up an environment and migrated their 600-page website as-is. Since the WP Engine environment was temporary and very different from the current environment we knew the current WordPress forms wouldn't work. To remedy this, we made the strategic decision to focus our efforts on implementing the HubSpot for WordPress plugin and replacing existing forms with HubSpot forms.
Result:
Loffler was able to continue to run their business with no down time. Additionally, they began gaining valuable insights from HubSpot's tracking code and populating their new HubSpot portal—validating the ROI of their HubSpot subscription.
Solution: Site Architecture, Navigation & Buyer Journey Mapping
Learning about the goals of the end user and those of their company helped influence the site architecture to make it a two-to-three click experience. Using the HubSpot for WordPress plugin, we were able to glean insights immediately and use this data to inform our decisions during the website redesign process. We used a combination of HotJar and HubSpot's tracking tool to help us better understand where and how users were getting hung-up on the existing site. Navigation was then vastly simplified, making it easier for users to find what they needed and compressing their 600+ page website down to 140 content rich pages—without impacting traffic post launch.
Result:
Bounce rate has decreased 13.6%, and there was a very minimal dip in traffic the first 60 days after the launch of the new website.
Loffler's clients are leaving feedback they are able to find things more easily than they were before—resulting in an improved experience. Loffler's clients are connecting with the company more- in fact they have seen a 12% increase in blog subscribers since the site launch.
Solution: Visual Representation of Brand
Media Junction set out to create a custom website more representative of the Loffler brand delivering the same level of expertise, professionalism, courtesy and respect their customers are accustomed to receiving offline.
From a design perspective we had few assets to work with which truly represented Loffler's culture—the existing site was full of product photos and stock images. Early on during one of our calls, Jim Loffler stated his team was their best asset. We knew in order to create a personal connection with the end users we needed to visually capture Loffler. The Loffler marketing team, our creative director and staff photographer spent the entire day shooting photos we would use to create a connection, tell their story, and communicate their mission.
Result:
Loffler now has a website they can all be proud of. It visually represents their culture, and tells a story only they could have helped create.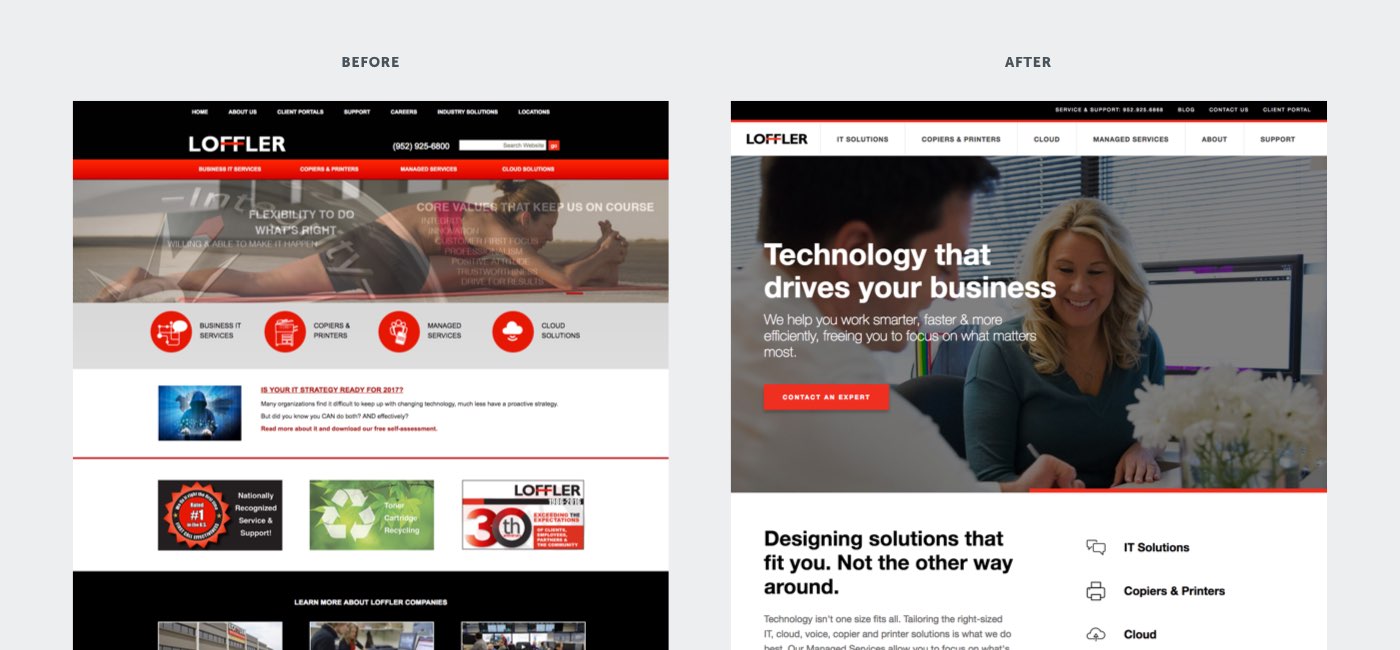 Solution: New Website Content
Our teams joined forces to develop new website copy which speaks to the end user in Loffler's voice, while anticipating and delivering desired content during every stage of their journey. Every page of the site was written for personas who would likely visit the page. Some pages considered multiple personas and together Media Junction worked with Loffler to anticipate what their user needs would be. With those needs in mind the site was crafted to deliver content a user would need based on where they were in the user journey—never losing sight of the primary goal: delivering high-quality, diversified leads to all of Loffler's sales teams.
Result:
A 15% increase in leads to the respective sales departments. Landing pages with conversion rates up to 33%
"The Loffler team was a dream to work with, everyone was engaged in the project including their CEO, Jim Loffler. It is refreshing to see the efforts of a team come together and solve for the end user. There is no doubt Loffler will see a 10x return on their investment because every aspect of their website was crafted to ensure whomever interacts with their brand receives a positive experience."
— Trish Lessard, CEO, Supporting Website Strategist
Solution: Deliver a website the Loffler team can comfortably maintain in-house without the need of a 3rd party vendor.
It is hard to believe in 2017, spinning up new pages requires anyone to submit a request to a web design agency, or even worse: modify source code to add content, but that was Loffler's reality. Our development team uses a combination of HUBL, Javascript, CSS and HTML to create amazing, flexible templates allowing Loffler to use the HubSpot editor the way HubSpot was designed to be used—without the need to know or understand HTML code. From Loffler's perspective, the true beauty lies in the ease with which their marketing team can navigate the backend of the site. Loffler has the ability to make endless layout combinations utilizing intuitively designed custom modules packed with options.
Result:
The Loffler marketing team can take control and make things happen on their own—fast! In 1 hour, we trained them on how to manage pages and empowered them to make any necessary changes. They can now add, remove, and modify whatever they want, giving them back 100% control of their website.
"We now can spin up a landing page in less than 10 minutes," says Mary Steffl (with a huge smile on her face).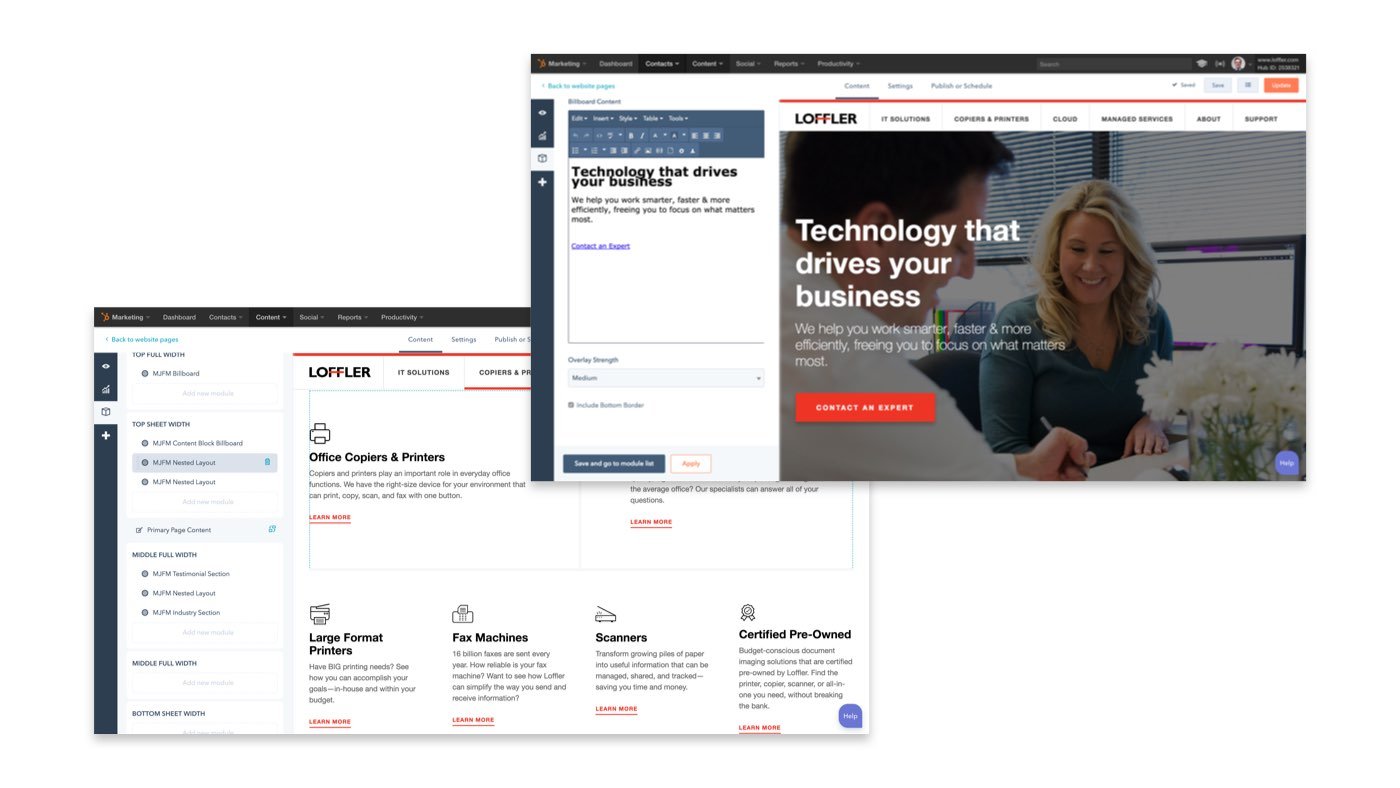 Solution: Diversify and generate new leads across each division.
We knew that better representing their managed services offerings (while maintaining strength of legacy copier/printer business) and distributing leads across each division would foster a healthier relationship between sales and marketing.
Organizing their website by division not only helped create a clear path by guiding a user through the website, it is also laid out a framework for a solid and sustainable SEO strategy to bring new opportunities to respective sales departments. We used the HubSpot topic cluster model which gives the marketing team a laser focus on delivering superior, highly qualified leads. Loffler now has a site built to succeed, expand, and crush their goals—which is paying off, because they are already seeing traction in the first 60 days!
Result:
2.04% of all organic traffic is converting into a lead in the first 60 days after launch of the new site vs .58% during the 60 days prior to site launch.
"In the past we attracted very few service contract leads from our website. After launching our new site, we received two qualified service leads in just one week. It is exciting to see these types of results so soon after launch."
— Mary Steffl, Marketing Manager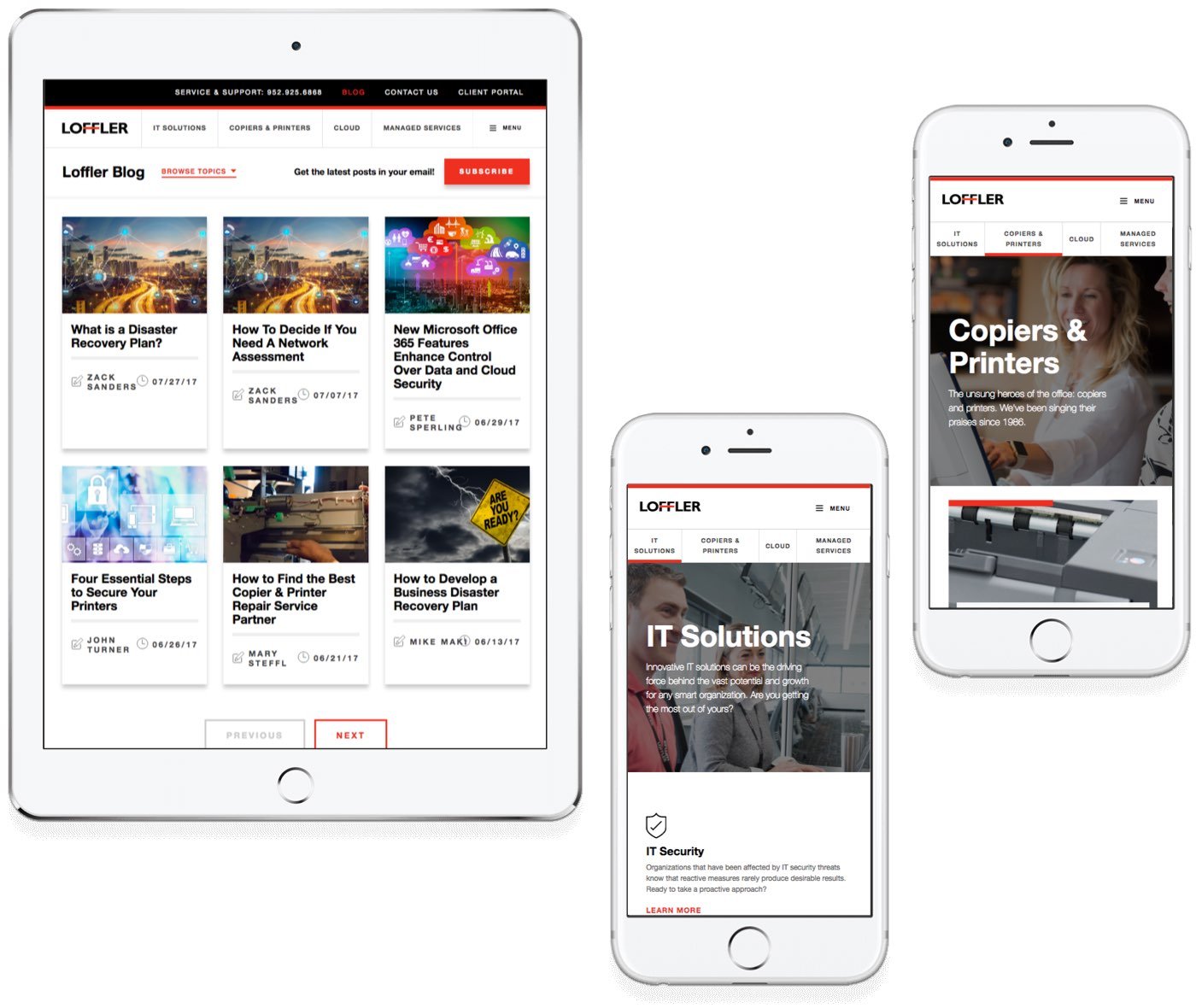 "One of our sales reps told me that she has had more qualified leads come in to her in the last three to four months than she's had since she started working here four years ago. That's a huge sign to us that what we're doing is working and that inbound marketing works."
— Mary Steffl, Marketing Manager

Trish Lessard
Trish Lessard, our CEO, is a fourth generation entrepreneur and co-founder of media junction®—a HubSpot Diamond agency. With over 20+ years of experience in UI/UX web design, her incredible attention to detail has earned media junction® a reputation of building websites that deliver results. In 2015, Trish was named among the "20 Women to Watch in Sales Lead Management." Trish has three adult sons, and an English Bulldog named "Ruby" who she adores.
See more posts by Trish Lessard
subscribe to get the latest in your inbox.
Subscribe to our blog to get insights sent directly to your inbox.