A quick search for best practices for optimizing blog content comes up with countless listicles and webinars. And a lot of those tips to increase your blog conversion rate optimization (CRO) are probably helpful, but the reality is that no one prescription is going to work for everyone. Your company is unique, with its own audience that sets you apart from everyone else listening to the same advice.
That means you have to do what works for you, and adjust your inbound marketing tactics based on what you learn from the data. But there are some tools and strategies to follow your users through their journey from beginning to end that will help you collect useful data to drive your decision making.
Monitor Traffic Sources
Using your website analytics, get an understanding of your audience's entry paths to gain insight into their habits and help you plan for future content. Start by looking at how your readers are getting to your content. Are they coming from organic search, direct, or referral? All three sources will have varying levels of conversion, so you should calculate how much each source is contributing to your conversion rates and plan for each one individually.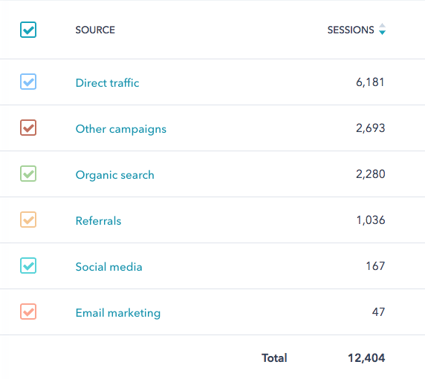 Of those referral sources, which social channels, keywords, and websites are sending visitors your way? Knowing where your blog visits are coming from can help you not only nurture your high-performing channels, but focus some attention on the under-utilized ones as well.
For example, are people clicking on your blog subscriber email blasts? If not, it could be a clue that you need to optimize your emails to drive more traffic. Is organic search lower than you would hope? Maybe it's sign that you're neglecting your blog's SEO potential.
Keep Track of Social Links
If your social strategy is to post on social and forget about it, we probably don't have to tell you that you should be spending more time monitoring what actually happens to those links. Monitor your social feeds for clicks, likes, and shares (that not only goes for links you post, but when your readers share your posts too). From there, you'll be able to identify trends.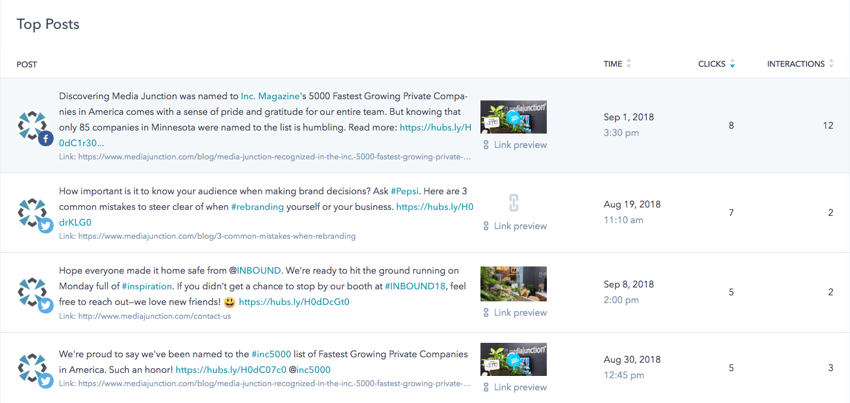 Maybe you'll discover that certain hashtags are drawing in the audience you were hoping for. Are they clicking on or sharing certain topics more than others? Or maybe your blog posts perform well, but your webinars haven't been able to take off. That could be a clue that it's time to revisit your buyer personas and reconsider the topics and messaging that appeal to them. Use that information to plan your content calendar moving forward or to update and repurpose older posts.
Analyze User Behavior
When used effectively, heatmaps can lead to insights that other methods might not detect. If your goal is conversion optimization, focus on heatmaps created from mouse movements and clicks to analyze visitor behavior.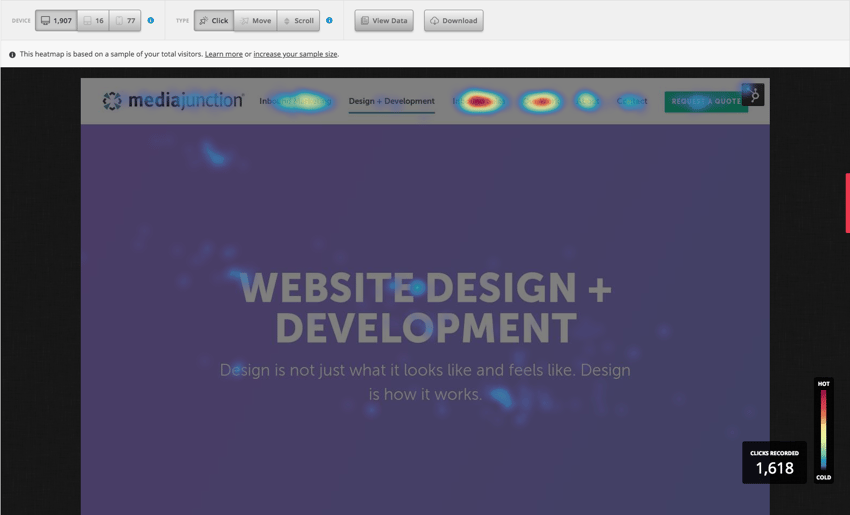 You'll be able to tell if your blog visitors are skimming your content, only getting to the fold and not scrolling any further, or if they're getting sidetracked by other features on the page. Once you see where the hangup is, you can make some educated guesses on why readers aren't getting all the way through your content and make adjustments.
A/B Test Calls-to-Action
One of the easiest changes you can make to optimize your blog content for conversion is through your calls-to-action. In order for your CTAs to fulfill their duty of converting readers, you have to make sure they are relevant, attention grabbing, and make the reader want more.
A/B test different elements one at a time to figure out what works best for your company. Change up the wording to use language that is more exciting, or use a bolder color to draw the reader's attention. Maybe the offer you're promoting is a bad match for the content in your blog post or where your readers are in their buyer's journey. Try a CTA promoting a different offer and see if you get better results.
Remember, even though there a lot of "best practices" for blog CRO out there, there is no one-size-fits-all approach to blog optimization. You need to find out what your visitors respond to. Once you figure out the formula that works for you, repeat that process with the rest of your content and keep adjusting as new data comes in.