When I speak to companies and prospects interested in implementing HubSpot into their business practices, they often ask about the Customer Relationship Management system, or CRM. General questions revolve around the basic arguments, "Is it worth it?" and "Do you use it?" My response remains: Yes, the CRM is definitely worth it (it's a free software), and yes I do use it —on a daily basis.
Prior to joining Media Junction, I had experience working with Salesforce and several older proprietary CRMs. While I was well aware of the benefits of using a CRM, I was resistant to learning an entirely new system like HubSpot. I not only knew Salesforce was a top CRM solution, I was also already familiar with it. After a bit of research, however, I noticed another trend: HubSpot was consistently on those same "top" lists.
Getting up-to-speed with the HubSpot CRM wasn't the complicated feat I'd made it out to be in my head. With its easily-navigable features and simple layout, I felt like a HubSpot pro in minutes. Now, having used the HubSpot CRM for a few months, I've put together a list of the five functionalities or features I find most beneficial.


5 Ways to Use the HubSpot CRM
1. Managing the Sales Pipeline
One of the biggest benefits of the HubSpot CRM is how it provides a full view of the sales pipeline. Seeing the complete sales pipeline (and all historic data) helps me forecast future business and is incredibly helpful when we want to gauge sales growth or declines. I can see what has been sold by week, month, quarter or year at any point.
The pipeline also provides insight on productivity—calls made and received, emails sent and received, deals created and deals won—helping our sales team fine-tune efforts. Tracking individual team members' contributions gives full transparency of overall efforts. Additionally, a sales team can set quotas and forecast numbers on a month-to-month and year-to-year basis. Those quotas can then be assigned to specific team members, holding all accountable for their goals.
View your HubSpot Pipeline in board view or list view.
Moreover, with complete access to the sales pipeline, we're able to produce an accurate production schedule for our development team. By knowing what will be closing, we can sell quick-turn projects if our schedule permits, or schedule into the future accordingly if our team is producing at capacity.
2. Updating Contact Details
Sometimes it seems that people are constantly changing their job title or company! Even so, it's relatively easy to stay on top of these changes. My contacts live within the HubSpot CRM, and are tagged appropriately to their corresponding company file. This makes it simple to manage and update contact information. Any changes to a client's role, title, or even company can be revised within seconds.
3. Assigning Prospects to Team Members
HubSpot makes it simple to have an alert sent my way when it's time for me to reach out to an incoming or current prospect. Furthermore, each contact's file can be tagged to a specific team member to reflect appropriate ownership. For larger organizations or ones with a large sales team or complicated sales process, this is especially valuable.
Take, for example, a company with a diverse sales team that includes both new and tenured salespeople. With HubSpot's CRM, they have the ability to differentiate how a prospect is tagged and assigned, allowing a high-value lead to be assigned to a senior salesperson. Or, say a lead downloads an awareness stage ebook from your website. This indicates your lead is still early in his or her buyer's journey and might be best assigned to a more junior salesperson, for the time being.
This is also valuable if other departments in your organization are using HubSpot forms on your website. If Human Resources has job applicants applying to positions on your site, you can differentiate those contacts from sales leads and instead designate the appropriate HR team member to respond (while simultaneously marking the lead as unqualified).
4. Setting Reminders
Sales teams can also create reminders by date and time within HubSpot's CRM. A salesperson can even note specific details for each task, allowing for more efficient task management.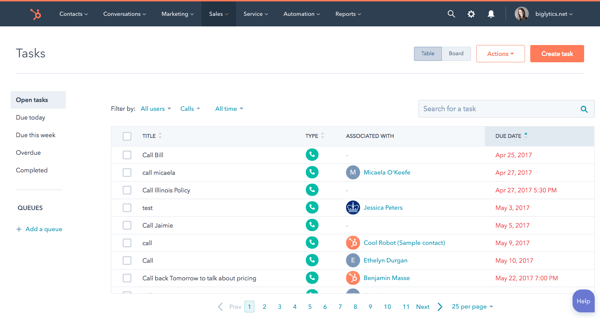 As a due date approaches, the CRM can automatically send reminders. I've found this extremely helpful when scheduling business calls or meetings. Being organized in your day-to-day tasks is crucial for any business professional, and HubSpot makes it easy to practice best methods.
5. Tracking What Prospects Are Looking At
HubSpot's CRM tracks any company viewing your web pages in real time —like magic! Well, it's like magic to me, not to our developers. Magic or not, you're even able to see specifically who at a company is on your site, if they've previously filled out a form. By knowing who's viewing your site and what they're interested in, it's easier to establish key talking points once you begin (or pick up from) a conversation.
As you can see, HubSpot's CRM is a powerful tool, and I've only scratched the surface on the features it provides. Interested in learning even more on how you can use HubSpot?