Company: Therady
Industry: Healthcare
Founded in: 2020
Location: Based in Idaho, Work Nationwide
Services: Brand Naming, Visual Identity, Website Development, Ongoing Retainer
The way our current healthcare system treats employee injuries is broken—too much time is spent waiting to see doctors, insurance premiums keep climbing, and there isn't a viable alternative. In the end, employers are left feeling frustrated and not in control of their business.

Therady believes providing a better healthcare option starts by investing in employees. Employees are the center of each business and there should be a better, proactive—and cost-effective—way to treat and prevent their injuries.

Therady provides employers with on-site physical therapy services to promptly mitigate and treat employee injuries—potentially reducing the need for costly hospital visits. Therady's on-site physical therapists have industry-related knowledge to educate and treat employees in a more personalized and efficient way. For over 20 years, TD Therapy Services has been helping employees get back to work sooner while helping employers reduce the cost of injuries and improve workplace safety.

How do we make an idea a reality?
Before Therady was known as Therady, the team at TD Therapy Services began conceptualizing an offering centered around on-site physical therapy services that would be a game-changer in the treatment and prevention of workplace injuries. Their vision was to help companies mitigate workplace injuries—both minor and severe—by giving employees a direct path to treatment and recovery in place of costly emergency room visits.
The problem was figuring out how to bring this vision to life. TD Therapy knew it didn't necessarily fit within the current offerings, and things started to get muddy when trying to include it in their messaging.
Without clarity on how this offering worked within their organization, Dave and his team found it difficult to define exactly what they were trying to do. It started to confuse the vision and was hindering the ability to get this new idea off the ground.
In order to make this concept work on its own, the Therady team needed the right partner. One that could propel this vision forward and help bring from concept to reality.
"What I liked so much about the process of working with MJ was that we got to talk about what we were trying to accomplish and it helped solidify it, and made us go "yeah this is legit" we aren't just telling ourselves something so we could get out of bed and go to work. It made it real."

Dave VanOrden—Cofounder, Therady
Give the idea a name.
After the Media Junction team met with the TD Therapy team to better understand their needs, it was clear that this new service offering needed its own brand and stand-alone company.
Without a remarkable brand name, image, and voice, that could stand on its own, Dave and his team would continue to struggle to fit a new offering into an already established business structure.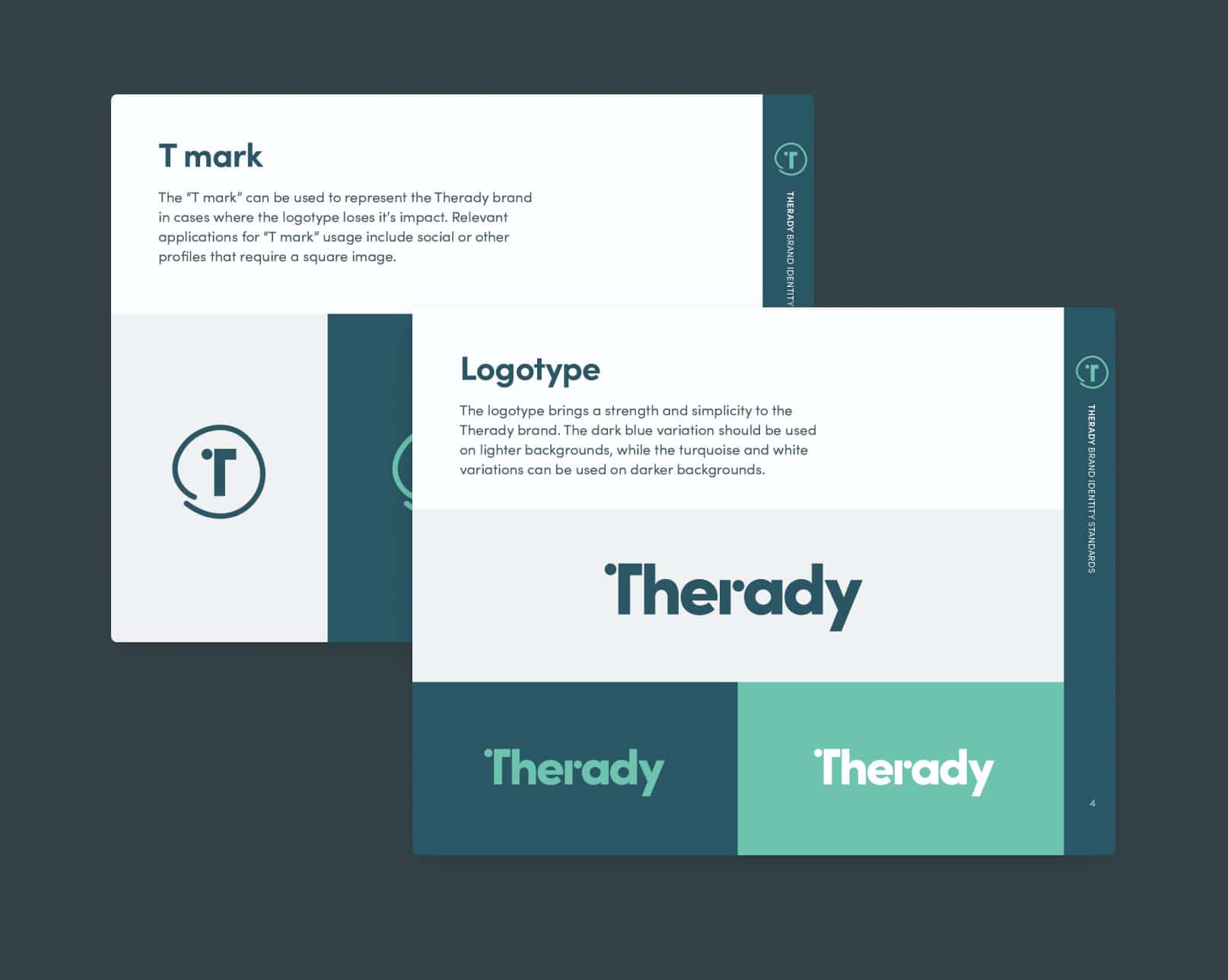 By giving this new concept its own identity, they were able to better realize their vision and give the structure needed to go to market and sell the on-site PT offering. From there, Media Junction was able to create and refine the mission for the brand that would continue to revitalize the idea as it went through the stages of becoming a reality.
The Work
Using an in-depth process of stakeholder interviews, analysis, external market and competitor research, and StoryBrand framework, the Media Junction team was able to create a brand identity that would bring the new idea energy and represent the mission and vision of the new business.
By uncovering and defining what/who this new brand was, we were able to create a name and visual identity that spoke to that vision and would resonate with the personas Therady was targeting. With a name that exemplifies the flexibility and gentleness of stretching and peace that is reinforced through physical therapy, and a visual brand that feels safe and familiar to someone that may have just experienced an accident, it was important to create something that matched the expertise and friendliness they would receive from PT's like Tom in their workplace.
After the initial creation of the brand identity, we worked with the Therady team to create a BrandScript that would be used to communicate this new idea. Using the StoryBrand framework we were able to solidify the voice and promote clear communication internally and externally. We were then able to immediately use the BrandScript to inform copy on the website and act as a northern star to all of the other branding assets we provided.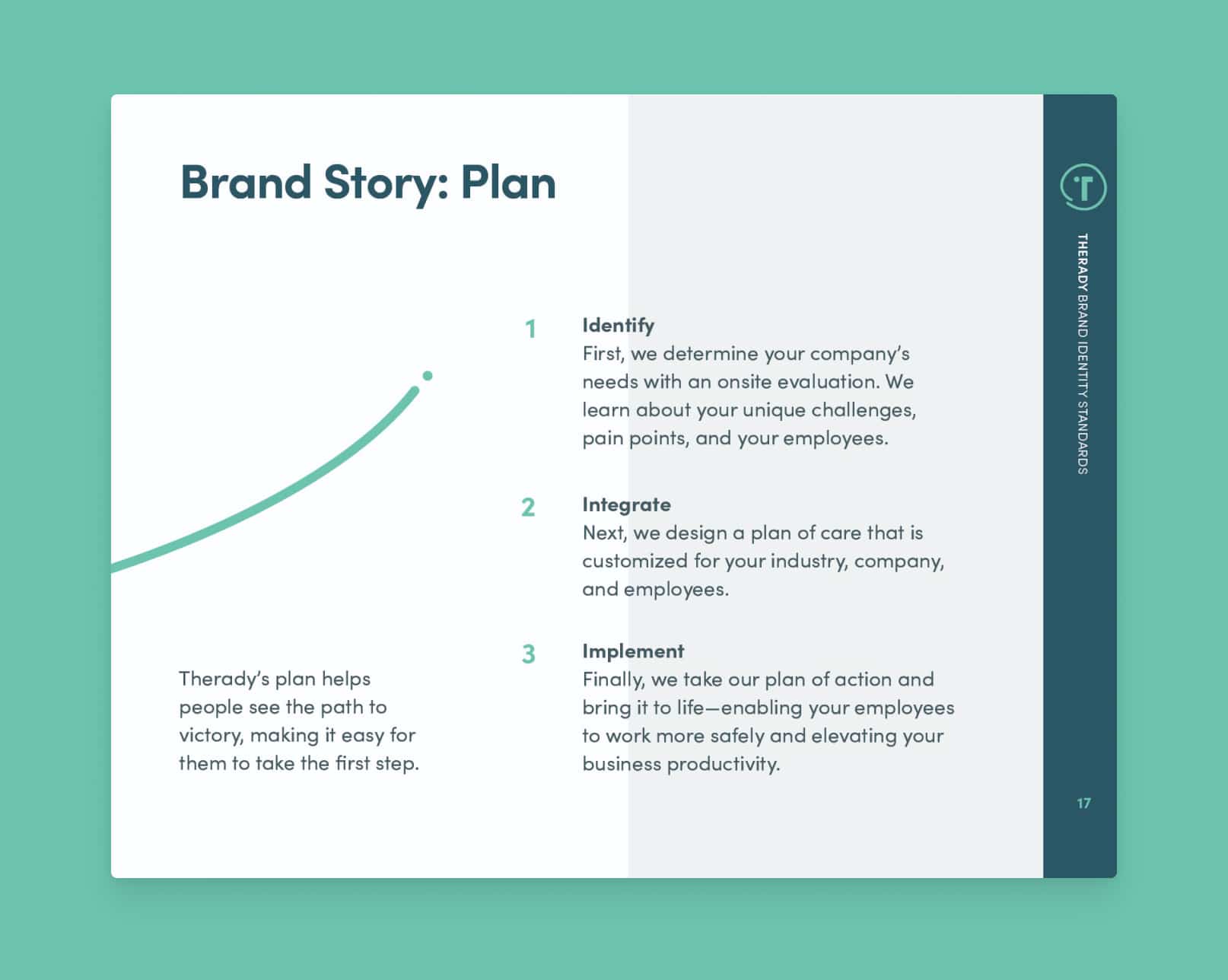 "Going through the StoryBrand process has allowed us to get behind our own company and our own ideas. It makes it way easier to sell to the people we work with, to the companies we sell to and puts our ideas in a structure that makes it real"

Dave VanOrden—Cofounder, Therady
With the use of the HubSpot CRM they are able to grow their brand and website in a scalable way and leverage the additional tools HubSpot has to offer for managing communication. With the Media Junction Theme, Therady has the ability to create and publish new pages with ease, and have a site that grows seamlessly with their business.
The Impact
Since the initial website and branding engagement with Therady, they have been able to land their first major contract to further solidify their concept. In early 2021, not only had that major contract been renewed, the client had increased their engagement with Therady.

Building a brand that represents exactly who the Therady team is helped provide a friendly and helpful face for proper injury mitigation in the workplace. Not only are they helping to lower employer insurance premiums, but they're also boosting employee productivity. Clients have found value in direct physical therapists and building a culture of safety and trust with employees in the workplace.

The Media Junction team continues to work alongside the Therady team in an ongoing engagement to help build out additional offerings and further optimize their HubSpot resources to grow their business. In a short span of time, the Media Junction team and Therady have built an injury mitigation pillar page, nurture workflow, additional design assets.
Therady now has the brand confidence and structure needed to scale and positively impact the healthcare industry.


Do you have a brand that gives you the confidence and structure you need?
If you feel like you brand needs support, or if you are struggling to execute your vision, let us know and we can help!