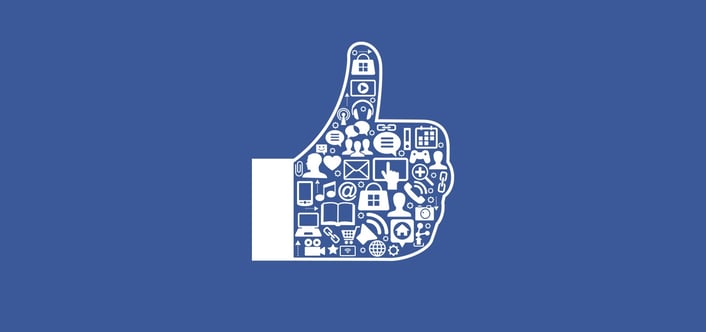 As someone who is involved in our day-to-day social media initiatives, I want to share how you can utilize Facebook to attract customers.
Facebook is one of many social channels that can help you get in front of potential customers, delight your existing ones, and get more business. But before you can get customers from Facebook, you need prioritized objectives and an engaged fan base that's compelled to visit your website.
To grow your Facebook fan base, you need to make your Page and your posts as discoverable as possible—both online and off. No one can connect with you on Facebook if they don't know you exist, so let's talk about five ways to get noticed.
First, make sure your page is properly filled out with searchable information
After you've created your Facebook page, make sure the About section of your Page includes:
An overview of what your business has to offer
A link to your website
Any other information that will help prospects understand your business better
Invite existing contacts to like your page
Chances are you already have existing customers, friends, and family who would be more than willing to connect with your business on Facebook if you simply asked them to. Whether in person, via email or via Facebook, try asking for likes (or fans) and positive reviews.
Incorporate Facebook into your online and offline communication channels
Promote your Facebook presence using what online and offline marketing channels you already have. If you have a physical storefront, place stickers in your front windows promoting your Page and include your Facebook URL on your receipts. And if you have a website, blog or email newsletter, utilize Facebook's various social plugins.
Create value
If you're in tune with your buyer personas, you'll have a good idea what types of content to publish. If not, or if you just need some inspiration, consider spending a week taking note of anything in your own News Feed that compels you to click, comment, or share. What inspired you? Use your observations for future posts.
Pay for new likes and fans using Facebook advertising
One of the ad types that Facebook offers is a "Page Like Ad" that contains a call-to-action to "Like Page," and can appear in the News Feed as a page post or as a display ad on the right hand column of the News Feed.
Develop and Focus Your Content and Lead Generation Strategies
We can learn a lot from HubSpot and their approach to customer acquisition via Facebook. HubSpot is an all-in-one marketing software company that has gained nearly 700,000 Facebook fans and generated nearly 200,000 leads from Facebook. HubSpot thrives on creating content that makes the jobs of marketers easier, so when it comes to Facebook, they focus first on creating useful content—like blog posts, presentations, templates, and ebooks that their audience of marketers will find valuable.
All this content sparks shares, comments, likes, and clicks that occasionally result in new leads—people who express interest in their inbound marketing software.
Post More Than Just Sales-Driven Content
To attract customers, you can't only post sales-driven content. The key to generating leads on Facebook is to post a variety of content that aligns with goals other than generating leads or driving sales. Aiming for smaller goals like reach, awareness, buzz, customer satisfaction, and engagement—such as comments, likes, and shares—are just as important. They're the stepping stones to what you really want: more business.
And remember to use photos! Photos work wonders for your click-through rate and engagement, so it's worth it to spend the extra time sourcing or creating images for your posts. Whether B2B or B2C, business is still P2P—people to people.
Maximize Customer Acquisition With Advertising
Unfortunately, there's no longer such a thing as a free lunch on Facebook. Marketers used to be able to reach the majority of their fans for free (without advertising), but that's changing.
Facebook is evolving to become more of a paid marketing platform than an organic one. More brands and content compete to appear in users' News Feeds and at any given moment, there are approximately 1,500 News Feed stories competing against one another. Facebook's algorithm prioritizes only about 300—one-fifth of them. The brands that want to get noticed have to pay to play.
I hope this information allows you to take your business practices to the next level—at least when it comes to Facebook. Here are some key takeaways I want to leave you with:
Focus on helping people. B2B is still P2P—person to person.
Create content that makes your target audience's job easier. Then, create interesting posts to promote that content on Facebook.
Have an engagement goal for each post.
Tell your audience what to do by including a clear call-to-action in your posts.
And experiment!
Thank you for reading and be sure subscribe to our blog for more marketing and sales tips!