I've helped hundreds of companies improve their CRM experience.
Whether it's improving processes, enhancing collaboration across multiple departments, or ensuring data is accurate, your CRM can make or break your business. However, I've noticed that there's a stigma with CRMs—they're considered to be unnecessary or too complex to implement even if a company wanted to. That's why I'm introducing you to a solution that your company could easily implement right away.
Now, full transparency, I'm a former HubSpotter and now with an Elite HubSpot Solutions Partner, but I formed my opinions on how incredible HubSpot was long before I made the platform the focal point of my entire career.
With all of this being said, let's take a few minutes and talk about why I believe HubSpot is the right fit for most businesses.
The CRM is completely free
It's very easy to use
It's a one-stop platform for marketing, sales, and customer service
It's designed and priced to grow with your business
There is essentially unlimited FREE support to learn as you go
Don't want to read all of this, but still want to talk about HubSpot?
For starters, the CRM is completely free.
I know, I know. "Free" is a scary word because nothing is ever really free. Plus, by now, we're all very familiar with the freemium model. Typically, freemium means you get ads, watermarks, or reduced functionality. But that's not the case with HubSpot. HubSpot doesn't have a "free version," "CRM Lite," or anything like that. They offer a fully-functional, robust, customizable CRM completely for free—and it's powerful.
To bring you up to speed on how the company is built, HubSpot's product offering revolves around the free CRM. From there, HubSpot offers extensions which we refer to as "Hubs" for advanced marketing, sales, and customer service functionality. There's also a CMS Hub where you can build and host your website in the same place where you manage your CRM.
HubSpot takes freemium one step further by also offering free features for marketing, sales, and service as well.
HubSpot free features include:
All CRM Features
Forms
Email Marketing
Ad Management
Landing Pages
Conversations Inbox
List Segmentation
Team Email
Live Chat
Conversational Bots
Mobile Optimization
Reporting Dashboards
Messenger Integration
Gmail & Outlook Integration
Custom Properties
HubSpot Mobile App
Form Follow-Up Emails
Quoting
Calling
Email Scheduling
Email Tracking + Notification
Email Templates
Canned Snippets
Documents
Meeting Scheduling
Deal Pipeline
Custom Properties
Ticket closed Reports
Rep Productivity Reports
Time-To-Close Reports
That's serious power and scalability for $0. You have nothing to lose by trying it out, so why not hang up your spreadsheets and manual labor?
The HubSpot platform is extremely user-friendly and easy to use.
Sure, I'm the HubSpot guy and I do this full-time. I've gotten the hang of a lot of the features of HubSpot, but I'm telling you right now, you can too! Of course I want you to book a consultation, pay for an advanced version of HubSpot, and hire media junction®, but I'm also serious when I say you don't need to do those things to get the hang of HubSpot very quickly. I've seen so many people of different ages, experience levels, and tech-savviness learn how to make HubSpot work for their business.
With the ability to create a custom contact, company, deal, and ticket properties, you'll be able to quickly tailor HubSpot's CRM to your unique needs as a business.
HubSpot comes with hundreds of standard properties that will cover many of the uses you may need for properties in your CRM, but it's also quick and easy to create custom properties and build behaviors around those properties. The customization capabilities can be used in your contact records, in the back end of your CRM, in your deal pipeline, and in your reporting.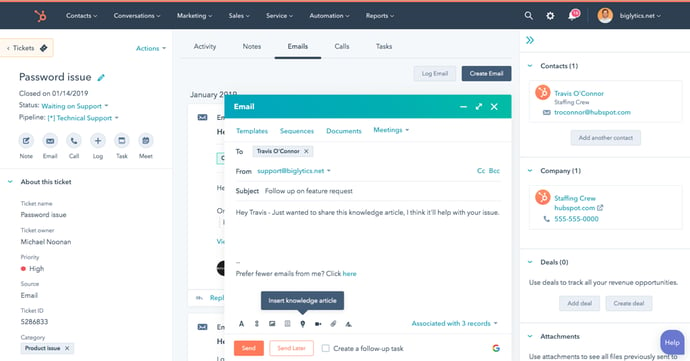 With many customizable CRMs, you need a developer or even a full-time architect to create your desired level of functionality. With HubSpot, anyone can build out the CRM specific to their needs.
There are also thousands of online resources to teach yourself as you go (we'll talk through some of those below).
HubSpot's key value prop is that it's a one-stop platform for businesses to grow.
Let's be honest. There are hundreds of platforms out there that solve for the same problems HubSpot does. In the CMS space, there's Wordpress, Squarespace, Wix, Drupal, and many more. For CRMs, you have the tech behemoth, Salesforce, as well as many others like Microsoft Dynamix, Insightly, and Zoho. In marketing software, there's Marketo, Mailchimp, SharpSpring, and countless more. For ticketing and service, you get a few less options but you still have major players like ZenDesk, FreshDesk, HelpCrunch, HelpScout, and others.
However, despite countless options on SaaS platforms for your business, no one brings all these solutions to one place like HubSpot does. You can piece together your own FrankenSystem, but you'll likely run into barriers. You'll have to constantly confirm that all of the different tools are communicating with each other, you'll have multiple points of contact regarding support, and you'll run into issues with the accuracy of your data reporting. Your other option is to bring everything into one system and focus on what really matters—growing your business.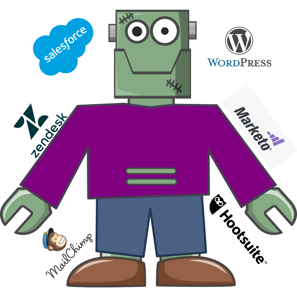 HubSpot is built to grow with your business.
In a time where tech companies were all trying to go upmarket and sell to giant corporations, HubSpot decided to travel against the current and enter the market by targeting small to medium-sized businesses. And it's safe to say it's worked well for them. They recently celebrated 100.000 customers and $1B in annual recurring revenue.
Since their genesis, they've certainly gone upmarket as some of those 100,000+ customers are enormous companies, but one thing remains the same—HubSpot's tools are a great fit for businesses of all sizes.
* flywheel image created by HubSpot
On HubSpot's pricing page, you'll see that they offer Starter, Professional, and Enterprise solutions for their Marketing, Sales, and Service Hubs. They also offer Professional and Enterprise options for the CMS Hub.
This allows you to pick and choose which tools your business needs based on the current season of your company. For example, you may come to the conclusion that you need to mix and match the products to fit your needs. If that's the case, you could end up on the CMS Pro, Marketing Enterprise, Sales Starter, and Service Free. HubSpot's ability to not only help you grow your business, but also to grow with your business, is another reason we recommend the platform for all of our clients.
HubSpot's support ecosystem is unmatched.
As you get increasingly familiar with the tools, you're going to run into questions, comments, and ideas. You're going to want to learn more. Thankfully, the HubSpot ecosystem is top-tier with regard to the support you have. For starters, HubSpot Academy is a free resource that HubSpot offers to not only teach you the tools, but also best practices for marketing, sales, service, and so many other topics. Their library of courses and certifications is continually growing and has been a huge tool in most users' tool belt.
Also, with offices all around the world, HubSpot has a way for you to contact a real person via their 24/7 support. I personally have reached out in the middle of the night with random questions and always get the nicest, most knowledgeable HubSpotter in the Dublin office to help me out. You can also reach out via email and chat if you prefer those channels.
There are tons of other resources as well; there's a whole community where HubSpot users collaborate and help each other out, thousands of articles on HubSpot's blog, knowledge base, YouTube channel, and social media.

Additionally, there are 5,000+ Solutions Partners globally with the ability to deep dive into the toolset and help you get more technical as your needs progress.
You have nothing to lose, but everything to gain.
HubSpot's CRM is free, easy to use, powerful, and you'll be well-equipped to learn as you go. Best of all, you don't have to go in alone. Whether you already know what you're doing, aren't quite sure what you need, or have just heard the word "CRM" for the first time, I can help you get started. I'm happy to talk through your CRM needs and get you in touch with our team of experts whenever you're ready to learn more.